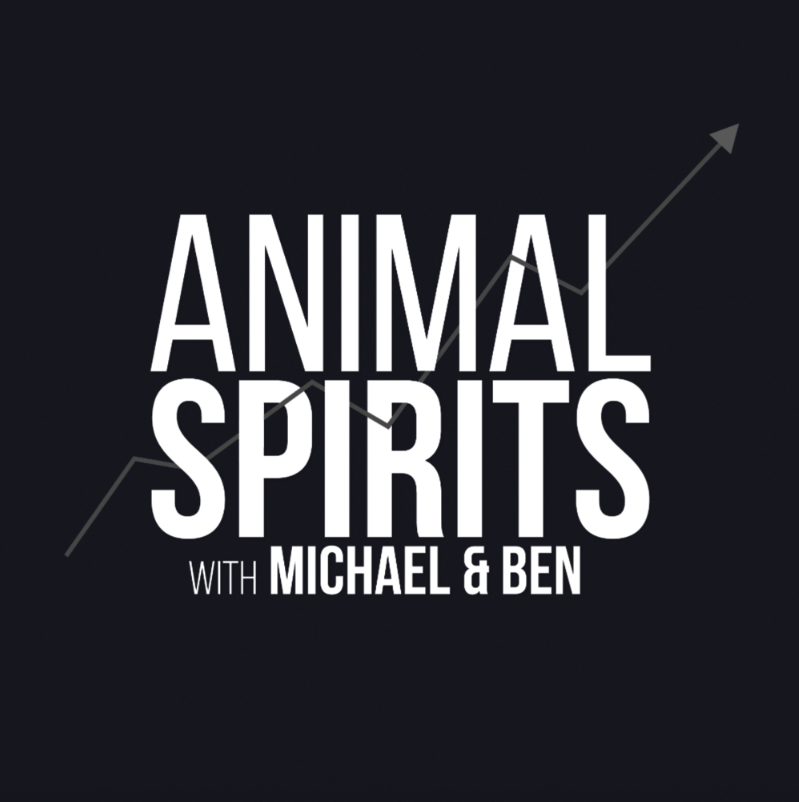 Animal Spirits is a weekly podcast where I get together with my friend and colleague Michael Batnick to discuss the what we've been reading, researching, writing, watching, listening to, and thinking about. We talk about all things financial markets, personal finance, our favorite books, movies, and TV shows, dad life, the asset management business and more. Our goal is the make finance more accessible, speak in plain English, and share our own personal experiences in the markets.
Subscribe here:
Follow us on Facebook.
If you enjoy the show, please leave a review on iTunes to help others discover the podcast. And feel free to email us at animalspiritspod@gmail.com with any feedback, questions, or recommendations.
Episode List

Ep.75 – The Netflix of Financial Advice
Talk Your Book – Creating a Buffer
Talk Your Book – The Low Volatility Anomaly
Ep.72 – Where Were You At the Bottom?
Ep.71 – Supremely Efficient Markets
Talk Your Book – Breaking the Market Cap
Ep.60 – Everyone Should Earn 3%
Talk Your Book – International Investing
Ep.58 – The Sellers Are In Control
Talk Your Book – Investing in Commodities
Ep.56 – How to Ask the Right Questions
Ep.55 – How to Create the Perfect Fund
Ep.51 – The Healthy Correction
Ep.50 – A Committee of Geniuses
Ep.47 – Borrowing From the Future
Ep.46 – How the Financial Crisis Affected Millennials
Ep.45 – Do We Need a Recession?
Ep.44 – When Hitler Took Cocaine
Ep.43 – Why Andy Dufresne Would Make a Good Money Manager
Ep.40 – What Worked on Wall Street
Ep.39 – The Worst 401(k) Advice
Ep.34 – The Mother of All Credit Bubbles
Ep.33 – The Oracle of Brooklyn
Ep.30 – What it Takes to be Wealthy
Ep.26 – The Collaborative Podcast (with special guest host Morgan Housel)
Ep.25 – Some Things We Learned
Ep.19 – Brothers From Another Mother
Ep.13 – Nobody Wants to Listen to Your Podcast
Ep.11 – Hedge Fund Myths & Casual Investing Advice
Ep.7 – A Random Walk Down Nowhere
Ep.6 – Bitcoin, Bubbles & Bananas
Ep.5 – Wave Pools & Market Inefficiencies
Ep.4 – Evidence-Based Investing Conference Post-Mortem
Ep.3 – The More You Pay, The Less You Get
Ep.2 – Investing is Game of Relative, Not Absolute Skill
Ep.1 – Animal Spirits Unleashed – How We Invest Our Own Money