Animal Spirits is a weekly podcast where I get together with my friend and colleague Michael Batnick to discuss what we've been reading, researching, writing, watching, listening to, and thinking about. We talk about all things financial markets, personal finance, our favorite books, movies, and TV shows, parenting, the asset management business and more. Our goal is the make finance more accessible, speak in plain English, and share our own personal experiences in the markets.
Email us at animalspiritspod@gmail.com with any feedback, recommendations, or questions.
Check out our t-shirts, stickers, coffee mugs, and other swag here.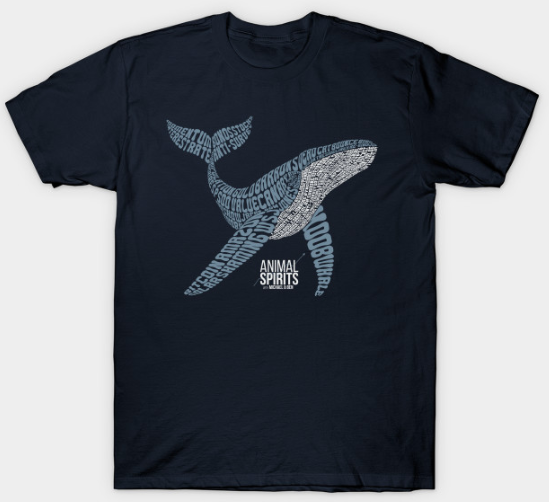 Follow us on Facebook, Instagram, and YouTube.
Find transcripts of each episode at Shuffle.
Subscribe here:
If you enjoy the show, please leave a review on iTunes to help others discover the podcast.
Episode List
Talk Your Book: Direct Indexing
Talk Your Book: But What Happens Tomorrow?
Farmland for the Modern Investor
Talk Your Book: Is the Fed Too Entrenched?
Talk Your Book: What's In an Index?
Talk Your Book: Protecting the Tails
A Random Talk with Burton Malkiel
Talk Your Book: Investing in Gold
Everything You Need to Know About Retirement
Talk Your Book: Sectors & The Business Cycle
Talk Your Book: Understanding Opportunity Zones
The Economics of Home Ownership
Talk Your Book: Fixed Income Investing in a Low Rate World
Talk Your Book: Edly ISAs – Invest in Student Achievement
Talk Your Book: Advisor Solutions with Helios
The Opposite of a Falling Knife
Talk Your Book: Investing in Private Real Estate with Fundrise
Talk Your Book: How to Make Better Financial Decisions with Daniel Crosby
Talk Your Book: Investing in Commercial Real Estate
Too Young, Too Dumb & Too Inexperienced
Talk Your Book: Investing in Art with Masterworks
The Historic Surge in Unemployment
The First Thing to Go in a Crisis
Talk Your Book: Positive & Negative Compounding – Trading with Direxion
A Random Watch Down Wall Street: The Founder
Talk Your Book: Investing in Commodities
Michael's Worst Investment Ever
Talk Your Book: Small and Mid Cap Growth Stock Investing
What Makes People Happier Than Money
A Random Watch Down Wall Street: Margin Call
Talk Your Book: How to Create Income in Your Portfolio
The Best Decade in Human History
A Random Watch Down Wall Street: Trading Places
Talk Your Book: The Case For Tactical Equity
A Random Watch Down Wall Street: Boiler Room
Talk Your Book: Elimination Alpha
The Nastiest, Hardest Problem in Finance
Talk Your Book: Value & Momentum with Wes & Jack
Talk Your Book: Defined Outcome Strategies with Jason Barsema of Halo Investing
Talk Your Book: Coaching the Yankees
Talk Your Book: Crossing Wall Street with Eddy Elfenbein
Winners of the Financial Crisis
Talk Your Book: Investing in Private Companies with EquityZen
Talk Your Book: Invest Like a Hedge Fund With Titan
Re-Kindled: Amusing Ourselves to Death
Talk Your Book: The Acquirer's Multiple
Talk Your Book: Global Factor Investing
The Four Most Dangerous Words in Podcasting
Talk Your Book: Trading With MarketSmith
Talk Your Book: The Net Lease REIT ETF
Re-Kindled: Where Are the Customers' Yachts
Talk Your Book: Jeremy Schwartz From Wisdomtree
Talk Your Book: Help With Your Down Payment From Unison
The Netflix of Financial Advice
Talk Your Book – Creating a Buffer
Talk Your Book – The Low Volatility Anomaly
Talk Your Book – International Investing
Talk Your Book – Investing in Commodities
How to Ask the Right Questions
How to Create the Perfect Fund
How the Financial Crisis Affected Millennials
Why Andy Dufresne Would Make a Good Money Manager
The Mother of All Credit Bubbles
The Collaborative Podcast (with special guest host Morgan Housel)
Nobody Wants to Listen to Your Podcast
Hedge Fund Myths & Casual Investing Advice
Wave Pools & Market Inefficiencies
Evidence-Based Investing Conference Post-Mortem
The More You Pay, The Less You Get
Investing is Game of Relative, Not Absolute Skill
Animal Spirits Unleashed – How We Invest Our Own Money