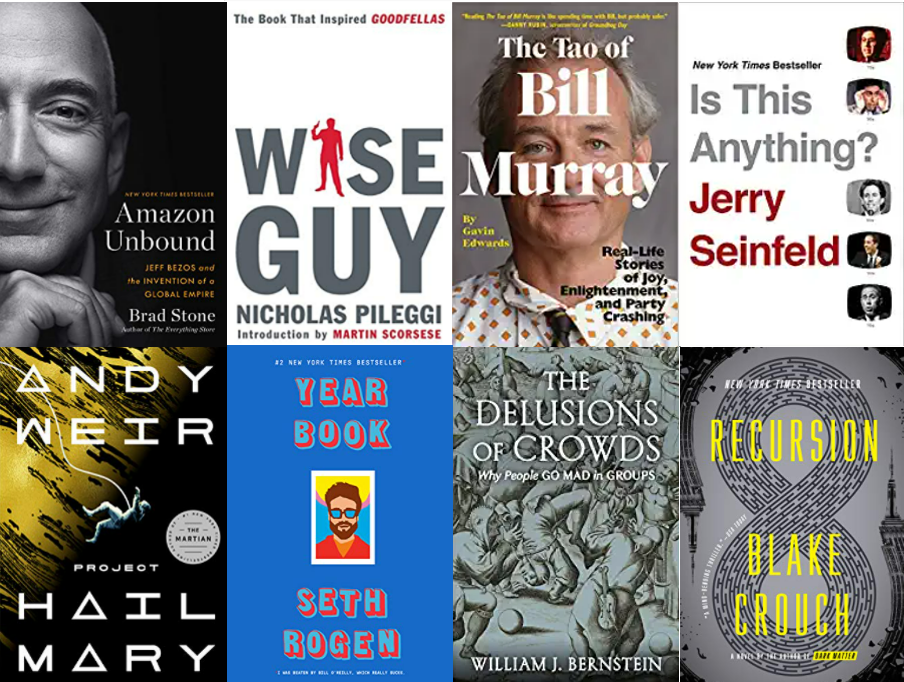 The pandemic caused a mini-bear market in the number of non-fictions books I read over the past year or so.
Nothing I picked up was as interesting as what's been going on in the news. But then I looked back at my Kindle purchases for the year and realized I read way more non-fiction books than I originally thought.
Here's my reading secret I've developed over the years that allowed me to do this — I rarely read every word cover-to-cover. Many books I start but never finish. Others I've become adept at skimming and only reading the good stuff since 57% of most books are filler anyway.
Most books should probably only be 75-100 pages but authors and publishers will never allow that to happen. It's perfectly fine to stop reading a book or chapter if it's not interesting or useful.
Now onto are the books I enjoyed reading in 2021:
Non-Fiction
This is an older book about an investor I had never heard of (Shelby Davis) who turned $50k into $900 million mostly investing in insurance stocks.
But this book is more than a Warren Buffett-esque tale of a stock-picking genius. There is some wonderful market history as well. Here's an anecdote about how hated stocks were as an asset class in the late-1940s:
The Dow sold at 9.6 times earnings, only slightly above its book value. The average Dow company paid a 5 percent dividend, double what investors could get from Uncle Sam's bonds. Beyond the Dow, in almost every sector of the market, dividend yields far exceeded bond yields. On top of the yield, stockholders got the chance for capital gains. Still, the public wasn't buying. Over 90 percent of the respondents to a Federal Reserve Board survey said they were opposed to the purchase of common stocks. As Davis put it, the masses held a "collective grudge against the market."
It's also a cautionary tale about what can happen to families that have too much money. Davis had a feud with his daughter over her trust that played out in the New York tabloids:
"Father Says Girl Needs Spanking Over $3.8 Million," trumpeted the headline in the New York Daily News. "I hate to say this about my own father, but he is inclined to be somewhat what authoritarian," Diana shot back.
Money can make your life easier in many ways but it certainly doesn't always buy happiness.
More here.
Reminiscences of a Stock Operator has to be one of the most widely quoted investment books of all-time (read some here). The book was inspired by Jesse Livermore, likely the most well-known trader who has ever lived.
As widely quoted as Livermore still is to this day, some 80+ years after taking his own life, the real story of his life is a tragedy. He made and lost a fortune on a number of occasions. By the end of his life, he was severely depressed.
It's worth a read to understand how someone could hit many home runs but also strike out in business and in life.
I re-watched Goodfellas for the 57th time this year. The HBO Max version was accompanied by an intro from Martin Scorsese that talked about the book the movie was based on. I knew it was a true story but never realized a book was the source material.
Looking at both allows you to see the pros and cons of each format. Books are always better at providing background details and stories that you just can't get from a movie. It's also easier to hide a twist in plain sight in a book. Many of the quotes that made it into the movie were word-for-word from the book.
But movies are always better at showing excitement, action and body language.
This scene was an unremarkable paragraph in the book:
But it's one of the most memorable scenes of the entire movie because you feel what it was like to be Henry Hill at that time. I also think about Goodfellas every time I hear that song too.
The book is an excellent companion piece if you're a huge fan of the movie.
This was a great follow-up to The Everything Store. There were some excellent stories on developing Alexa and Kindle but I loved the chapter on AWS and how basically no one saw this coming:
Even some of AWS's earliest executives had little sense for cloud computing's enormous potential. "This business could be really big someday, maybe even $1 billion in revenue," product manager Matt Garman once told an incredulous fellow Amazon newbie, Matt Peterson, his former business school classmate, over lunch in 2006. "Are you kidding, there is no way this will be a billion dollars. Do you know how big that would be?" Peterson responded. Garman is now an AWS vice president and member of the S-team; Peterson is an Amazon corporate development director; and AWS generated $45.4 billion in sales in 2020.
My personality wouldn't be a fit with Amazon's culture but it's worth reading just to get a sense of what it would be like to work for Bezos (hint: not easy).
I love Hollywood stories and this book was full of good ones from Seth Rogen. I'm generally a fan of not taking yourself too seriously so I cracked up at this story about Rogen and Jason Segel (of How I Met Your Mother and Forgetting Sarah Marshall fame) auditioning for 8 Mile:
Add the fact that one of my best friends is watching me do it and that we're both reading for rappers from Detroit, which we could NOT have been less right for. I was gonna be Cheddar first, and Jason was Rabbit. We started.
Jason: Yo, yo, mothaf*cka! It's Chedda! What up, b*tch!
And then I started laughing hysterically. And so did Jason. We literally couldn't make it through the auditions. As soon as one of us started the scene, the other would lose it.
Me: Yo, yo, Rabbit! You gotta record your sh*t at Paisley Park, yo!
Jason: Where, yo?
Me: Paisley Park, mothaf*cka!
It was so silly, we couldn't finish. We just excused ourselves and saw ourselves out, tears streaming down our faces.
His writing style also hammered home the reason he's been so successful in the movie business. The guy is an excellent storyteller.
Speaking of Hollywood stories…Bill Murray's life might be more interesting than the majority of his movie characters.
There were multiple stories in the book like this one told by Harold Ramis:
Someone walked by and said, 'Hey, Bill Murray!' And Bill said, in a mock-angry voice, 'You son of a b*tch!' And he grabbed the guy and he wrestled him to the ground. Just a passerby. The guy was completely amazed—and laughing all the way to the ground.
Like most geniuses, Murray is notoriously difficult to work with, doesn't like to follow orders and lives life on his own terms. There are actually a lot of similarities between Murray and Elon Musk (something I may explore in the future).
I've been circling this one for a while but finally read it once the collectibles boom really took off during the pandemic. This book displays the power of stories, scarcity, marketing and FOMO when it comes to driving human behavior.
This quote from Dave Barry stuck with me:
"Beanie Babies were originally intended as fun playthings for children, but as the old saying goes, 'Whenever you have something intended as innocent fun for children, you can count on adults to turn it into an obsessive, grotesquely over-commercialized "hobby" with the same whimsy content as the Bataan Death March.'"
More here.
A handful of other great reads:
Fiction
Two mind-bending novels from my favorite new sci-fi author.
I'm still working my way through the Alex McKnight series about an ex-cop who retires to the Upper Peninsula and finds trouble everywhere he looks. A great winter read.
I had a hard time putting this one down. It's going to either be an excellent movie (like The Martian) or it's going to fall flat but the book was so good. Think space travel and the potential end of human life as we know it.
The 21st book about my favorite Wyoming game warden and his off-the-grid falconer friend Nate Romanowski. I enjoy spending time with these characters.
Further Reading:
The Best Books I Read in 2020