This is a picture of a divorced couple in a Las Vegas courtroom in 1999 dividing up their Beanie Babies collection: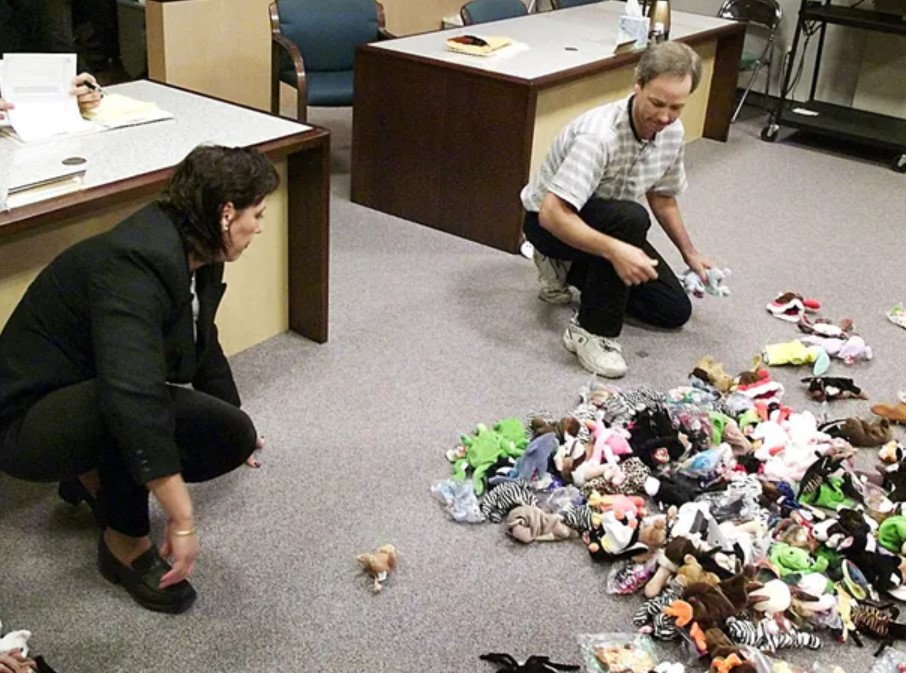 At the time, this pile of stuffed animals was worth a few thousand dollars and the former couple couldn't come to an agreement as to how to split them up so a judge presided over it.
The Beanie Babies bubble is one of my all-time favorites because it has all the hallmarks of a mania. Mass delusion. Speculation. Narratives getting out of control. The herd mentality.
We're currently in the midst of a collectibles boom and the Beanie Babies bubble is a perfect example to help understand the psychology behind these movements.
Michael Jordan rookie cards are selling for close to $800,000. Garbage Pale Kids cards (remember those?) are going for thousands. People are waiting in line at Target for new shipments of cards to come in. These NFT NBA video highlights are selling for six-figures in some cases.
Part of this is because there is so much money sloshing around right now. But there are also some psychological and behavioral aspects to this story.
Zac Bissonnette details this story in The Great Beanie Baby Bubble. Using the Beanie Babies boom as an example, I'm going to go through some of the psychology behind this.
Scarcity. Ty Inc. was a middling toy company until founder Ty Warner came across the idea of scarcity as a sales tactic. Warner would "retire" the production on these $5 stuffed animals filled with little beans to drive up demand.
And it worked.
That scarcity turned a popular children's toy into a rare item that middle-aged people fought over and spent their life savings trying to acquire. And a number of people made millions doing so.
Scarcity was so important to Ty's business model, at the height of the mania, the company filled a 370,000 square foot warehouse with $100 million worth of Beanie Babies that were "retired" early.
Stories matter. A former executive at Ty said Warner's greatest strength was that "He was a master of selling useless shit to people and making it seem really important." Story-telling is a superpower when it comes to driving people's behavior.
One Beanie Babies collector at the time likened the stuffed animals to a Picasso:
"If this hobby continues to grow, as we believe it will, 10 years from now even today's 'shocking' high prices may seem low," they add. "After all, people were shocked when Picasso's paintings surpassed the million-dollar mark. Recently one sold for $25 million."
The combination of a good story and rising prices can make people believe just about anything.
A new marketplace.  Pierre Omidyar founded eBay in 1995 as a way to sell collectibles for his wife. The timing couldn't have been better for the ensuing Beanie Babies bubble. At one point, the stuffed animals accounts for 10% of all sales on the site. Many sold for thousands of dollars.
Researchers have found people have a tendency to overpay at auction sites for goods that are in high demand, and this tendency is more apparent when novices enter the marketplace. Since Beanie Babies were still quite new as a collectible, this meant the market was flooded with novices willing to pay a high price to add to their collection.
People in search of entertainment. The whole Beanie Babies craze started out as a way for parents to find some common ground with their children. Bissonette explains:
The term "soccer mom" entered the lexicon in 1995, a year before the Beanie craze began. In her 2010 paper, "Public Choices, Private Control," Boston University professor D. Lynn O'Brien Hallstein writes that America's soccer moms are part of an ethos that "encourage[s] consumerism as the solution to the work/life struggle.
You could say consumerism is a solution to being bored during a pandemic as well.
FOMO. Greed was already running high in the late-1990s from the forming of the dot-com bubble. Excitement, greed and FOMO can be contagious in these situations.
The Beanie Baby Handbook sold more than one million copies and became a regular on the New York Times Best-Seller list.
No one knows how far it will go. Most experts at the time agreed the Beanie Babies insanity made no sense, predicting it had reached a fever pitch by 1998. Didn't matter. In 1999, Ty's sales doubled and prices on eBay continued to rise.
And then, like most speculative bubbles…it just sort of ended. Bissonnette explains:
Speculative bubbles rely on constant upward movement; once the momentum slows, the bubble collapses. By 1999 every single person who could become a Beanie Baby collector already was one. With no prospects for an influx of increased demand, prices stagnated because there was nothing else for them to do. Once casual collectors could no longer count on quick price appreciation on recently retired pieces, they dropped out—and then prices fell as the market contracted, driving out still more collectors.
I'm not saying today's collectibles boom will end in similar fashion but the similarities are striking.
And some of those similarities are also the reasons people keep coming back to stuff like this over and over again. Nostalgia.
In a recent a16z podcast, Marc Andreessen and Ben Horowitz discussed the NFTs at NBA Top Shot1and why people buy stuff like this:
Andreessen: "A big part of the entire point of life is aesthetics. The way that we live and the design of things around us and artistic creativity."
Horowitz: "It's a feeling. You're buying a feeling. And what's that worth?"
Andreessen likens this to buying a pair of Jordans for $200 that is probably made from $5 dollars worth of plastic. Obviously, the difference here is you can wear the Jordans, but you're also paying for the brand and the way those shoes make you feel.
I get the knee-jerk reaction to roll your eyes and talk about how ridiculous this kind of thing is. Why pay so much for a rectangular-shaped piece of cardboard with a picture on it?
But it doesn't make sense to completely dismiss this stuff for the simple fact that it continues to occur. And it's going to continue occurring because we're humans and humans can be ridiculous.
We're emotional. We lead with our feelings. We're superstitious. Nostalgia might as well be its own investment factor at this point.
The boom in collectibles doesn't make sense if you're thinking exclusively from the rational part of your brain.
But most people don't think exclusively from the rational part of their brain.
Rory Sutherland once wrote, "Solving problems using rationality is like playing golf with only one club."
He also wrote, "Modern consumerism is the best-funded social science experiment in the world."
I agree. And watching the boom in collectibles allows us to see this social science experiment first hand.
Further Reading:
Terrible Business Plans, Wonderful Businesses
1Explaining these things is tough. It's basically a short NBA highlight that exists on the blockchain and there are only a certain amount available.