Some random thoughts and questions on my mind as ponder this crisis:
Markets are not always right but investors are wrong more than the market is. The S&P 500 was up another 3.5% this past week alone. It's now up more than 31% from the lows on March 23rd. Many people continue scratching their heads about this one.
When you're certain of a market outcome and it doesn't go your way you have two options:
(1) Remain open-minded and flexible that you may be wrong or
(2) Remain stubborn and mad that everyone else must be wrong
I'm not saying the market is right at the moment.
This could be the mother of all perished feline ricochets. But far too many investors would rather appear to be right than change their mind or admit they've been wrong when things don't work out as they predicted.
Markets are not always efficient nor are they right all the time. But investors are wrong far more often than the market.
Instead of always asking 'Why is everyone else so wrong about the market?' more investors would be better served by asking 'Why if I'm wrong about the market?'
What happens in the fall? I'm increasingly worried about the fall school year. Our school system has sent out a few communications saying they're considering a number of options, including staggered days where kids go 2 days, on 3 days off or vice-versa with the other days being used for online learning.
I have a number of concerns about this. For one thing, online learning is nowhere near being ready for primetime. This is from the WSJ:
Some districts are giving up on remote learning and ending the academic year early, after concluding that it was too cumbersome for teachers, students and parents.
Washington, D.C., as well as parts of Georgia, Texas and elsewhere plan to end a week to several weeks early.
Schools have struggled to launch remote learning for more than 50 million children across the country during the coronavirus pandemic in the largest experiment in remote learning ever. Among the issues they've encountered, not all students have internet access or have parents available to help, causing concerns about inequity. As a result, many districts haven't required schoolwork be completed or graded. Student participation, when schools are even able to measure it, has often been below regular attendance level.
I don't blame the school systems because no one could have prepared for this but I don't see them figuring this out over the summer.
Plus there's the fact that so many parents rely on school as a form of childcare. People have been ordered to stay home for the past couple of months but how are families going to adapt to this situation when people start going back to work?
My family is also thinking through if and when to send our little ones back to daycare. When will it be safe? Who should be lean on to make this decision?
There are going to be a number of families who are forced to make difficult decisions in the coming months. I don't know what the right answer is when it comes to school and daycare.
If housing and stock prices don't go down more is this the worst crisis ever? Last week I wrote about the possibility of housing prices not going down as much as people would assume during an economic calamity.
According to the National Association of Realtors, housing prices were up year over year in March:
The median home price rose 8% year-over-year to $280,600 in March, according to the National Association of Realtors. While buyer demand has softened and sales fell 8.5% that month from the prior month, the supply of homes on the market is contracting even faster, recent preliminary data shows.
There could be a lag in these numbers as these number may include deals that were already under contract. But we're facing a possibility of the worst economic crisis of our lifetime where the prices for the stock market and housing continue to rise in the face of a worsening economic backdrop.
I'm not saying this has to continue but falling asset prices are one of the few benefits of a nasty recession. If that doesn't happen this time to a greater degree this might be the worst crash ever.
Is the government the biggest risk to the markets right now? This is a wild stat from Goldman Sachs: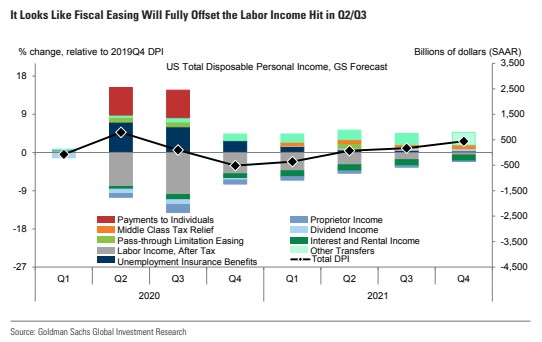 Disposable income will likely be positive in the second and third quarters because of the fiscal stimulus from the government.
The New York Times recently reported workers in more than half the states will receive more income than they were previously making because of the $600 a week boost in unemployment benefits.
So as much as the outrage police would like to proclaim this is all a huge bailout for big corporations, individuals who are the hardest hit are being helped immensely by government spending.
The problem is we're not out of the woods yet.
These higher unemployment benefits only last 4 months. That $1,200 check is gone and spent for most people. If congress doesn't step up to the plate with more fiscal stimulus we're right back to where we started because 20 million people aren't going to get rehired by July.
If they don't come back with another spending plan I would imagine it would be up to the stock market to force their hand again. If not, we could have a second wave of economic and market pain.
Further Reading:
Random Thoughts on the Crash as We Catch Our Breath