No two crises are ever the same but the fact that housing prices fell so much during the Great Financial Crisis has to be on people's mind as we navigate the Corona crisis: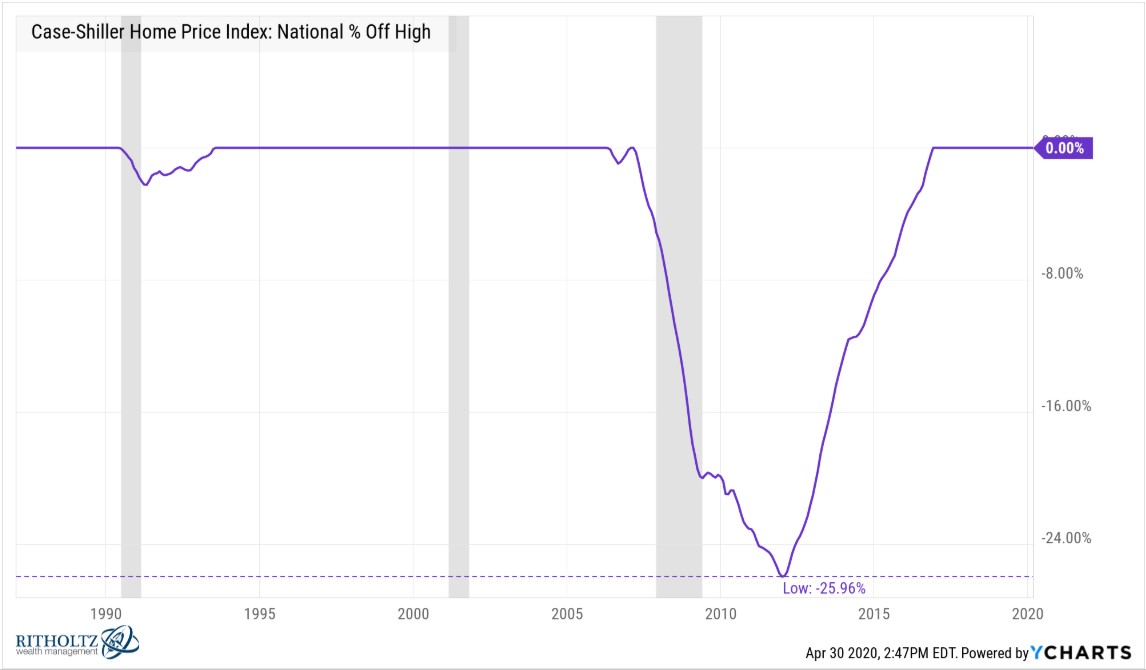 Nationwide, housing fell by nearly 26%. Many areas were hit even harder than this. Places like Phoenix and Las Vegas still haven't fully recovered: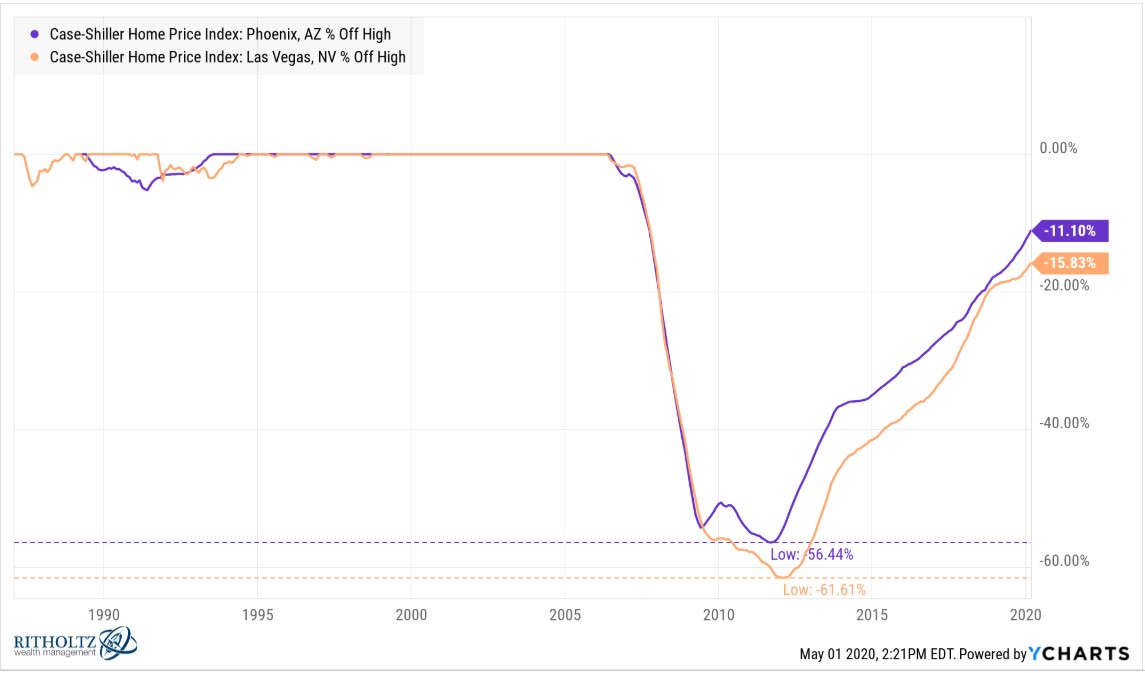 The housing bubble was so other-worldly that the fallout was the outlier not the norm during past crises. There was no housing problem during the 2001 recession as the bubble was just getting warmed up. But even in the 1990 recession, which had some ties to the real estate market, housing prices fell just over 2% nationally.
I'm not sure how good the data is from that period but according to the Case-Shiller Index, housing fell just 7% on a real basis from 1929-1932 during the Great Depression.
Beyond potential reporting issues for prices back then, my guess would be there probably weren't many transactions going on. There likely weren't many buyers and no one wanted to sell for fear of getting an insanely low offer during a deflationary depression.
It's possible we could see a similar dynamic play out in the housing market during this ordeal. Michael and I discussed this scenario on a recent podcast as it pertains to millennials:
This crisis is surely impacting the finances of millions of people so the initial line of thinking would be residential real estate should get crushed. And that's certainly a possibility.
But it's also possible the supply of real estate is so contained from people either not wanting to buy (how many people are going to an open house during a pandemic?) or being too afraid to list (who wants to sell at a loss?). This is all speculation of course but a few early data points may back up this idea.
The WSJ had a piece recently about the housing market in Seattle, one of the hottest real estate markets in the country pre-crisis. Surprisingly, the housing market has stayed hot in the Pacific Northwest because supply is so constrained:
Multiple offers. Bidding wars. All-cash deals hours after listings go live: This is all still happening in Seattle, the city that four weeks ago was considered an epicenter of the coronavirus epidemic, and since March 23 has been under a stay-at-home order barring all nonessential activity.
"We were hoping we could get a fair price for a home now," says Marcelo Garcia, 33, a senior program manager at e-commerce giant Amazon. He and his wife, Melissa Richmond, a 33-year-old who heads strategy operations at a non-profit organization, have submitted written offers on four houses over the past three weeks in Bellevue, a suburb just east of the city. All their offers, around $1 million apiece, have been outbid or rejected, despite being close to the asking prices. Now, at night they go driving past homes for sale that they have only seen online. "It's a weird time," says Ms. Richmond.
At the same time, many potential sellers are staying out of the market due to anxiety about the future and fear of spreading the virus. (Open houses are barred, but private showings of homes are still allowed for two or fewer people exercising social distancing.) That has further reduced what was already a tight inventory, pushing the number of new listings down about 67% from last year at this time.
Seattle could be an outlier because of the tech scene in that city. Real estate is a local phenomenon in many ways so extrapolation is difficult when thinking through the entire housing market.
But real estate broker Redfin just reported demand for housing is already making a comeback after a steep drop-off in March:
Home-buying demand took another step towards recovery, gaining strength for the third week in a row. After plummeting as much as 34% in March, home-buying demand is now down only 15% from pre-coronavirus levels on a seasonally-adjusted basis for the seven days ended on Sunday, April 26.
One of the reasons this demand could be stronger than many people assume during a crisis is because of the enormity of the millennial demographic who are moving into their prime home-buying years: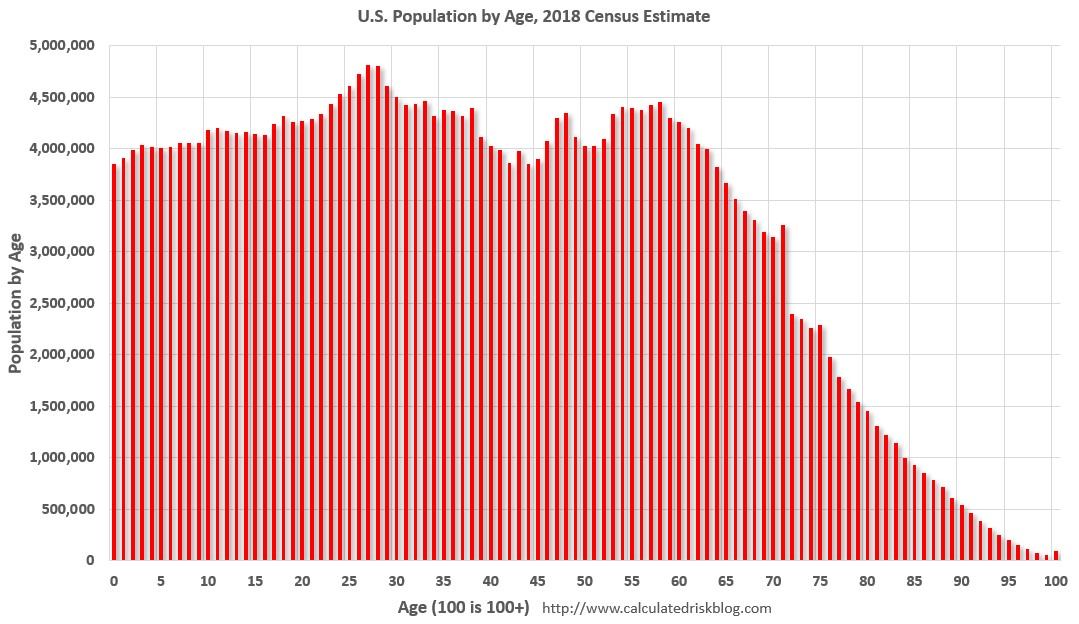 It's possible we could see the exodus of millennials from big cities looking to settle down in the suburbs and buy a house speed up because of the stay-at-home orders. That 800 square foot apartment in the city is a lot more fun when you can go out all the time or don't have little ones running around.
Most millennials were always going to grow up and eventually become homeowners but this situation could supercharge that trend.
Interest rates are still ridiculously low. This week the 30 year fixed mortgage rate briefly touched its lowest levels ever: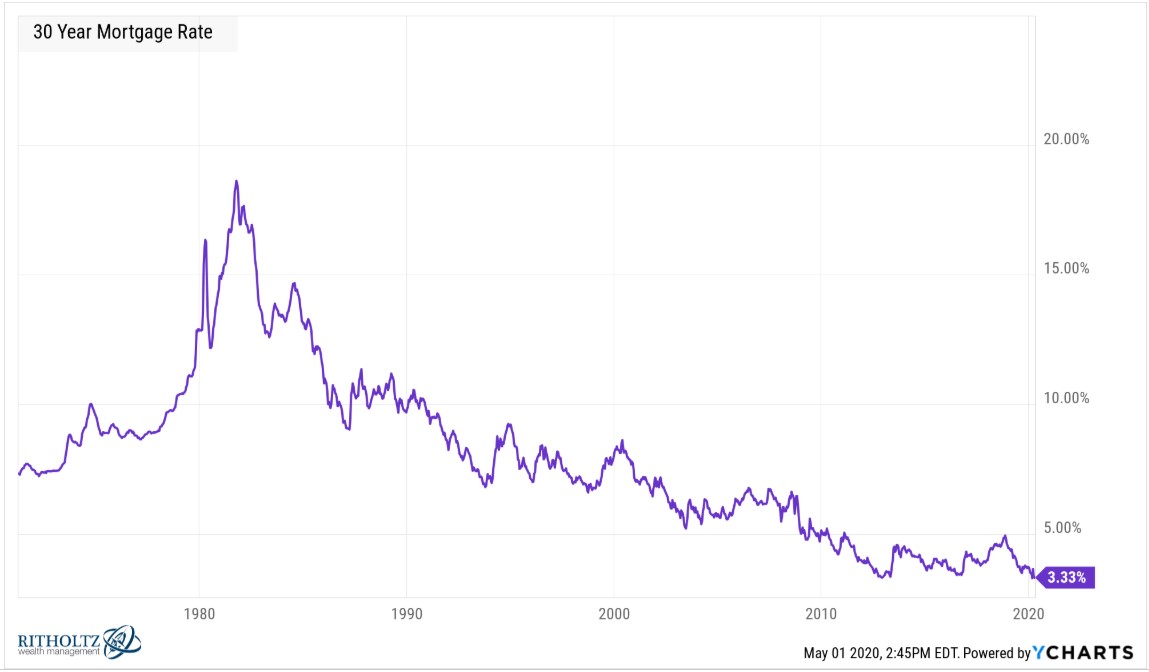 That should help young people who are coming into the housing market for the first time.
I'm sure many young people would love to see prices come down as well. That very well may be the case in certain areas. But there are other housing markets where a shrinking supply of houses for sale could keep prices from falling too much, even during a severe economic contraction.
Further Reading:
Refinancing Gains in Real Estate