John Burns shared a great chart recently that shows how new homes priced below $200,000 have gone from more than 40% of the market in 2010 to 0% today: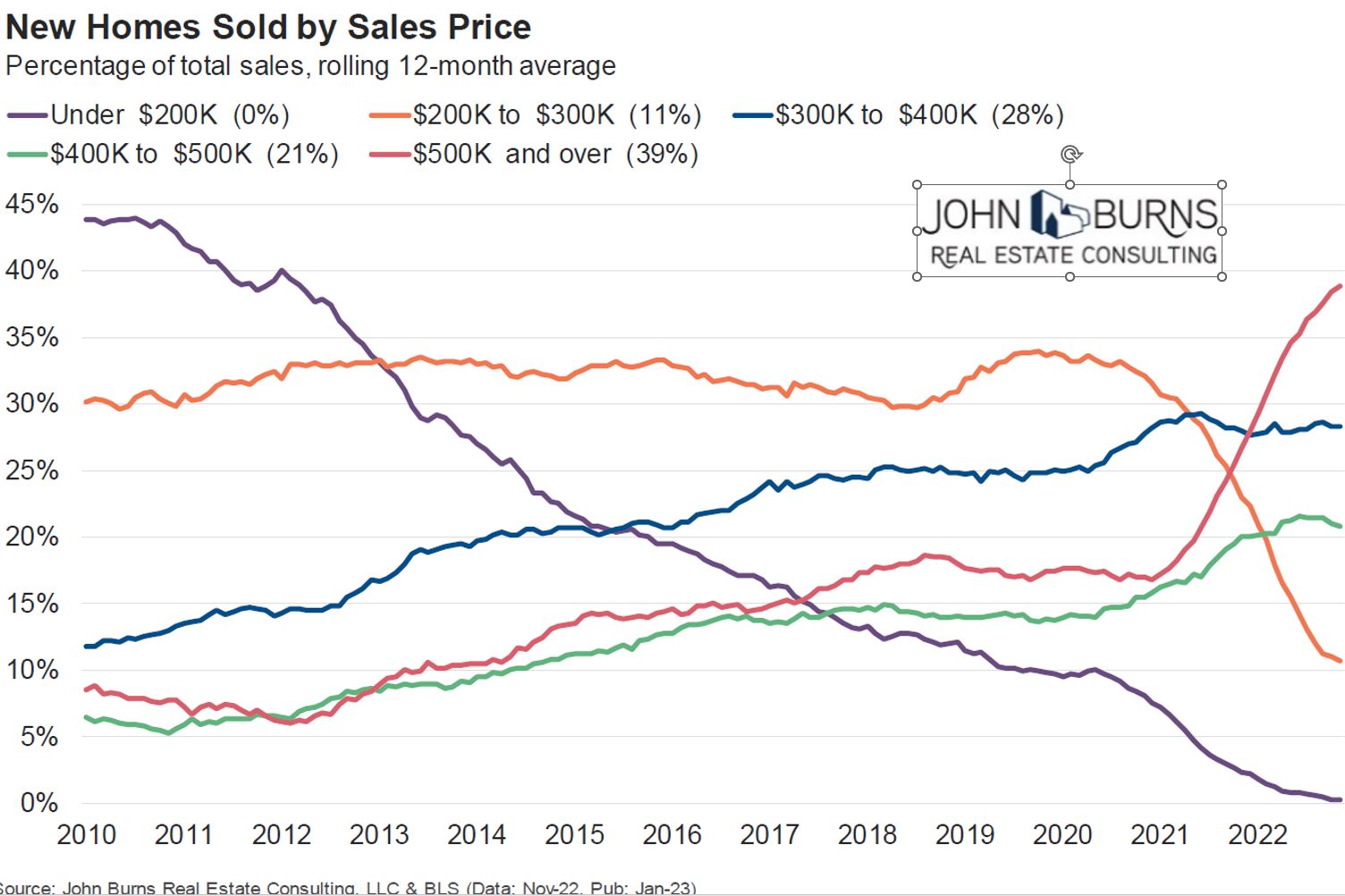 At the same time, sales of homes going for half a million dollars or more has shot up from less than 10% to nearly 40% of the new homes market.
I understand why first-time homebuyers are so angry. This isn't great for all of the millennials out there looking to buy their first homes.
So why aren't we building affordable housing anymore?
The most obvious reason would be that housing prices are up 40% nationally since the onset of the pandemic. Sprinkle in a little inflation and it would make sense that the floor in new home prices has been raised.
But there's more to it than that.
The Federal Reserve has new home price data going back to 2000 so I decided to take this all the way back to get a better sense of the trends this century: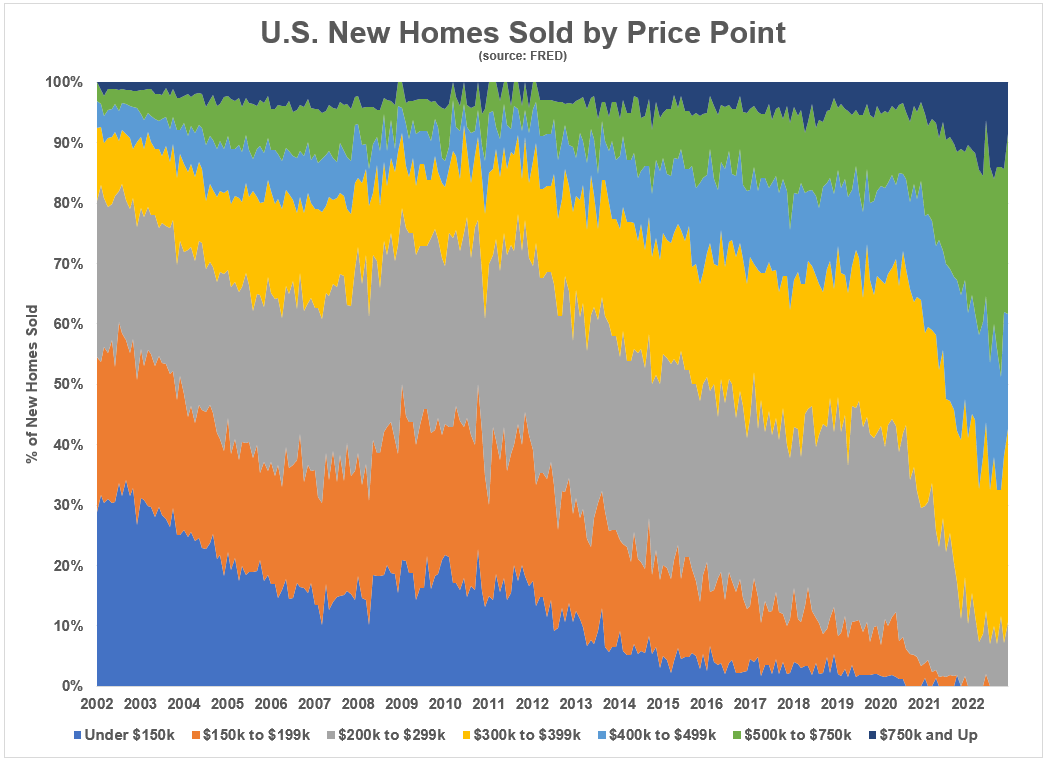 It's not only the $200k and under segment that has fallen off a cliff. New homes going for $300k or less now make up just 11% of the pie, down from 80% of all new home sales in the year 2000.
New homes being sold for $750k and up has gone from less than 1% to more than 10% this century. The sweet spot for builders is now in the $300k to $750k range, which makes up more than 80% of new homes sold in the most recent data.
One of the big reasons for this shift is the fact that we simply don't build enough houses anymore.
Here is a look at the same data for new homes but instead of looking at the proportion of homes sold by price point, this shows the actual number of new homes sold over time:
We overbuilt in the 2000s housing bubble but that led to more than a decade of underbuilding ever since then. There was a brief spike during the pandemic housing craze but that has abated with mortgage rates shooting higher.
Tastes have changed as well.
Drive through any neighborhood in the country where houses were built in the 1950s, 1960s or 1970s and the first thing you notice is how much smaller those homes were.
In his book The Fifties, David Halberstam documents how the housing market played a huge role in the rise of the suburbs following World War II.
These houses were not McMansions:
Levittown was an astonishing success from the very beginning. The first Levitt house could not have been simpler. It had four and a half rooms and was designed with a young family in mind. The lots were 60 by 100 feet, and Bill Levitt was proud of the fact that the house took up only 12 percent of the lot. The living room was 12 by 16 feet. There were two bedrooms and one bathroom. A family could expand the house by converting the attic or adding on to the outside. The house was soon redesigned with the kitchen in the back so that the mothers could watch their children in the yard.
These houses were like 1,300 square feet. I don't even want to tell you how much they cost.1
Even in the 1970s, the median size of a new home in the United States was just 1,525 square feet. Today it's more like 2,500 square feet. Those smaller houses had fewer bathrooms, fewer bedrooms and fewer amenities.
There are reasons for this seachange in housing characteristics. Part of it is the fact that many people simply want bigger houses with more amenities these days. We all want our open floor plans to entertain, huge bedrooms and bathrooms and more storage space for all of the stuff we buy.
I partly blame HGTV.
It's also true that homebuilders aren't incentivized to build starter homes anymore.
In the 1950s after everyone got back from the war the government made it a point to help out the troops and their families. The government actually backstopped the homebuilders so they would be comfortable taking on the risk of building so many new houses.
Our elected officials today don't seem to care all that much about the rapidly rising housing costs caused by the low supply of homes.
Regulations, red tape and a lack of government action have made it a giant pain in the rear end to build new homes. It's not worth it to jump through all of the hoops to build starter homes so homebuilders have moved up market to McMansions.
If you're in the market for a new home I'm sure you've been waiting for years for prices to come down. Maybe higher mortgage rates will help.
But unless there is some government action at the federal and local levels to make it easier to build more, the days of new homes going for $300k or less might be a thing of the past.
Michael and I talked about some reasons for the death of the stater home and much more on this week's Animal Spirits video:
Subscribe to The Compound so you never miss an episode.
Further Reading:
We Need to Build More Houses
Now here's what I've been reading lately:
1$7,900 to $9,900. Even if you adjust those numbers for inflation it's only something like $96k to $120k.