Early on in my investing career my boss gave me a good piece of advice I still think about to this day.
He said something along the lines of, "It's OK to be surprised. The world is a surprising place. Just don't be surprised that you're surprised about what happens in the markets."
2022 was a good litmus test for this idea.
Here are some things that surprised me this year:
Stocks and bonds both fell double-digits. This is one of the worst years ever for a portfolio of stocks and bonds.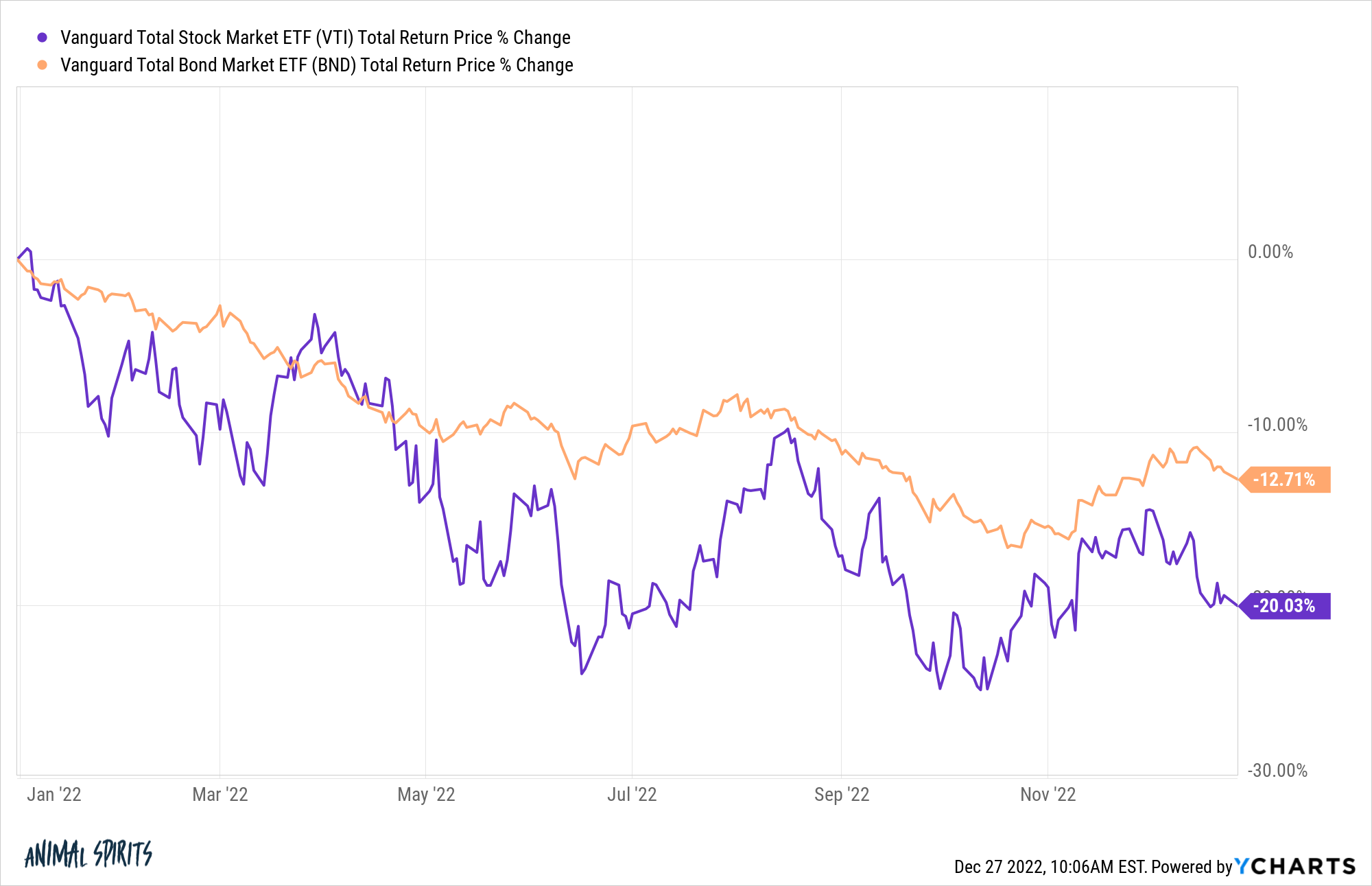 It's rare for stocks and bonds to fall in the same year. By my calculations, it's happened just four times before this year going back to 1928.
But in that time, they have never each fallen 10% or worse in the same year.
The worst year on record I could find where each asset class was down substantially was 1969 when the stock market fell more than 8% while 10 year treasuries were down 5%.
The rapid rise in rates and inflation is the obvious catalyst but this is a first in modern financial markets in the United States.
The Federal Reserve opening pushed for the stock market to fall. During the bull market of the 2010s, if you were a Zero Hedge reader one of your prevailing theories had to be that the Federal Reserve was responsible for all of the gains in the stock market.
It was a vast conspiracy so make rich people richer.
There was more to it than that, but it would be hard to argue that the Fed's low interest rate policies didn't have some effect.
However, the Fed never actually went out of its way to cheerlead for the stock market. They never made it a talking point.
If you thought the Fed only cared about propping up the stock market, 2022 should dissuade you from that opinion.
This year, we had Fed officials who wanted stock prices to fall. And these weren't closed-room discussions. They were said on the record for all to hear:

There was a lot going on this year but this about-face probably didn't get enough publicity.
The Fed was happy our 401k balances went down!
Losses are part of the game when investing but I would not have expected them to take their inflation fight this far, especially when there is such a disconnect between stock prices and the economy.
It's not like people spent less money because we were in a bear market this year.
Mortgage rates more than doubled. The housing market was scalding hot in 2020 and 2021. Low mortgage rates weren't the sole cause of the unprecedented housing price increases. We know this to be true because mortgage rates have been low for a while now.
But they certainly played a role.
It made sense for borrowing costs to rise when the Fed went on their rate-hiking spree. I'm not sure anyone ever thought they would go this high this fast: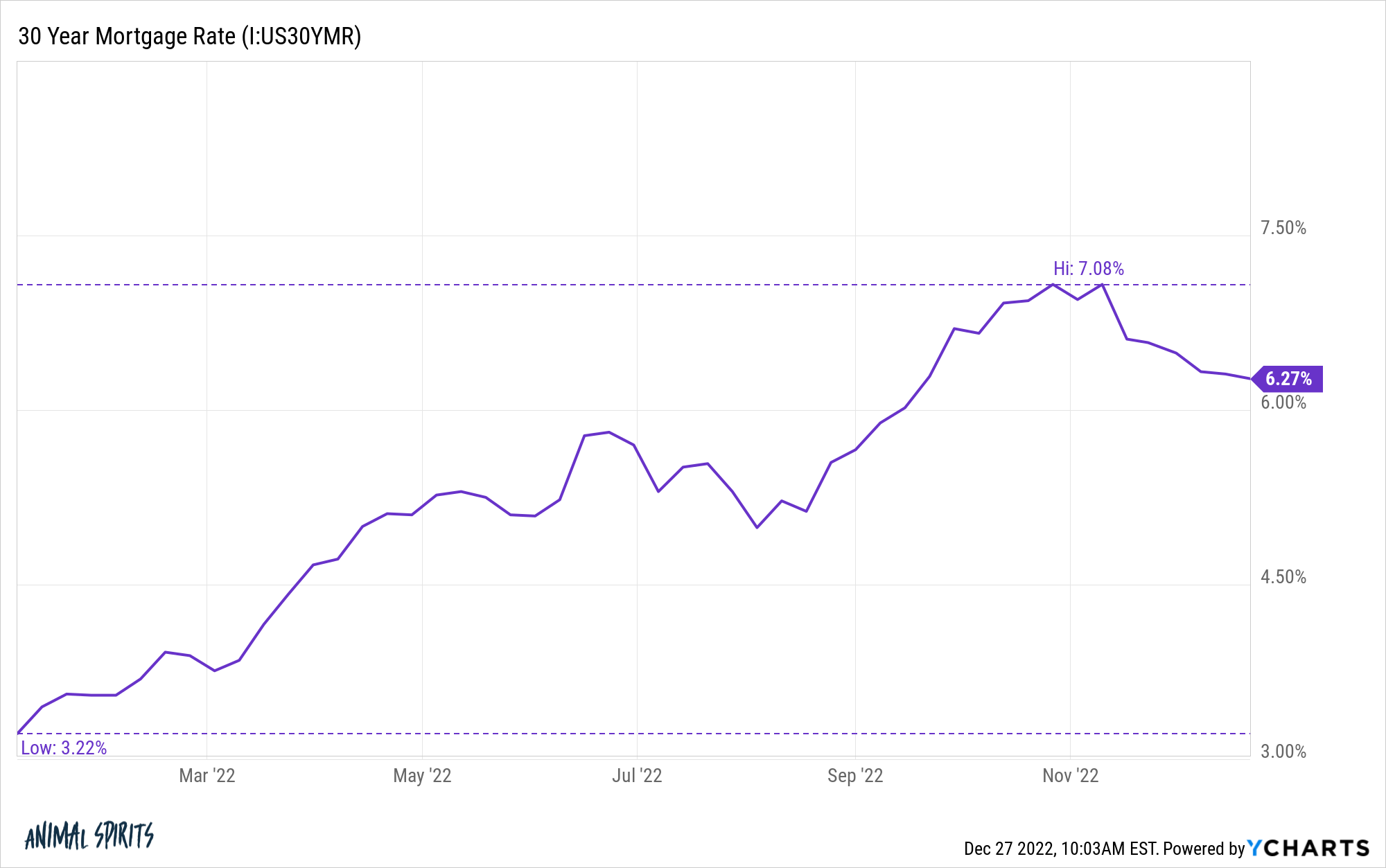 We went from 3% to 7% in less than a year. I remember 5% feeling high at the time but I never thought we would see 7% this quickly.
Maybe things will get back to normal in the housing market if mortgage rates go back to 5% in short order but if they stay in the 6-7% range we should expect to see some disruptions in the economy.
One way or another, the housing market will probably make my list of surprises for next year as well.
Government bond yields remained relatively low. The last time we had inflation this high in the 1970s and 1980s, government bond yields and inflation generally tracked one another fairly closely.
But after inflation fell, bond yields remained elevated above the rate of inflation for a long time: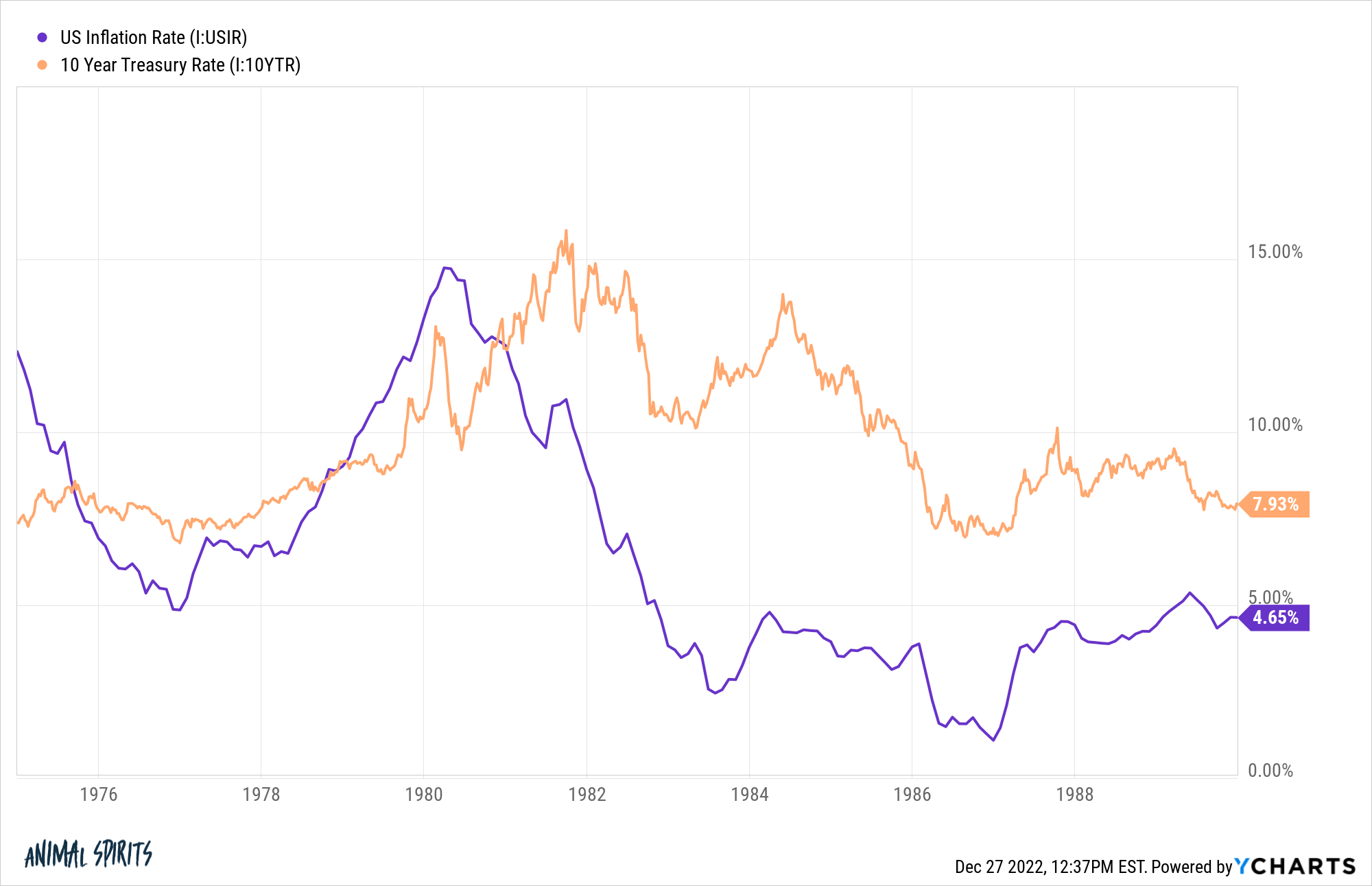 Bond yields have risen this year as well but not nearly as much as inflation: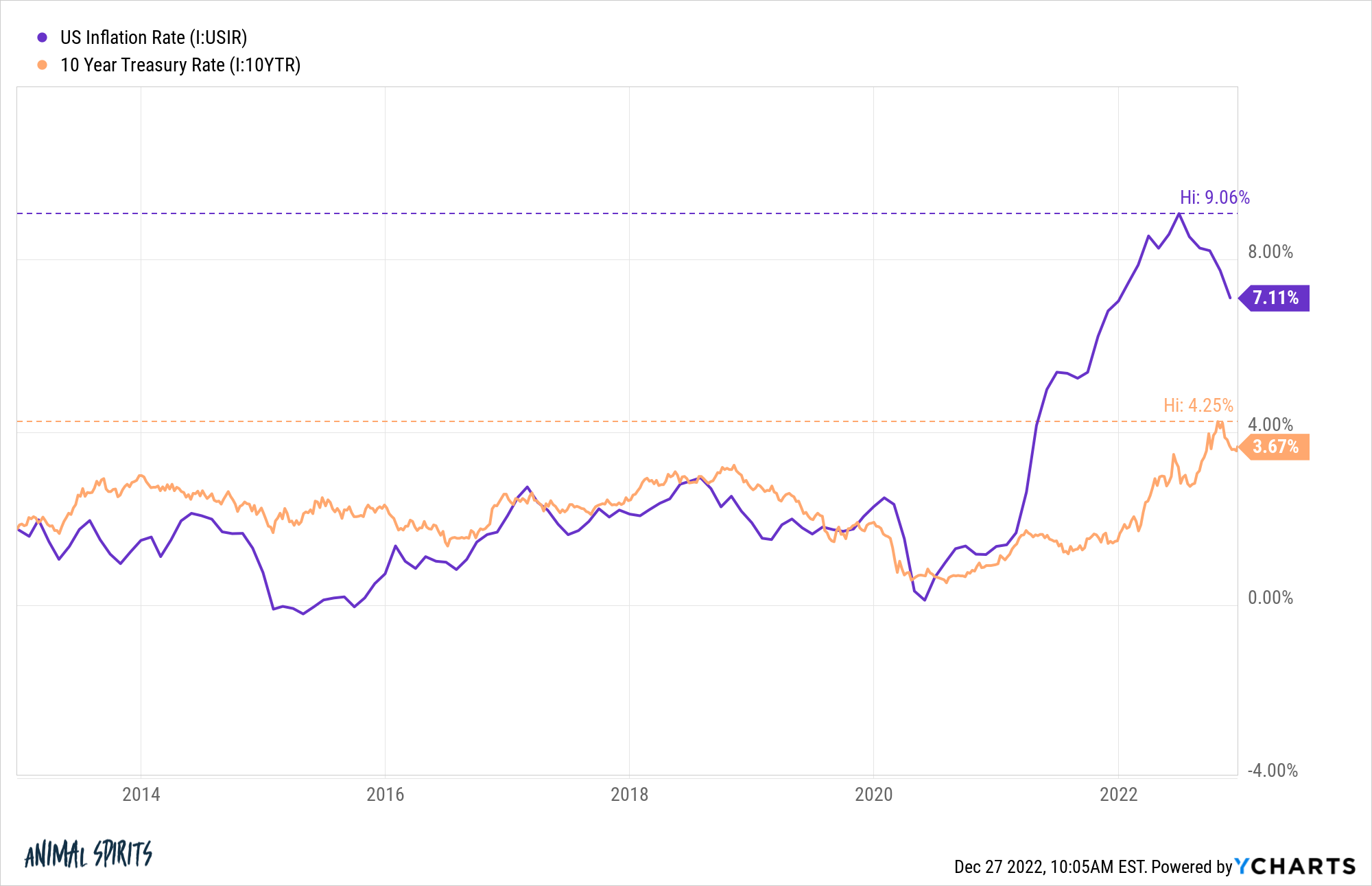 Interest rates never got close to the level of inflation.
I wish I had a better explanation for this other than the trend of rates was higher from the 1950s through the early-1980s and it's been lower ever since then.
There is more to it than that but muscle memory in the bond market is likely playing a role here in keeping rates much lower than the inflation rate.
Bitcoin getting shellacked with 9% inflation. Bitcoin is still relatively new and the narratives around crypto are constantly changing.
For years, crypto proponents said it was a way to subvert the banking system and hedge against inflation, money printing, the Fed, government spending and other macro shocks.
Well, 2022 took a sledge hammer to this narrative as bitcoin crashed in the face of higher rates and rising inflation: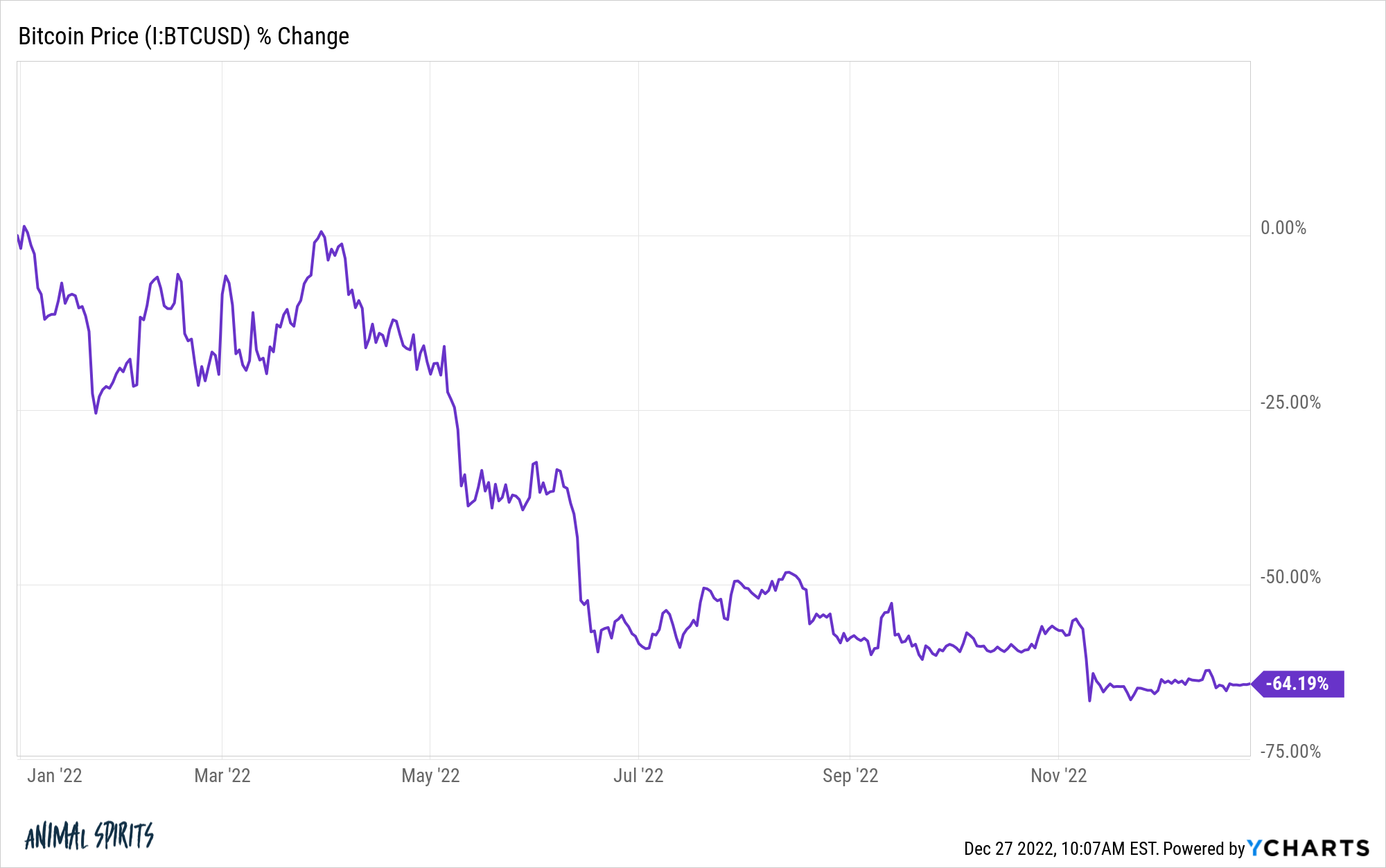 It's obvious now that crypto is simply a risk asset with the longest duration possible but I'm surprised at just how poorly it failed its first test as a macro hedge.
It was an awesome year for sequels. I have always been a huge Top Gun person so I was apprehensive about the sequel. You can probably count the number of classic movies where the sequel lives up to the original on two hands.1
Top Gun: Maverick was one of the best movie experiences I've had in years, maybe ever. We saw it in one of those Dolby surround sound theaters so it felt like you were in the planes when they were taking off.
They did such a wonderful job of offering some nostalgia to fans of the original like me without overdoing it. It was easily one of the best action movies ever made and the best part is that it wasn't some CGI movie made on a computer.
The new Avatar was CGI but it was so well done. The last hour or so of the movie was non-stop action and one of the better fight sequences I can remember.
Knives Out is one of my favorite movies of the past decade. The sequel wasn't as good as the original but it was enjoyable. Sign me up for another Benoit Blanc mystery.
My kids loved the new Minions movie.
Plus, the second season of The White Lotus was even better than the first. Even the Game of Thrones dragon prequel was way better than I expected it to be.
I'm not a fan of the constant regurgitation in Hollywood when it comes to all of the superhero movies but 2022 was an excellent year for follow-ups in TV and movies.
Elon Musk buys Twitter. At first it felt like Musk was just being a bored billionaire who liked to tweet. It didn't seem like he actually wanted to buy the company.
In fact, it sounds like he did everything he could to avoid it after the deal went through.
I don't blame him.
This might be one of the most ill-timed takeovers in history. Just look at the returns for other social media companies this year:
Snap is now valued at less than $14 billion. Musk paid $54 billion for Twitter.
I was surprised he didn't pay the $1 billion break-up fee and walk away. I plan on being even more surprised with how this one plays out from here.
FTX as one of the biggest frauds in history. A lot of people are re-writing history now that Sam Bankman-Fried has been exposed as the Bernie Madoff of crypto but no one was calling this one out before it happened.
FTX had its name on NBA arenas. They had star power and big investors. It seemed like they were the one crypto exchange that would make it through the crypto winter unscathed. In fact, they were the ones bailing out other companies throughout the crash.
SBF gave interviews to anyone and everyone and came off as a wunderkind who wanted to make the world a better place.
Sure, there were people who thought something wasn't right about the relationship between Alameda and FTX but no one had any idea how bad this really was.
Gas prices hitting $5/gallon and then round-tripping. The war in Ukraine was also one of the most surprising events of the year. The impact on the financial markets was obvious at first but more surprising in the end.
Gas prices going from a little over $3/gallon at the start of the year to more than $5/gallon was painful for a lot of households.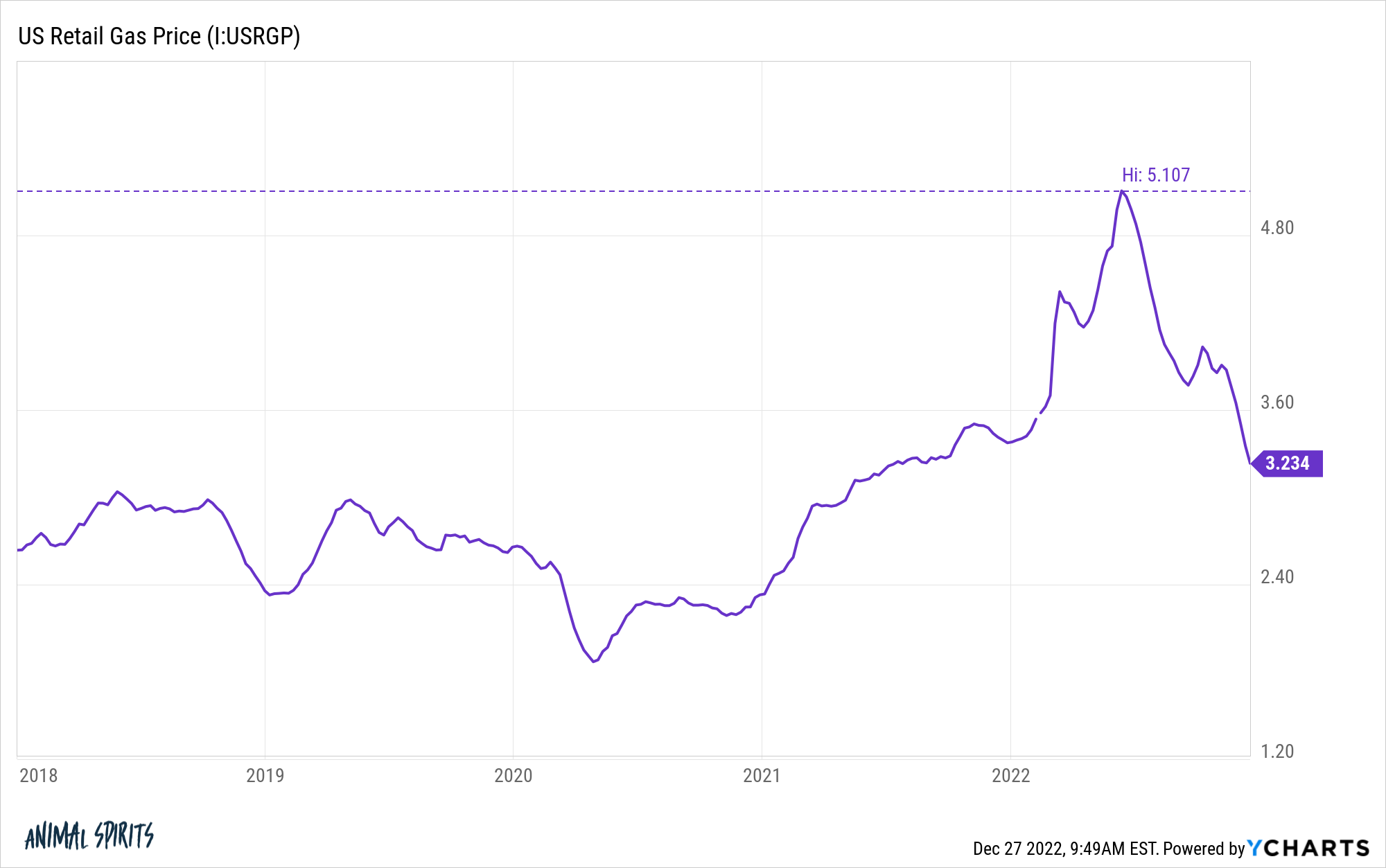 The fact that the war is still ongoing, it might be even more surprising that gas prices are not only lower than they were before the onset of the war, but they are now lower than they were at the start of the year.
I'm sure next year is going to be full of surprises as well.
Just don't be surprised by what we're bound to be surprised about in 2023.
Further Reading:
Money Lessons From The White Lotus
1The Godfather Part II, The Dark Knight, Terminator II, Back to the Future II, Rocky III & IV, Before Sunset, Austin Powers 2, both Indiana Jones follow-ups and I'm sure there is something I'm leaving out here. The biggest whiff this year was the Jurrasic Park finale which was terrible.