Facebook went public in the spring of 2012.
In the year before filing to become a public company, the social network brought in $3.7 billion in revenue.
The stock price actually fell 50% from May 2012 through September of that year.
From that point on it was one of the best-performing tech stocks in the entire market. From September 2012 through August 2021, Facebook shares were up a cool 2000%.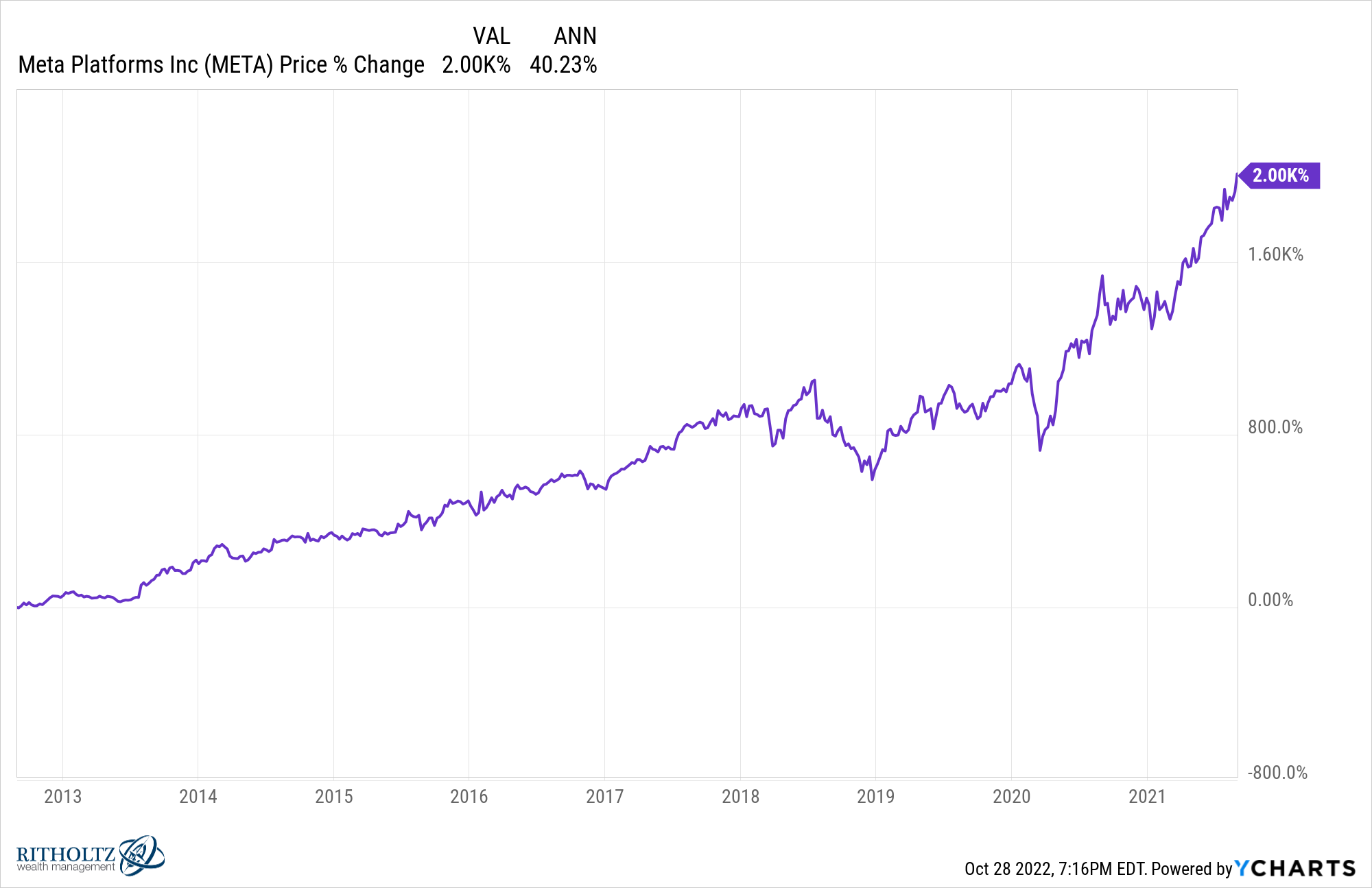 That's 40% annualized returns, good enough to turn $10k into more than $210k. Revenue grew from less than $4 billion before the IPO to nearly $118 billion by the end of 2021.
It's estimated Facebook has 3 billion monthly active users on the platform.1 It's one of the most successful growth companies ever created.
And yet…the stock has been crashing.
Coming into the quarterly earnings release this week, Facebook was down 66% from the all-time highs last seen just 13 months ago.
After investors soured on the earnings report, shares fell more than 20% on Thursday alone.2
The stock is now down almost 75% from all-time highs: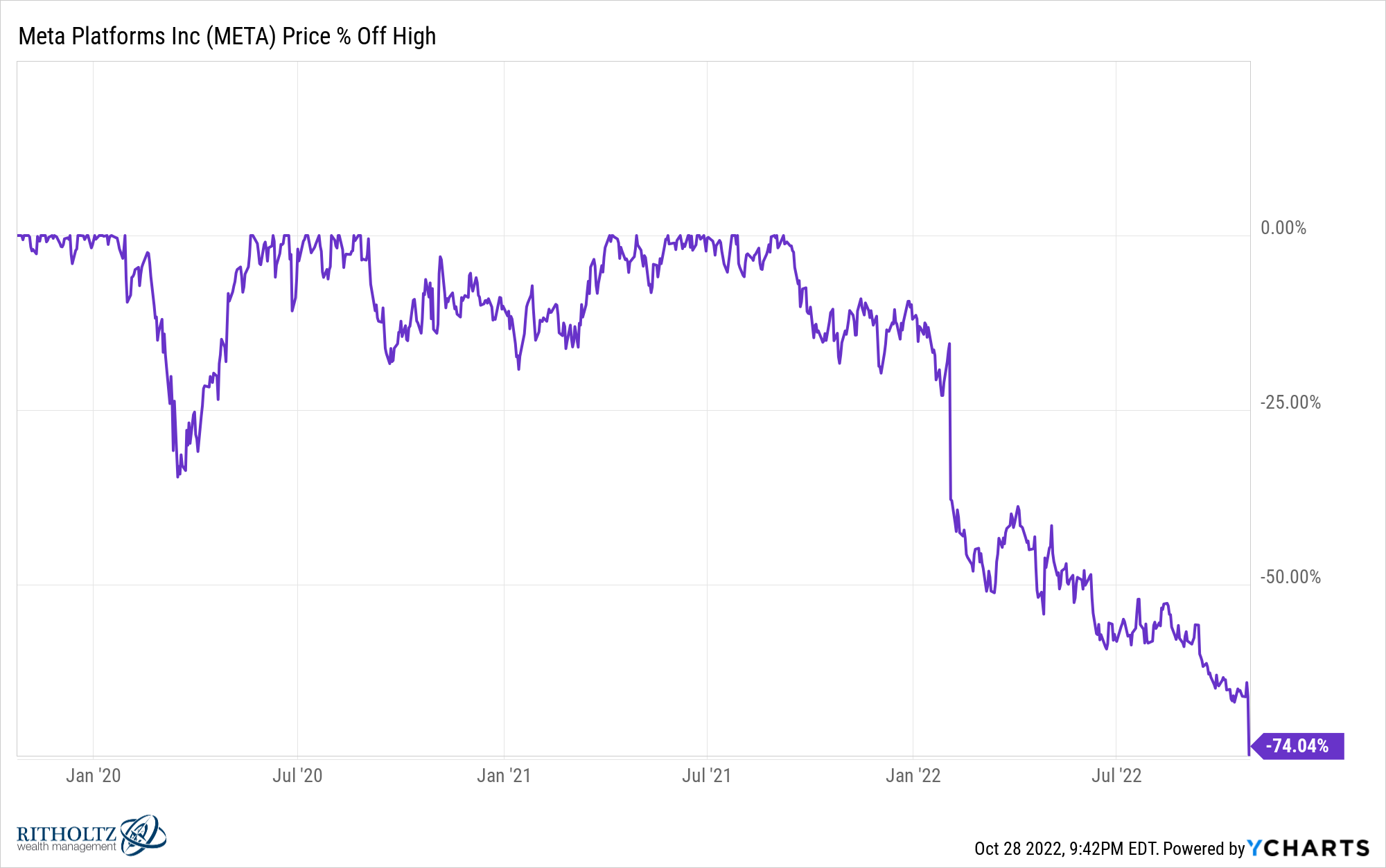 Last fall, Facebook had a market cap that was just shy of $1.1 trillion.
It's now $266 billion, meaning the company has lost more than $800 billion dollars in a little over a year.
To put this loss into perspective, $800 billion is a bigger dollar amount than the market cap of every single company in the S&P 500 right now save for Apple, Microsoft, Google and Amazon.
The stock price of Facebook is now back to levels last seen in 2015, when sales at the company were one-sixth the size they are today.
Facebook's losses are so great that the stock is now underperforming the S&P 500 since the company went public in 2012 and by a wide margin: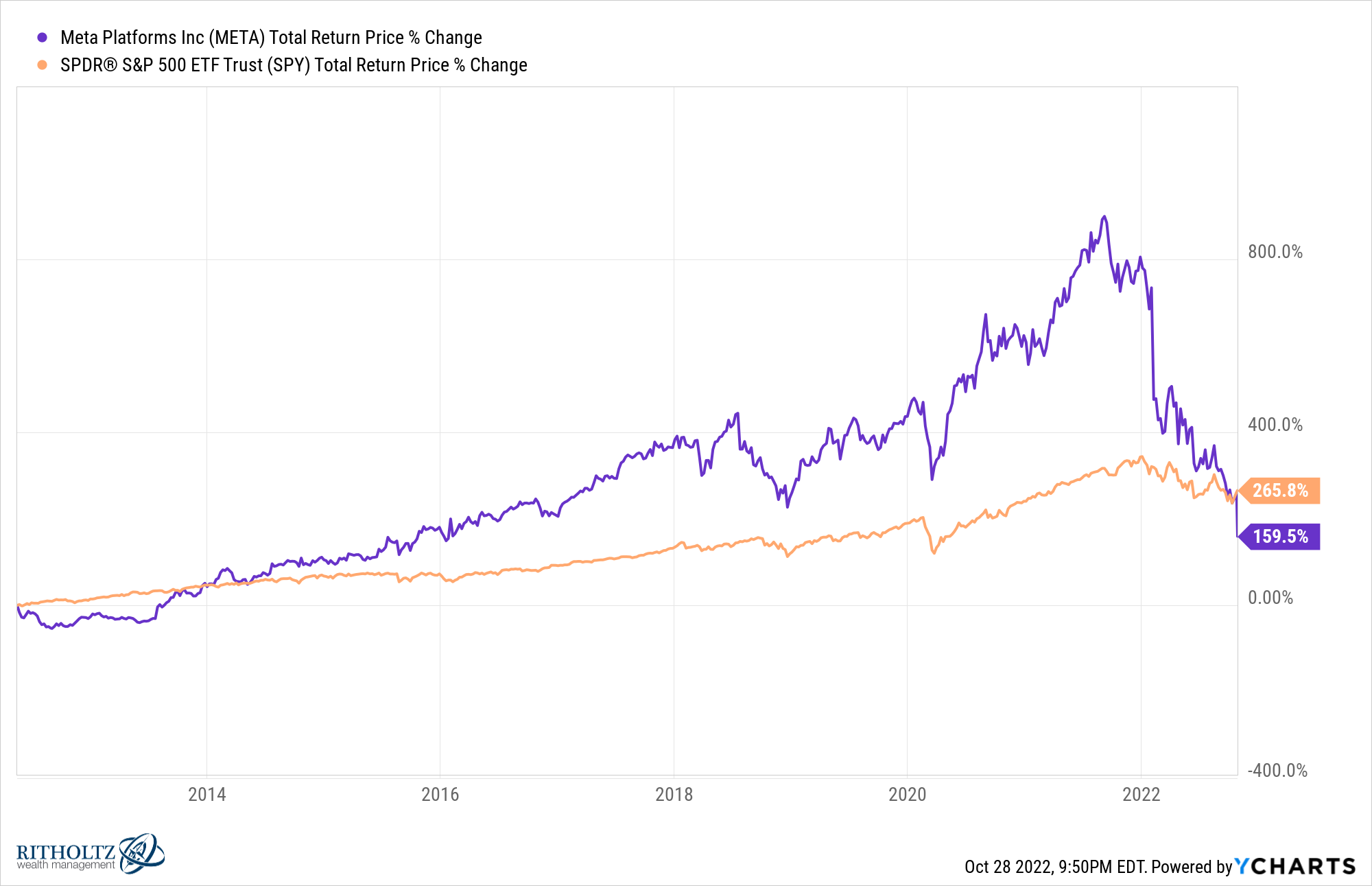 At the height of its outperformance, Facebook was beating the S&P 500 by nearly 600%. It's now underperforming by more than 100%.
I wish I was smart enough to tell you what happens next.
Maybe Facebook is a screaming buy here. Maybe Mark Zuckerberg's metaverse investment pays off. Maybe it's an amazing value play at these depressed levels.
Or maybe Facebook is a social media empire that is declining in importance. Maybe TikTok is going to eat their lunch. Maybe the metaverse is never going to get off the ground (or doesn't run through Facebook).
I honestly don't know which scenario is more likely here and wouldn't be surprised either way. You might be looking at a generational buying opportunity or the end of an era for a dominant corporation.
I could say the same for a number of big tech stocks that are currently in the midst of large drawdowns: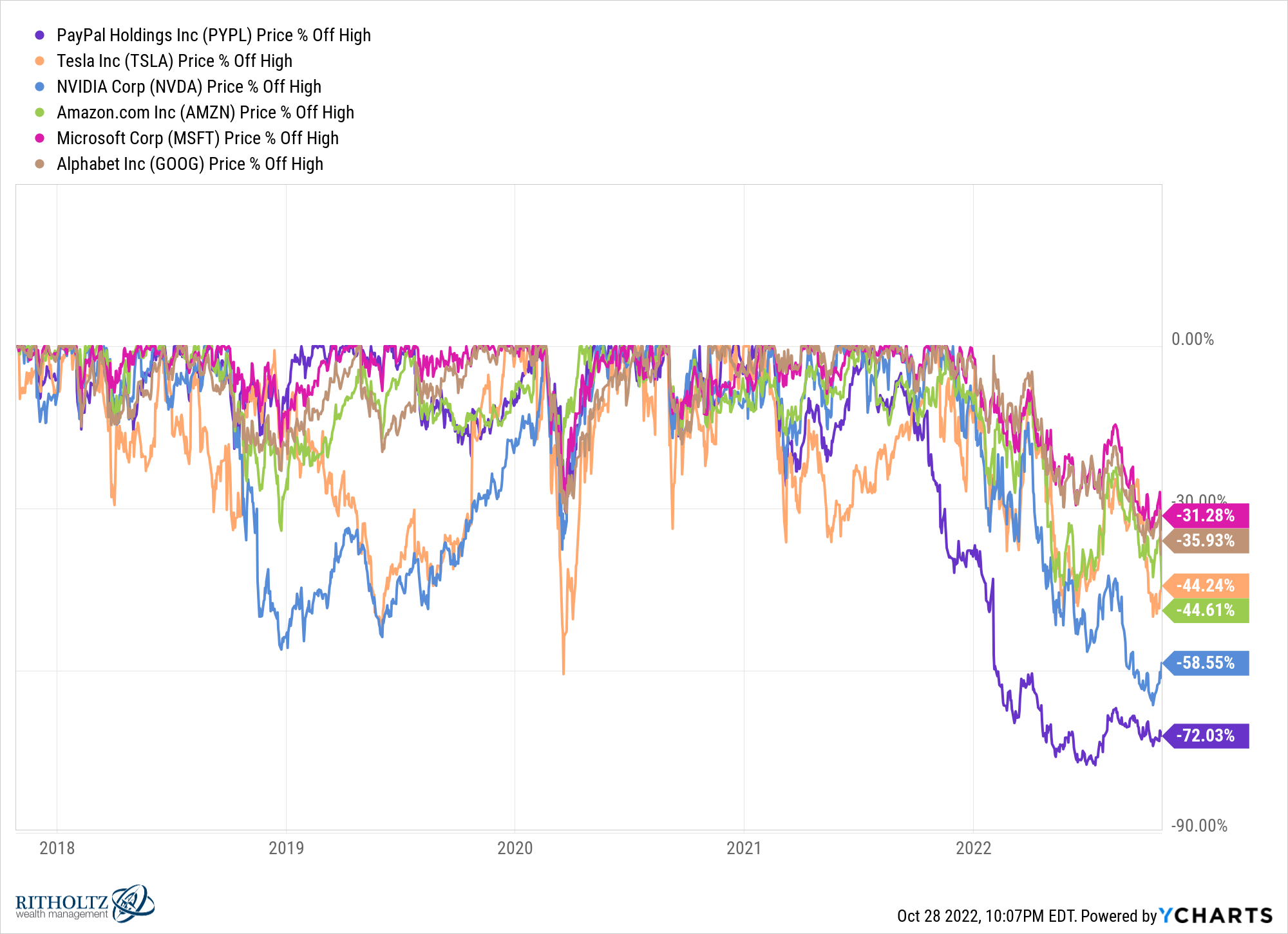 Facebook is not the only stock price that has time traveled to the past.
PayPal first crossed current levels in 2018. Amazon is back at early-2020 levels. Microsoft has given up all of 2021's gains.
NVIDIA was up 125% in 2021. The price has completely round-tripped that massive price increase. Tesla is back to late-2020 levels as well.
Plus you have blue-chip stocks like Nike (-47%%), Disney (-48%), Boeing (-67%), Walgreens (-57%) and 3M (-51%) in the midst of severe drawdowns.
I'm not trying to pour salt in the wound here for people who own these stocks. This is just a not-so-gentle reminder that stock picking is extremely difficult, even over the long run and even for best-of-breed corporations.
On the way up you kick yourself for not investing in name-brand companies with stellar stock performance.
Then when they inevitably crash you begin to wonder if those gains are ever going to return.
I'm sure there are a handful of well-known companies experiencing bone-crushing losses that will turn out to be wonderful buying opportunities.
I'm just not smart enough to know which companies are screaming buys right now and which ones are value traps where their best days are behind them.
Investing in index funds feels pretty boring when well-known companies are crushing the market.
But boring can be beautiful when it comes to figuring out how things will play out during a bear market.
I prefer to hold a basket of stocks rather than pick a handful that will come back from being down big.
Further Reading:
Sustaining Wealth is Harder Than Getting Rich
1I've still never had an account so you can't count me in that 3 billion.
2It's still crazy to me stocks this big can have a 1987-like crash and fall this much on a single day.