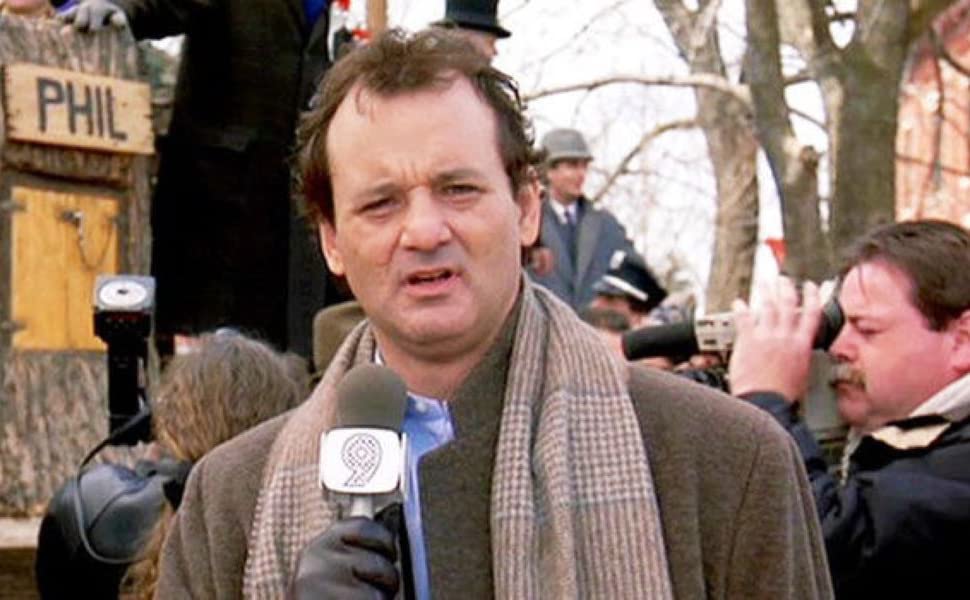 Bill Murray has been in some of the biggest and best movies of the past 40 years or so — Stripes, Caddyshack, Ghostbusters, Groundhog Day, Kingpin, Rushmore, Lost in Translation — along with dozens of other movies you've watched over the years.
But his most memorable character is probably one that has never been in a movie — himself. The stories about the actor are even more legendary than his movie parts.
There are hundreds of stories from normal people about Murray's antics.
He would walk up behind perfect strangers and put his hands over their eyes from behind and say "Guess who."
When the people turned around he would say, "No one will ever believe you."
One guy was smoking a cigarette outside of a bar when Murray walked by, grabbed it out of his mouth, took a drag, gave it back to him and said, "No one will ever believe you."
The late-Harold Ramis, who acted with Murray in Ghostbusters and Stripes and directed him in Groundhog Day, once told the story of a fan coming up to them on the streets of New York City.
The fan told Murray how much he loved him to which Bill replied, "You motherfucker, I'm going to bite your nose!'"
He then proceeded to wrestle this gentleman to the ground and bite his nose in a joking manner.
"No one will ever believe you," was the only explanation necessary.1
These antics went beyond random encounters on the street with strangers.
After watching a rough cut of Ghostbusters Murray came to a realization: "I knew then I was going to be rich and famous. Not only did I go back to work with a lot of attitude, I was late. I didn't care—I knew that we could be late every day for the rest of our lives."
Here was a comedic genius who now became self-aware of his own powers and he took advantage of it.
Murray always delivered but he was not as punctual as Dominoes and he was notoriously difficult to work with on certain projects.
Gavin Edwards collected all of these stories in his book The Tao of Bill Murray. This one about his Oscar-winning turn in Lost In Translation is a microcosm of his actions on the set:
Sofia Coppola, for example, spent eight months pursuing Bill for Lost in Translation, ultimately reaching him through his friend Mitch Glazer: Bill agreed to the job. "They had been shooting for a week or so in Tokyo," Glazer remembered. "Sofia called me, I thought, to tell me how great things were. But she said, 'Um, have you heard from Bill?' And I said, 'Isn't he there?' She said, 'Well, no. He's supposed to show tomorrow and we haven't heard, and we've shot everything we could without him.' " Let the record show, however, that Bill did turn up, gave the performance of his life, and even helped move equipment from one location to the next.
This dichotomy between being unreliable but also a genius was a running theme on the movie set.
There's a scene in Stripes where Murray leads his rag-tag platoon in a choreographed training routine:
Director Ivan Reitman summarized the highs and lows of working on a movie set with Murray describing how this one came together:
"I knew we needed to have some spectacular second-act curtain." Reitman commissioned a routine from a military drill specialist and then had the recruits spend weeks practicing it. Bill, however, refused to go to any rehearsal. Reitman implored him, "Bill, you gotta learn this. You're going to be in the front of it—you can't look bad."
"No no no, I'll get it," Bill assured him. He went to one or two practices, putting in maybe five percent of the time the other cast members did. On the day of the shoot, they filmed in front of five hundred people who had never seen the routine before. "As usual, Bill had the routine down perfect," Reitman sighed. "I don't know where the hell that came from."
There are endless stories like this where the movie star was undependable, yet still delivered when it mattered.
Murray was so difficult to work with that he and Ramis didn't speak for more than 20 years after collaborating on Groundhog Day. Ramis recalled, "It's like working with Vincent van Gogh—on a bad day."
Would it be possible to have such amazing performances if he wasn't such a tortured genius?
The hot-cold nature of Murray's character is consistent in many of the most successful people.
Kanye West comes to mind as a musical genius with increasingly erratic behavior. Steve Jobs was notoriously difficult to work for. Thomas Edison was such a jerk that he went back to his lab following his wedding ceremony, working into the wee hours of the night, unaware his bride was waiting for his return.
Then there's today's Edison, Elon Musk.
Musk may have singlehandedly forced the entire auto industry into speeding up its timeline for making electric vehicles ubiquitous.
With SpaceX, he has cemented our position as the leader in rocket technology and space transportation.
The guy is trying to make energy more sustainable and interplanetary travel a possibility.
His accomplishments as an innovator and businessman are astonishing.
And then you have the other stuff. The social media shenanigans. The controversial statements. The pumping of shitcoins. The bizarre behavior.
Now you have the attempted takeover of Twitter.
Matt Levine summarized how ridiculous this all is as only he can do:
Still I imagine that Twitter's bankers at Goldman Sachs will sit down with Musk's bankers at Morgan Stanley and Goldman will say "so uh where's the financing coming from" and Morgan Stanley will say "oh the financing is in this can" and hand Goldman a can and Goldman will open the can and a bunch of fake snakes will pop out. "AAAHHH," Goldman will scream, and then they will chuckle and say "oh Elon, you got us again" and everyone will have a good laugh. Because, again, uniquely among public-company CEOs, Elon Musk has in the past pretended he was going to take a public company private with pretend financing! I am not saying that he's joking now; I am just saying he's the only person who has ever made this particular joke in the past.
Does Elon Musk really want to buy Twitter because he cares about free speech? Sure, why not.
But isn't it also possible the wealthiest man on the planet is bored, enjoys the attention he gets on social media and is looking for some entertainment?
Why would he want to buy Twitter when he's already running two important companies?
Cognitive dissonance is what happens to the brain when someone holds two different beliefs in their brain simultaneously that are inconsistent with one another.
Holding this position is about as comfortable as sleeping on a water bed (seriously why did people ever think that was a good idea?). When your mind feels this discomfort, it seeks to eliminate it by choosing a side.
The two sides with Elon Musk look something like this:
(1) The people who worship the ground he walks on and love him unconditionally.
(2) The people who despise him and get irritated anytime his name comes up.
It's difficult to believe that Elon Musk is both a genius and also a social media troll but it appears this is exactly what he is.
I'm not sure he would have become the richest person alive if it were any other way.
Elon Musk is a genius who doesn't follow social norms. And maybe he doesn't follow social norms because he is a genius.
Much like Murray became self-aware following his Ghostbusters success, I think Musk realizes how much power he holds now that Tesla and SpaceX have reached escape velocity.
Elon Musk is a complicated genius who has the ability to both inspire and drive people crazy.
This might be a feature, not a bug, when it comes to the most successful people.
Further Reading:
The psychology of betting big and losing it all
1It is worth noting most of these stories occurred before the iPhone was invented.