This past Saturday had an awesome slate of college football games.
It was nice enough outside we could even put a TV on the screened-in porch and have the games on in the background while the kids played in the backyard. That's a perfect fall day if you ask me.
After 8-10 hours of games, you begin to notice the same commercials over and over again.
Scoop there it is has seen an incredibly long run. It's a song that has been stuck in my head since 1993 coming back to the surface.
There was also a newer commercial that played on a loop throughout the afternoon for the new Jeep Grand Wagoneer.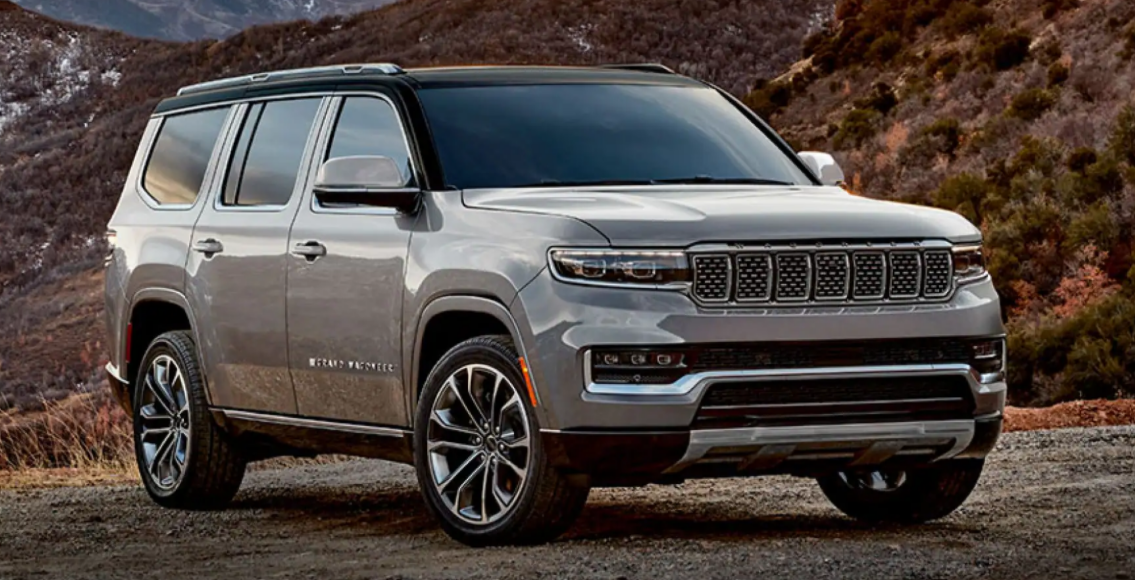 This thing is massive.
And I just know I'm going to start seeing these things at my kids' soccer games in the future. It's inevitable.
We were in the market for a new SUV for my wife recently so I've been paying more attention to people's vehicles of late.
I've noticed something about my fellow millennial parents — there are very few minivans anymore. Even though we're getting older, we would like to assume we're still hip and minivans just aren't hip. So the majority of people with young kids these days now drive SUVs.
Those SUVs are only getting bigger, as evidenced by the gargantuan new Wagoneer.
I get why this is the case. Kids these days require a lot of stuff. I don't recall having this much stuff when I was a kid but times change.
We actually had a minivan for a few years when my twins were younger but opted to trade up to an SUV for a little more breathing room. So I'm talking my own book here.
My only worry is these SUVs are going to make it harder for parents to save for themselves or even their children's college funds.
After my 17th viewing of the Grand Wagoneer commercial, I decided to give it a price check. I almost spit out my Blue Moon from the sticker shock:

I guess if you're going for a luxury SUV you charge a luxury price.
Running the numbers on a vehicle that costs almost $90,000 works out to a payment just shy of $1,600 a month (assuming a 5 year loan at a 3% interest rate with no money down).
I'm not a huge car guy but that seems a tad steep for anyone not in the 1%.
Let's put that monthly payment into context to show just how large it is.
The median price for an existing single-family home in the United States right now is estimated to be $367,000. The mortgage payment on a home at this price (assuming a 10% down payment with a 30 year fixed mortgage at 3%) would be just shy of $1,400 a month.
The monthly car payment on a $90k SUV would be higher than the monthly mortgage payment for the median-priced single-family home in the United States. One of these assets appreciates above the rate of inflation. The other one depreciates the minute you drive it off the lot.1
I've seen the prices for similar SUVs. They can run anywhere from $60k to $100k depending on the package and upgrades. For these prices, you're looking at monthly payments in the range of $1,100 to $1,800.2
I'm not here to spend shame everyone. There are of course people who can afford to drive higher-priced vehicles.
But I would like to throw my hat in the ring for creating some sort of new personal finance rule of thumb. How about a car payment-to-housing payment ratio? Or what about a car payment-to-savings rate ratio?
Maybe your car payment can't be more than 50% of your housing outlay? Or only used cars until your savings rate reaches a double-digit percentage of your income? I'm still workshopping it.
It depends what your current savings rate is and how much money you are currently setting aside. Budgets are personal because finance is personal .
Having kids can be expensive so I can understand why it becomes difficult for parents to save for either themselves or their children.
If you do find yourself in this position, an expensive car payment is a good place to look when it comes to finding some more wiggle room in your budget.
When you include ancillary costs such as gas, maintenance and insurance, your vehicle can take up a big chunk of your budget.
I'm a complete hypocrite for saying this since we got rid of our minivan but I'm just throwing this out there — the MSRP on a Honda Odyssey is around $33,000. That would work out to a monthly payment of less than $600. That's $1,000 less than the payment for a brand new ginormous SUV.
That's $12,000 a year in savings. It's real money.
Is driving a minivan worth saving $1,000 a month?
Further Reading:
Are SUVs Ruining Retirement Savings?
1I understand you're making the payment longer on the house but the impact on your monthly budget is what I'm trying to highlight here.
2You could also lease for a lower monthly payment but it's not that much lower.