I've got a personal finance secret to share.
I lease my car.
I know, I know, the personal finance scolds aren't going to like this one but hear me out.
My office is 4 miles or so from my house so I don't drive a ton of miles each year. Of the two lease deals I've had in the past my mileage total hasn't come close to hitting my annual limits in either case.
My wife and I have a 7-year-old and twin 4-year-olds. Kids destroy the interior of your car (we have seat covers and whatnot, doesn't matter). There are Cheerios in every nook and cranny. Goldfish smushed into every floormat. Sand, dirt and unknown sticky substances everywhere. I'm more than happy to let the dealership deal with that collateral damage when I turn in my lease for a new ride.
The payment is also lower than if I financed it. Yes, I know the cost of depreciation and carry is included in the lower cost of a lease payment but it's still lower than the cost of buying and financing a new car.
I've driven plenty of used cars in my day. Driving a used car into the ground can be an excellent financial decision if you own it long enough to go without a car payment for some time.
I've just had terrible experiences with used cars breaking down. Alternators, transmissions, new tires, new mufflers, new brakes, new shocks, you name it, I've probably spent hundreds or thousands of dollars getting it repaired on cars I've driven over the years.
When I was in college, one summer I drove around an Oldsmobile that looked like this: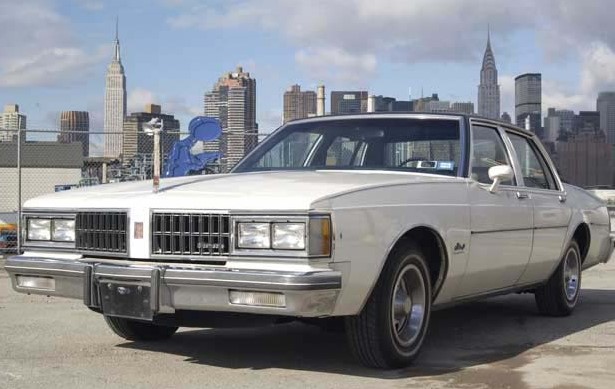 (This beast was rear-wheel drive and had a horn that could cut through the thickest of fog. It felt like you were driving a battleship down the road.)
Plus it's not just the cost of repair that's difficult to stomach in those instances; it's the inconvenience. You have to take the car into the shop and have someone else follow you there for a ride. Then you don't have your car for days at a time while they fix it.
First-world problems? Certainly, but leasing a car means basically you get an oil change once a year and that's it. No further maintenance required because you're not going to drive the vehicle long enough to deal with those issues.
And finally, I like driving a new car every 3-4 years. I don't drive top-of-the-line (it's a Ford Explorer) but it's nice to have an updated mode of transportation every few years. The technology in automobiles is constantly improving. You can get wifi in your car now. Then there's the new car smell for a few weeks that is possibly one of the greatest smells on the planet.
Leasing is not for everyone. You have to run the numbers and base the decision on your circumstances.
Michael and I have spoken about the cost of owning a car a number of times on Animal Spirits. Jesse Cramer sent us an incredibly deep dive he wrote called The True Cost of Car Ownership.
Some highlights:
How long and how much you drive your car has a huge impact on assessing the value of new vs. used and buy vs. lease.
Depreciation is by far the biggest initial expense few people consider with a new car. You can assume your car value drops by 10% or so the second you drive it off the lot and an additional 10% off the initial sticker price each year for the next 5 years.
Most new cars are covered for the first 36 months under warranty for maintenance and repairs. After that you're on your own. And the cost of repairing an older car is estimated to be twice the cost of repairing a newer car.
You also have to factor in the cost of fuel, registration and insurance.
Cramer estimates the average cost of owning a car is likely in the range of 35 to 65 cents per mile driven over the life of a vehicle.
Assuming a car these days can last 15 years and go 200k miles, that would bring the cost of a $30k automobile to $90k over the life of ownership.
Surprisingly, he finds the cost of buying new or used is fairly similar, all else equal, since the cost of ownership takes into account the amount you pay, miles driven and maintenance required.
His estimate is a 5 cent per mile premium for leasing but the biggest upside is catastrophic repairs and maintenance are taken off the table (and you get a new car every few years).
You could play with different variables (miles driven, maintenance costs, insurance costs, financing costs, etc.) and come up with some different answers.
I guess the main takeaway is so much of this decision is circumstantial to how you would like to use your ride.
Do you drive a ton of miles every year?
Do you plan on driving your car well past the time it's paid off so you don't have car payments for a time?
Do you trade up to a different car every few years?
Like most things in life there are no right or wrong answers. So much of this depends on your situation.
We discussed the pros and cons of buying vs. leasing and more on this week's Animal Spirits video:
Subscribe to The Compound for more of these videos.
Further Reading:
How Much Money Do You Need to Make to Buy a New Car?
Now here's what I've been reading lately: