When school and work shutdowns first began last spring it was impossible to avoid making predictions about how life would change during the pandemic.
It's hard to believe we're now at the juncture where we can start looking forward to post-pandemic life.
I still have many unanswered questions about what happens next:
1. Are summer vacations changed forever? On the Airbnb earnings call this week, CEO Brian Chesky said bookings for 28 days or longer now account for almost a quarter of all rentals on the platform.
And whereas pre-pandemic most people used Airbnb in big cities, now more people are renting places outside of urban areas.
This is anecdotal but I know a number of friends who got long-term rentals in the past year that were a mix of work and getaway. Not being tied to the office doesn't just mean working from home but working from anywhere.
What if the new summer vacation doesn't involve packing up the car and taking off 1-2 weeks from work? What if remote employees now decide to do some combination of work and play for longer stretches of time?
Now that employees and companies know this is feasible it's going to be hard to go back to the way things were.
2. When will we see supply come back to the housing market? It seems obvious now but many people were expecting housing to crash when the pandemic shut everything down last year.
Instead we got this: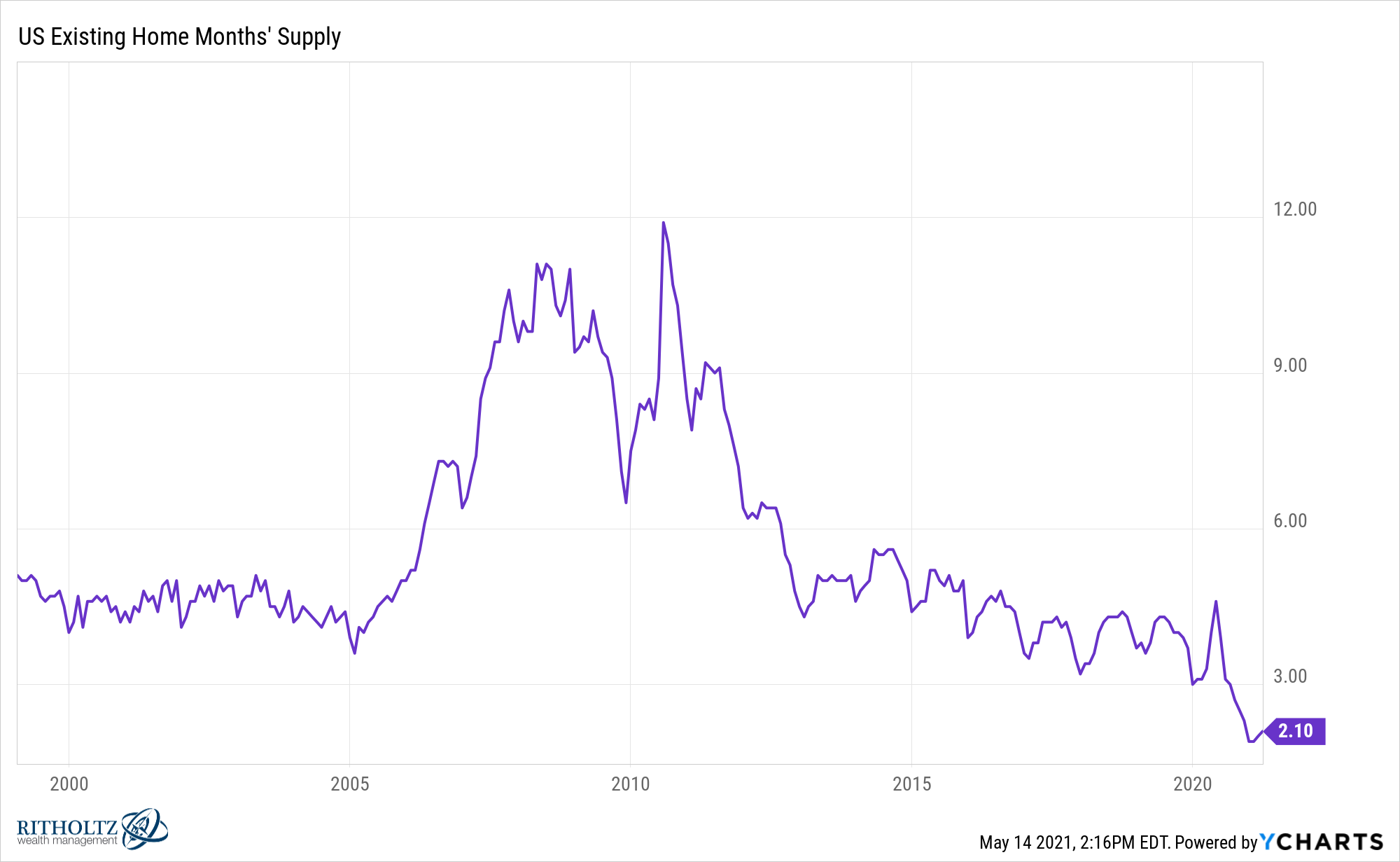 Still far more demand than supply.
Housing can't continue to appreciate at 10% a year unabated.
So does it stop once more people are comfortable listing their house? Will the pandemic demand wane? Will rising mortgage rates slow buyers down? Or will prices simply get too high?
And I'm not even talking about prices falling, just getting to the point where things aren't so crazy.
3. Which pandemic habits will stick? Are handshakes done? Will some people continue wearing masks during flu season? Or on planes? Will people be better about washing their hands?
Will Pelotons taking the place of going to the gym for those who bought one?
Or how about Zoom meetings? And business travel?
4. What happens to business travel? I wasn't a huge business traveler before Covid but I was on the road once every month or two, sometimes more.
I can't believe how many things I can do from the comfort of my office that used to require going to the airport, taking a flight, then grabbing an Uber from the airport and staying at a hotel.
I'm sure I'm not alone now that everyone is used to Zoom meetings and such.
Business travel isn't going away completely. I'm sure there are many people in sales jobs and the like who are dying to get back on the road.
But even if it's 20-30% lower than before so many businesses will be impacted — from airlines to restaurants to transportation companies to bars and entertainment.
5. Will interest rates get above 4% in my lifetime? Interest rates go lower with every economic crisis. And when they eventually rise they go up to much lower levels each time.
There are obviously scenarios that would call for higher rates in the future but I wonder if we could even handle rates going much higher than 3-4% with the sheer amount of debt in the system.
And if government spending is going to be higher going forward the Fed may need to keep rates relatively low for a long, long time.
6. Will we finally see meaningfully higher inflation? One of those obvious scenarios that would potentially cause higher interest rates would be a sustained rise in inflation.
While rising in recent months, inflation has remained relatively low for the entirety of this century: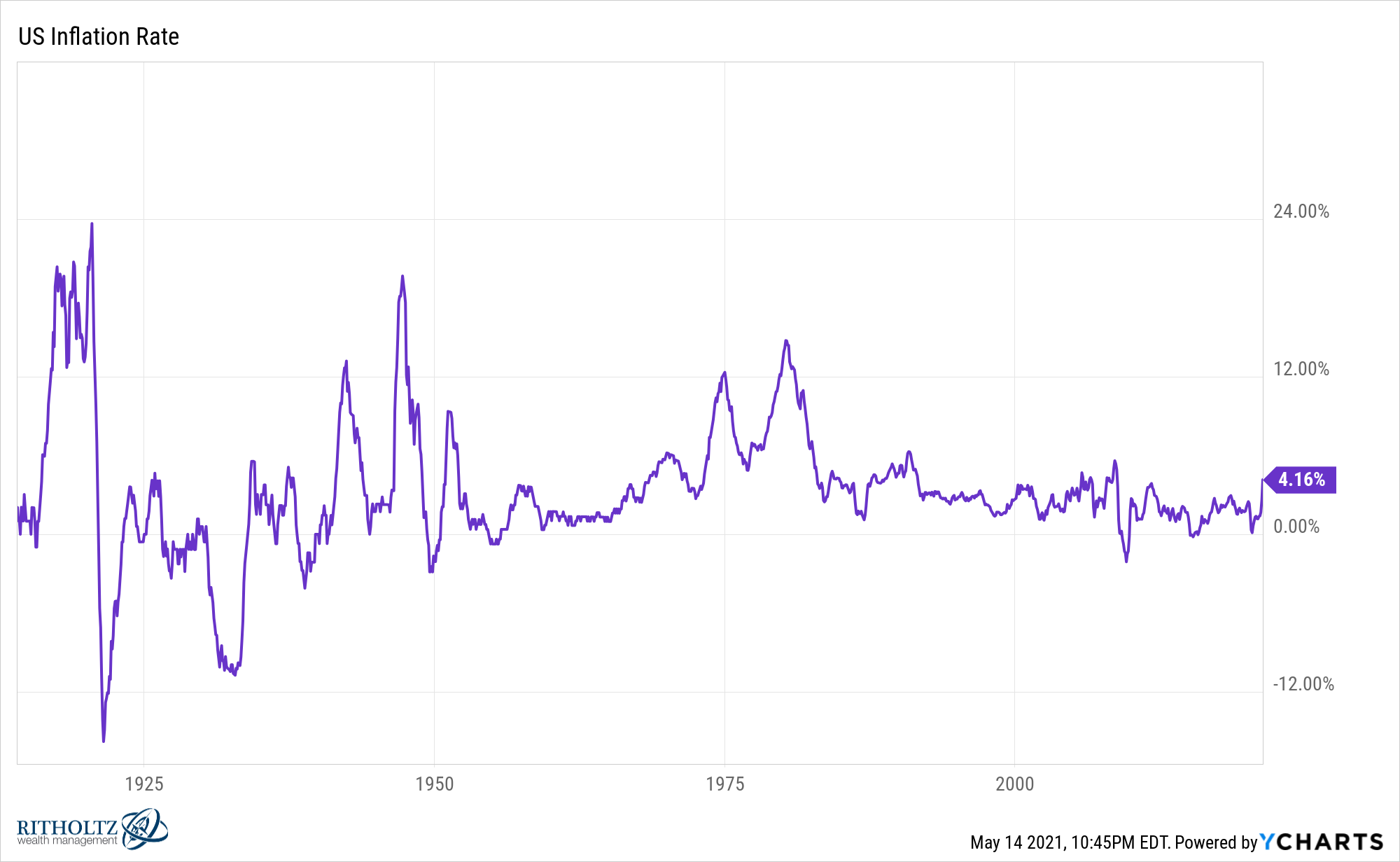 Could all of the government spending lead to much higher inflation than we've experienced the past couple of decades?
It certainly feels like a higher probability than we've had in many years.
7. Will we finally see a sustained rise in wages for lower-income earners? Sticking with this theme, it would seem a sustained level of inflation above 3% or so for some time would require a concurrent rise in wages.
In a recent research note, Goldman Sachs showed wage growth is accelerating for lower-income workers: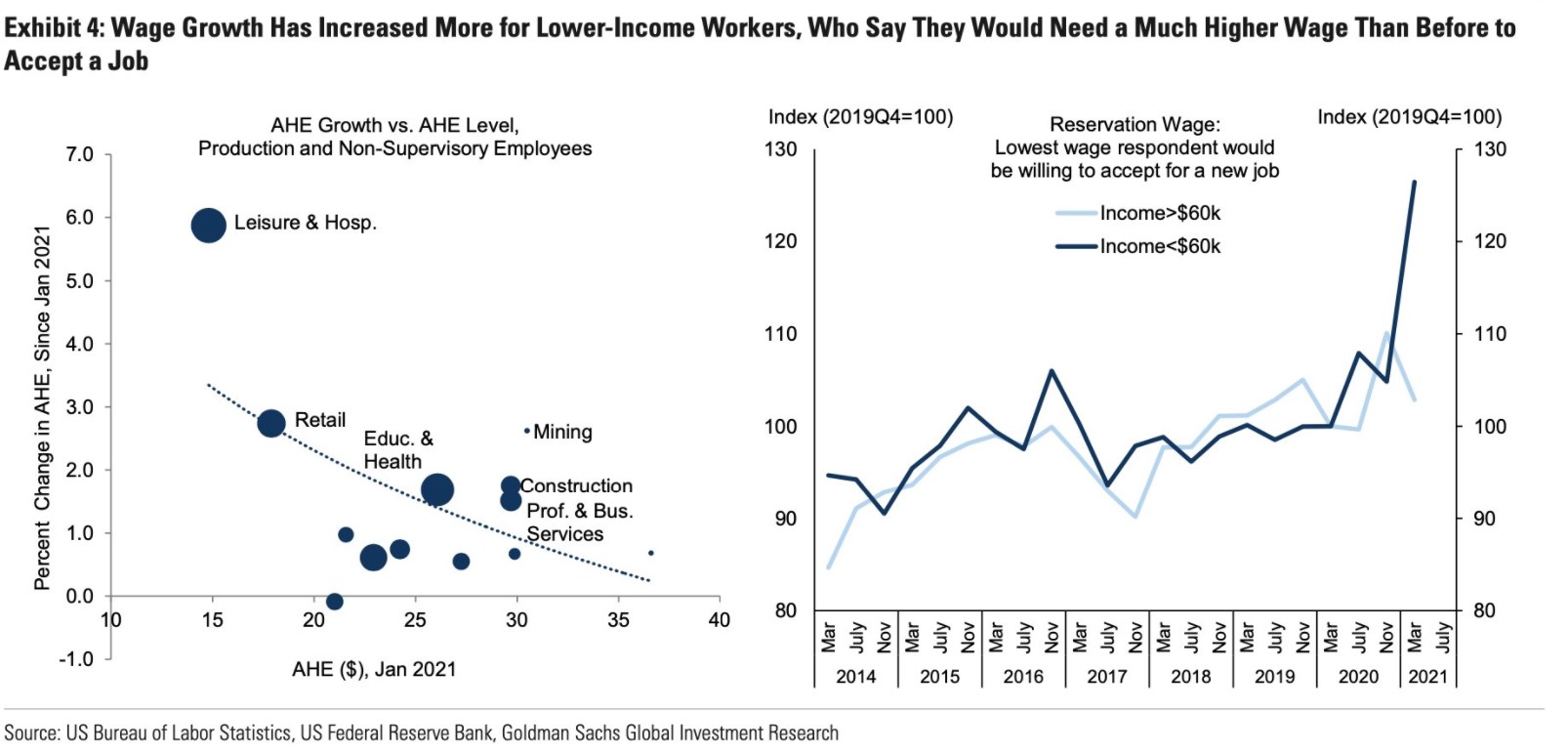 This group has been more or less left behind the past 3-4 decades as the majority of the income gains have gone to the top 1%.
If this is a trend that proves to be sticky, that seems like the good kind of inflation to me.
8. Did the pandemic usher in an era of universal basic income? I do think we could look back at the pandemic as the onset of direct government payments to households every time there's a crisis.
You can't put the toothpaste back in the tube now that people have experienced this.
People will come to expect those checks in the future and it's possible the government uses them outside of recessions as a way to stem the tide of wealth inequality.
9. Is the retail trading boom here to stay? A simple explanation for the explosion in speculation and retail trading in the past year or so is that people were bored.
They had nothing else to do and the government sent out checks or people spent less on other categories so they put it in the market or collectibles or crypto or something else.
There's probably some truth to this.
But I wonder if this is one of those behaviors from the pandemic that has simply been pulled forward in terms of adoption.
For instance, Charles Schwab added 3.2 million new clients in the first quarter of this year. That was more than the 2.4 million new accounts added in all of 2020, which was an insane year for speculation.
Some of this will surely slow down. But it's possible the social, interconnected gamified nature of our technological world means people will simply find it easier to invest or speculate.
10. Will we surpass dot-com bubble-era valuations levels? I asked if this was possible at the end of 2020. We're getting closer: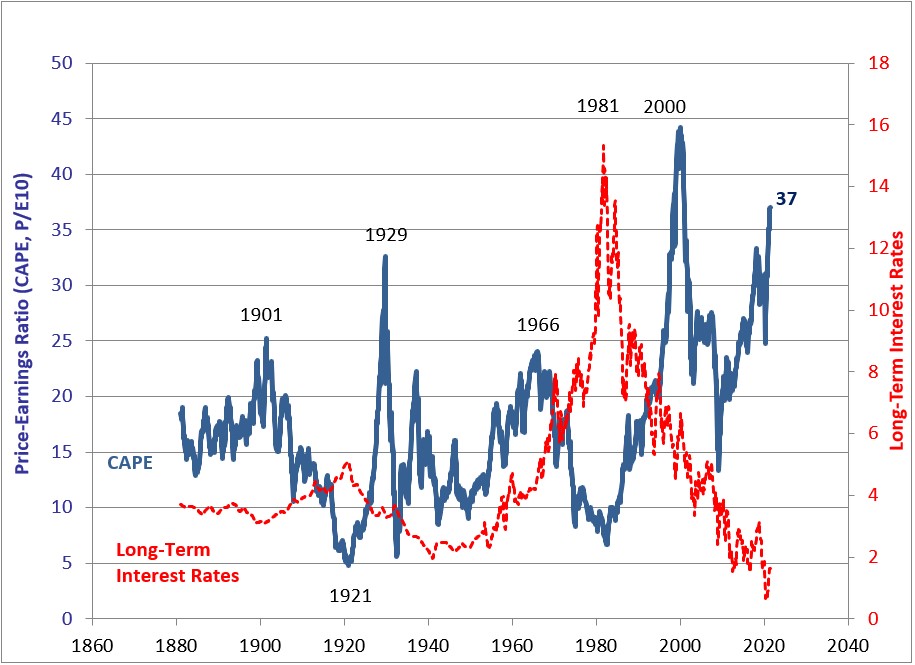 There are a lot of ifs for this to happen.
IF the stock market can continue this charge higher. IF investors feel comfortable with multiple expansion. IF the Fed keeps rates low for a long time. IF inflation stays under control.
I wouldn't rule it out if the economy booms from here.
11. What's going to happen with movie theaters? A couple of weeks ago my daughter's elementary school rented out the movie theater for a drive-in.
It was fun because it felt like an event.
It seems to me movie theaters are going to have to make it an event to get more people to come back. It's possible 2020 marked the beginning of the end for movie theaters for a large swath of the population as people became much more comfortable with on-demand movies from the comfort of their couch.
(I can't see myself going back to the movies anytime soon. OK, maybe A Quiet Place II or Top Gun II but I would have paid pretty much any price they charged had those movies been released on-demand in 2020 like they should have been.)
12. Will we really see our own roaring-20s? Towards the end of March 2020, I wrote a piece on what it took to get to the roaring twenties of the early 20th century.
At the time I was trying to be optimistic but it was hard to consider an actual economic boom at that time.
It's still hard to believe we basically went into a depression for a month and then completely stopped that calamity in its tracks.
Things are far from perfect at the moment but if you ran thousands of simulations for a pandemic of this magnitude the way things turned out is probably in the top 1% of economic outcomes.
It's also hard to believe an awful pandemic could lead to an even stronger economy.
Further Reading:
How Did We Ever Get to the Roaring Twenties?