There's an old saying that bull markets are born on pessimism, grow on skepticism, mature on optimism and die on euphoria.
This description might need to be updated for the current moment: bull markets are born on pessimism, grow on skepticism, mature on optimism, annoy people on speculation and die on euphoria.
For years this was described as the most hated bull market in history. And it probably was for a time.
Wall Street wasn't profiting like they usually do because so much money was flowing into index funds. And so many investors had their brains broken by the 2008 crash that every 10% price rise was immediately dubbed the biggest bubble of all-time. So this has been a fairly joyless bull market.
But that all changed in 2020 following the pandemic. Boredom led to speculation. Speculation led to meme stocks. And meme stocks led to a $50 billion joke cryptocurrency.
Dogecoin was literally created as a joke. Read this story about the founder:
Markus, 38, who now works as a software engineer for an education company in the San Francisco Bay Area, told Bloomberg Wednesday that Dogecoin and the mania it's spawned is surreal to witness considering he and fellow co-founder Jackson Palmer created the token as a joke.
"I see this random crap on the internet saying I have all this money. That's cool, but where is it?" said Markus. "I'm a normal working person. I'm not in trouble or anything, but I'm not rich."
That he hasn't participated in the craze that has engulfed his creation has left Markus in a unique position to assess what exactly it is that's going on. Which isn't to say that he can explain it either.
"I'm half detached, but it's weird that something I made in a few hours is now part of internet culture," said Markus. "It's amusing to see Elon Musk talk about it. It feels silly, but there's this huge upwelling behind it."
A joke this guy created in a few hours is now the fifth-largest cryptocurrency by value.
Robinhood trader beat the pants off most professional investors last year. A message board took down a massive hedge fund. Promoters are getting rich for simply attaching their name to a product or service.
This is now the most annoying bull market of all-time.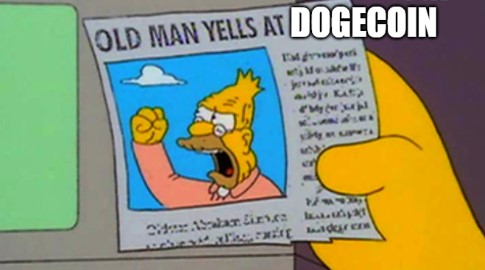 Now before I turn into an old man yelling at a cloud, allow me to say some nice things about dogecoin.
At least this round of speculation is occurring outside of a productive asset. It's not like this is a corporation that can issue more stock or access a cheaper cost of capital because of this insane price spike.
This also proves the blockchain is really difficult to hack. I would never wish ill-will or financial losses on anyone, but I wouldn't feel bad if someone was able to hack dogecoin and steal it all. I mean, if you were a hacker a joke cryptocurrency would be a prime target, right?
So score one for the blockchain in all of this.
Now for some not-so-nice stuff about dogecoin.
This is just so dumb.
All of the billionaires and entertainers pumping this thing are acting like charlatans.
Dogecoin is giving crypto a black eye just days after the Coinbase IPO created a seminal moment for the space coming into the mainstream. This also shows crypto markets are still easy to manipulate because you just know stories will come out in the months ahead about a whale or whales who own a ton of this thing pushing the price around.
I also worry 2020 and 2021 may have broken the brains of a large number of young investors. Once you associate degenerate gambling with actual investing in the markets it's going to be difficult to turn that part of your brain off to invest in a reasonable manner.
You could make the case this is the dot-com bubble all over again. And there are some similarities.
But I think the main driver here is something completely different. The internet has changed the game forever and we're finally seeing a generation of people who grew up online come into the markets. I don't think the internet has fundamentally changed human nature but it sure does amplify it.
Everything is now gamified. Money doesn't seem real when transactions occur with the push of a button on your phone. Memes are now a form of currency in 2021. What you invest in has always been about status in many ways but now people are trying to prove a point with their trades. Crypto wealth was essentially created from out of thin air (and coding).
One of the initial reasons I bought some bitcoin and ethereum back in 2017 (when I still didn't really understand crypto at all) is because I was getting annoyed by it all. And I knew I would be far more annoyed if I missed out on huge gains than I would if I took part in huge losses.
This is an irrational reason to invest in something but it actually helped push me to learn more about the space. I can't imagine how annoying it must be to people who don't own any this year.
I just don't see how something like dogecoin is providing a benefit at this point.
I don't mind people taking a portion of their portfolio to speculate. In fact, a speculative account that's sized correctly can be a healthy thing for certain investors as a behavioral release valve if it allows you to leave the rest of your portfolio alone.
My biggest worry is the number of young people who are witnessing meme stock gains and joke cryptocurrencies going to the moon are going to develop bad habits and attitudes about the markets that will be impossible to fix.
I also don't think we've seen the end of this. It's probably only going to get dumber.
Further Reading:
For Better or For Worse, This is a Young Person's Market Right Now