A 30-something low-level actor created a business plan that would buy the rights to cheap movies and turn around and sell those rights to HBO for audiences in Latin America.
The investors backing the project were promised returns of 15% in just 6 months.
No bad in an era of 0.25% savings account yields.
Investors forked over more than $690 million to bankroll the rights to these films.
So what's the catch?
The movie contracts with HBO were fakes, the business plan was a hoax and the entire ordeal was a Ponzi scheme where new money paid off previous investors. The money was used to provide a lavish lifestyle for the architect of the fraud, Zachary Horowitz.1
One investor claimed to have "99% of his and his family's money" invested in Horowitz's scheme.
*******
Thodex is a cryptocurrency trading platform in Turkey. Last week it was reported the 27-year-old founder of the exchange took a flight to Albania.
He took with him $2 billion from more than 30k clients.
Last month the company brought in hoards of new clients by offering free dogecoin to anyone that signed up.
Whoops.
*******
I don't know if this SCAMcoin actually happened or if it's just a social media thing but it wouldn't surprise me if it's real:
If Charles Ponzi were alive today, I have no doubt that he would be able to raise capital from investors, probably in the form of a SPAC. Many investors would laud him for being a genius as he bilked investors out of millions of dollars.
When I was researching the history of financial scams for Don't Fall For It the one thing that jumped out above all else is how similar financial frauds are across time and place. They typically involve new technologies, people with extraordinary sales skills and the insatiable human desire for get-rich quick schemes.
Despite the fact that people have been getting duped by hucksters and charlatans for centuries, there was one period that kept coming up over and over again in my research — the 1920s.
It was the golden age of financial fraud.
The Roaring 20s had everything a con-artist looking to dupe people out of their money could ask for — innovation, new financial products, a booming economy, rising markets, new and exciting technologies, loose lending standards, new communication tools and people getting rich all over the place.
This period included Dr. John Brinkley, a fake doctor, who told people he could solve their fertility problems by implanting goat testicles into the male scrotum. He quickly became wealthy by promising to cure people's ailments with his secretive medicines and procedures.
Then there was the match king, Ivar Kreuger, who used his match factories to create obscene amounts of leverage and offer insanely high rates of return to investors who put money into his ever-growing empire of new financial products. Kreuger created one of the biggest financial scams no one has ever heard of. It all fell apart in the Great Depression.
The Roaring 20s was a time of innovation in the financial markets but there were still bucket shops where people went to gamble their money on the markets. A scam artist nicknamed "The Kid" would set up fake bucket shops promising people the ability to buy $5 stock certificates for $1.
What was the catch?
Of course, those certificates were fake. He ran this same scam in multiple cities all over the country.
There are endless stories like this from that period.
The financial markets feel wonderful right now. It would have been nearly impossible to not make money over the past year or so. The economy could legitimately be setting up for our own version of the roaring 20s.
Yet these good times could also be setting us up for a new golden age of financial fraud.
You have new and exciting innovations happening all around us. A new asset class is being established right before our eyes in cryptocurrencies. Tens of thousands of people have become multi-millionaires in a matter of years.
All of the scam artists, hucksters and charlatans have to be licking their chops right now.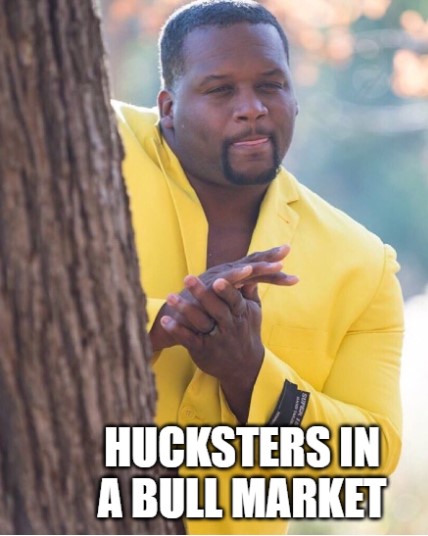 During bull markets and economic boom times people witness others becoming very wealthy. So they let their guard down, take more risk than they reasonably should and trust people they shouldn't while chasing easy riches.
And the people most susceptible to financial fraud tend to be the more highly educated investors who have already made a ton of money.
One of the studies I reference in my book discovered people who were caught up in financial scams were actually more knowledgeable about markets and investing than people who weren't involved in scams. This makes sense when you realize the people with the most money have the biggest target on their back.
But it's also true that the more successful you become when it comes to your career or your finances, the more overconfident you become in your own abilities as an investor. And wealthy people love to assume the best returns and investment products are only available to them so they let their guard down when it comes to due diligence.
There are a lot of people playing with house money right now. That's a good place to be but it can also be dangerous when there are so many easy ways for others to take advantage of you these days.
Investors spend a lot of time worrying about macro and market risks. Now is also a good time to worry about being taken advantage of by scammers and promoters promising ultra-high returns and easy money.
Be careful out there.
I have a feeling we're just getting started when it comes to stories about huge financial frauds.
Further Reading:
The Man Who Tried to Sell the Eiffel Tower (Twice)
The Biggest Risk in Crypto Today
1This is from an LA Times story on the fraud:
Horwitz abruptly stopped paying back his investors in late 2019; the reason is not yet clear. By then, Horwitz and his wife were well settled with a toddler son in their six-bedroom Beverlywood house with a pool, gym and 1,000-bottle wine cellar. Horwitz liked to play the grand piano.
Their lifestyle had improved dramatically. Horwitz spent $5.7 million on the house, $165,000 on high-end cars, $137,000 on private-jet trips, $125,000 on jaunts to Las Vegas and $55,000 on a luxury watch subscription, the government says. In 2018, his American Express charges hit $1.8 million.