Total household debt in the United States now stands at more than $14.3 trillion. That's an all-time record.
By far the biggest chunk of this debt comes from mortgages: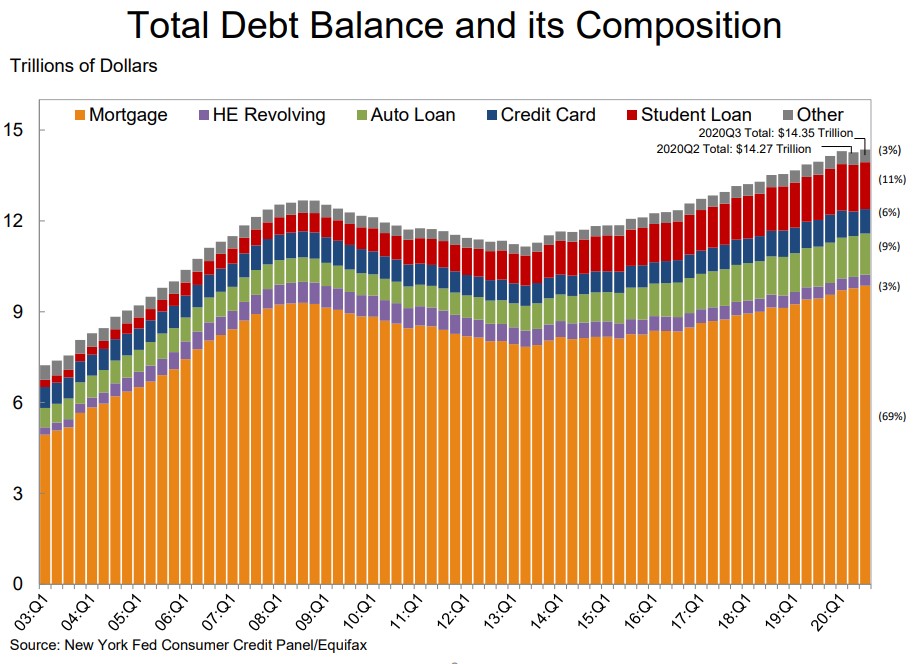 This chart alone helps explain why the Great Financial Crisis was so harmful to so many people. Housing plays an enormous role in both the economy and people's personal balance sheets.
It also helps explain why the current crisis likely won't be nearly as long-lasting. The housing market is on fire this year despite the pandemic.
This remains one of my favorite charts of the year: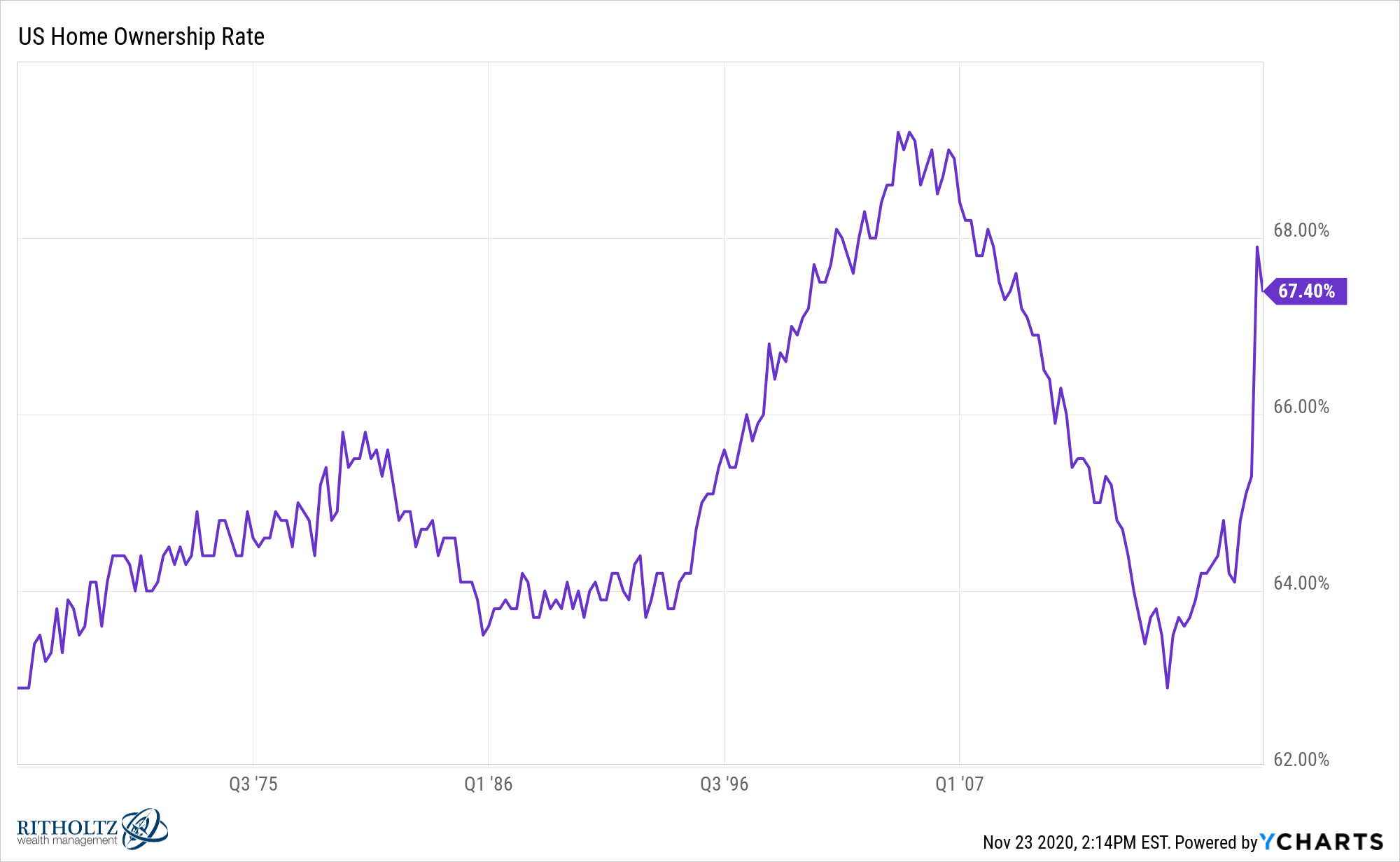 Look at that spike in the homeownership rate.
You can see a similar dynamic in the growth of new single-family houses sold: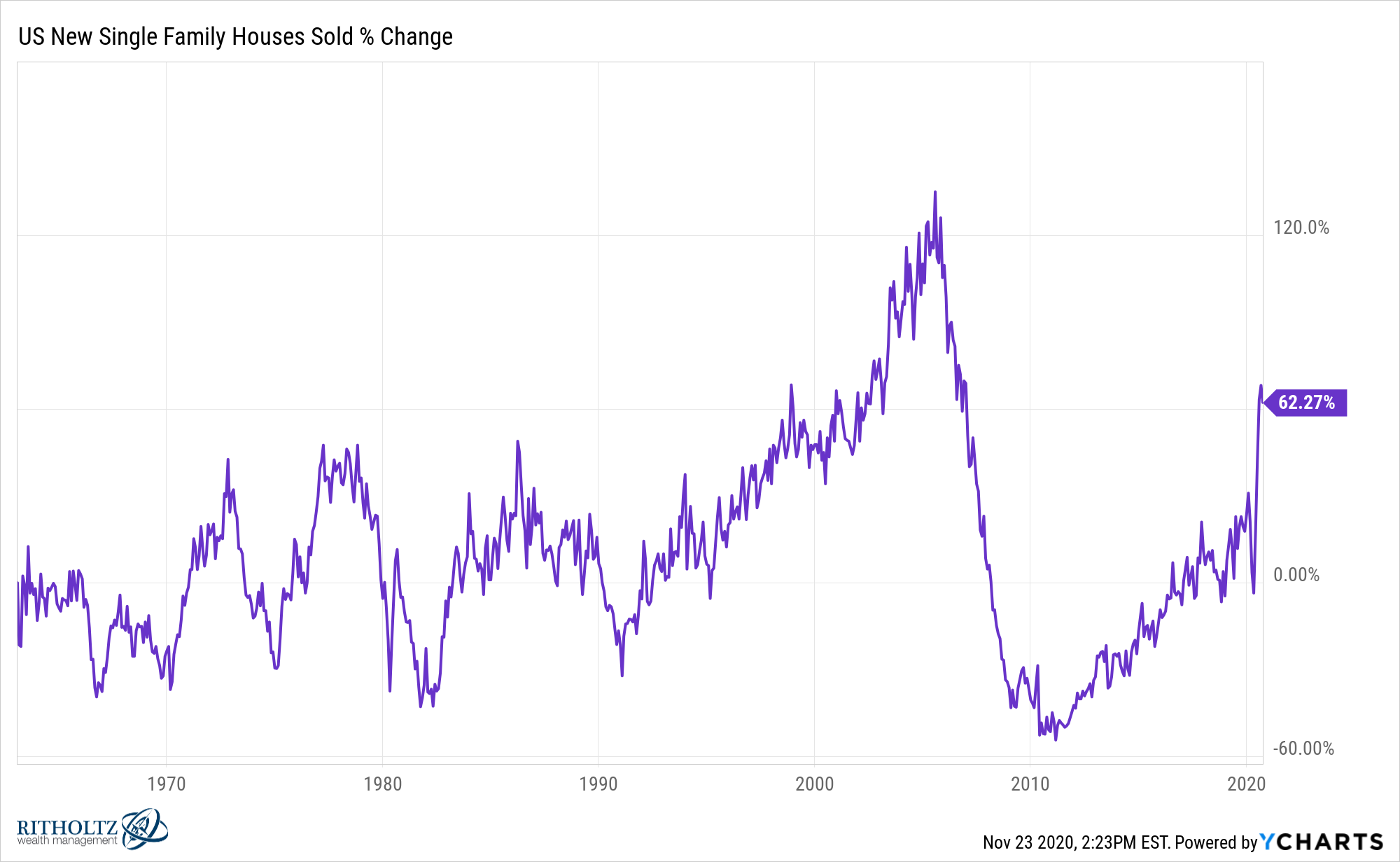 The New York Federal reserve breaks things down for mortgage debt even further by showing mortgage originations by age at the end of each quarter: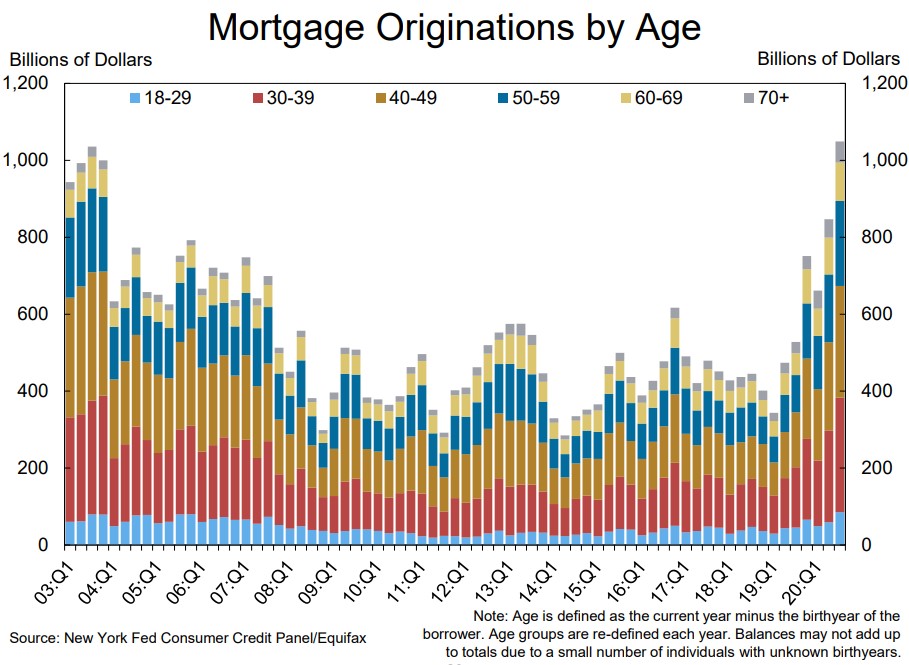 These numbers include re-fis so the low rates could have a lot to do with this spike but the demo that jumps out is the 30-39 age group.
In 2011, people in their 30s made up around 20% of all mortgage originations. In the last quarter, it was creeping up towards 30%.
In the third quarter of 2011, there were $62.5 billion in mortgages originated for people in their 30s. In the third quarter of 2020, that number was nearly $300 billion.
Now you could make the argument that the pandemic has pulled forward a ton of demand for housing. It would be silly to assume current trends will continue at the same pace going forward.
But the biggest demographic in our country is entering their prime homeownership years. Just look at how the largest 5 year age cohorts have changed since 2010 and will change into the future:

I know some people assumed millennials would live in studio apartments or their parent's basement for all of eternity. But it appears even millennials eventually decide to settle down and put down roots as homeowners.
Maybe all of the retiring baby boomers who will need to tap their home equity can sell to the millennials who need a backyard and the circle of life will be complete?
You can see how the debt profile changes by age group as well. People in their 30s have far less student loan debt than those in their 20s: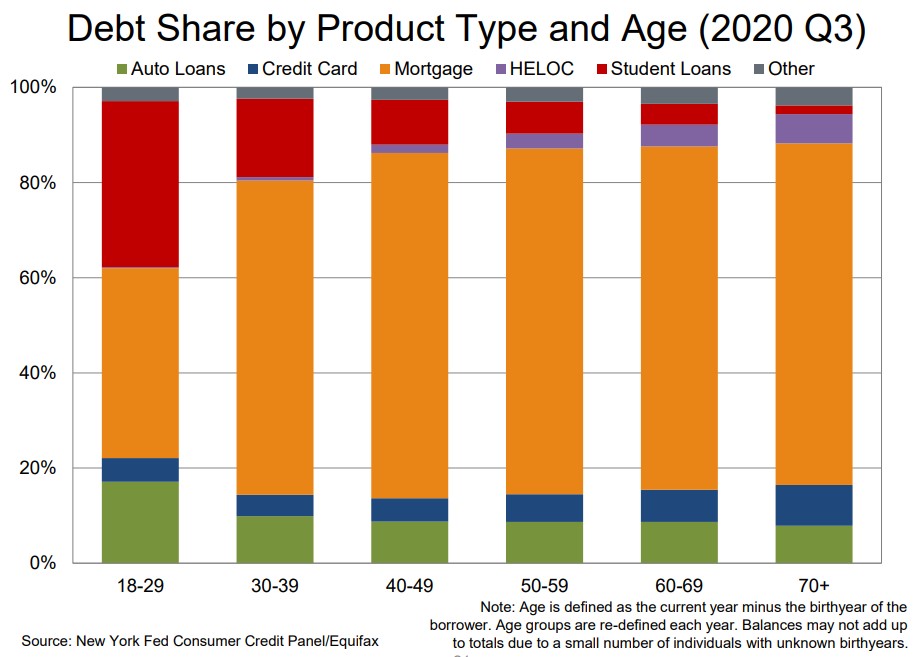 This should help this group when it comes to the disposable income necessary to buy a home.
It's also encouraging to see most of these new mortgages are now being taken out by credit-worthy borrowers: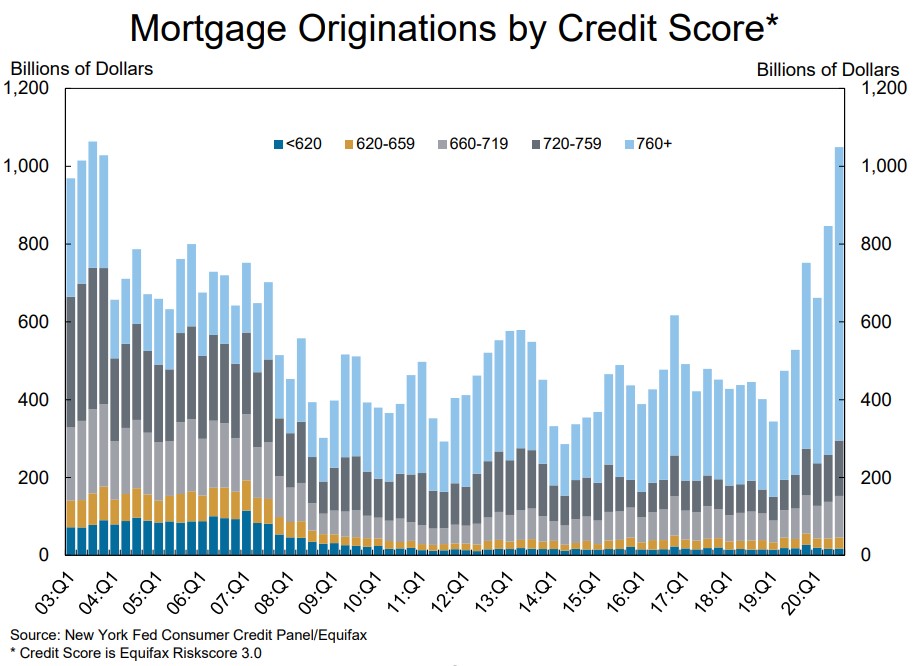 The $754 billion in mortgages originated by borrowers with a credit score of 760+ was the highest on record in the last quarter, coming in at $166 billion more than the previous all-time high (which happens to be the 2nd quarter of 2020). And nearly 72% of all mortgages originated were for borrowers in that 760+ credit score level, another all-time high going back to 2003.
So even though the housing market has been going berserk in 2020, this is nothing like the run-up to the housing bubble of the 2000s.
It's always possible things could get out of hand in residential real estate from a combination of low rates, a shortage of housing supply and favorable demographics.
But those demographics are going to take a while to work their way through the system.
Millennials are going to remain a force in the housing market for years to come.
Source:
New York Federal Reserve
Further Reading:
Why Housing Could Be One of the Best-Performing Asset Classes of the 2020s