I can't believe I'm typing this but it may be time to start considering a post-pandemic world for the markets.
Pfizer announced this morning their Covid vaccine trial is more than 90% effective. Scientists were hoping for a vaccine that is at least 75% effective so if this one works, this would be fantastic news.
The market may have been anticipating a vaccine but it obviously wasn't anticipating a vaccine that would be this effective.
As I write this on Monday afternoon, the S&P 500 is up 3%. The Russell 2000 Index of small cap stocks is up 6% and the Dow is up 5%.
And this is after a strong post-election rally last week.
The noticeable laggard in the group is the Nasdaq 100, which is basically flat on the day. Tech stocks have crushed everything else this year because so many of those companies have benefitted from the pandemic so we're seeing some wild moves in both the stocks that have performed the best and the stocks that have performed the worst.
Take a look at today's performance of stocks that have benefitted from the pandemic:
Zoom (ZM) -14%
Peloton (PTON) -16%
Netflix (NFLX) -7%
Docusign (DOCU) -13%
Wayfair (W) -16%
Shopify (SHOP) -10%
Teladoc (TDOC) -12%
And now many of the stocks that were crushed by the pandemic:
Planet Fitness (PLNT) +19%
Delta Airlines (DAL) +17%
Marriott Hotels (MAR) +15%
AMC Entertainment (AMC) +58%
Carnival (CCL) +36%
Wynn Resorts (WYNN) +28%
Disney (DIS) +12%
Energy stocks (XLE) +16%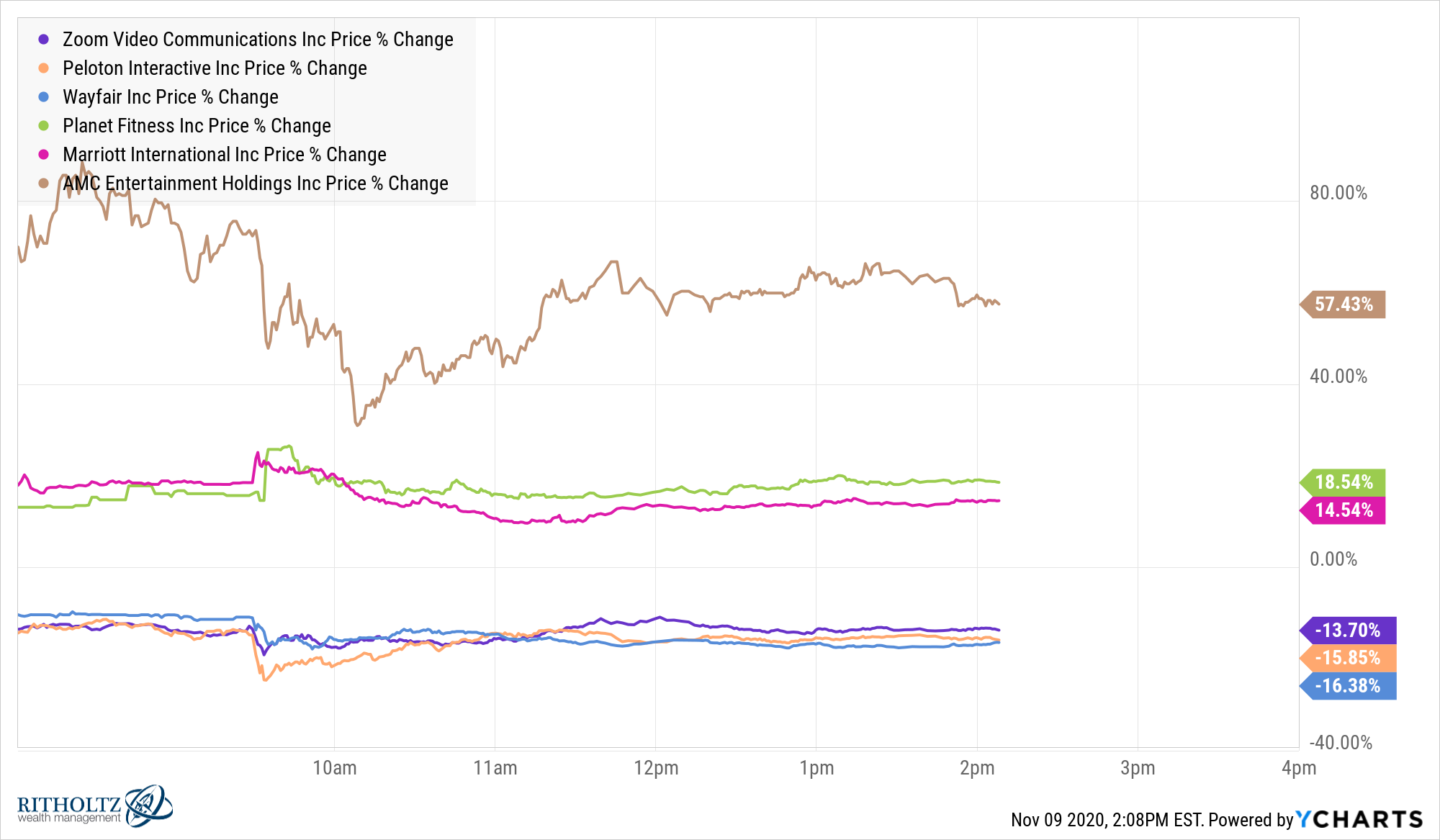 Granted, the returns in the pandemic stocks are still very strong this year even after this correction while the stocks shooting higher today are all still well under their prices from earlier this year.
But if this vaccine truly does work as well in practice as it does in the trials investors will quickly begin recalibrating for a post-pandemic world.
While the pandemic winners were obvious in hindsight, the post-pandemic winners will not be as easy to spot in advance.
Allow me to have a quick debate with myself to show why this is the case:
Ben: Tech stock dominance is over. Once the world returns to normal there is going to be an enormous sea change in the market to those sectors and stocks that were hit the hardest.
Also Ben: While it's likely the expectations for tech stocks have gotten ahead of themselves, this remains a low-growth, low-rate world. Plus the adoption rates for these technologies mean they are now even more entrenched in people's lives. People are going to be using these products and services more freely even in a "normal" world.
Ben: That may be true but these beaten down, value stocks are overdue for some mean reversion, not just from the pandemic, but many years where growth stocks have ruled the day.
Also Ben: What if we simply see a one-time mean reversion trade for a while and then the pre-pandemic cycle falls back into place?
Ben: Investors extrapolated far too much growth into current prices this year for these tech stocks. The comps from 2020 are going to be nearly impossible to beat in 2021.
Also Ben: Many of the work from home stocks getting crushed today are going to be great buys in the months ahead if they continue to fall because these are now household names going forward.
Ben: What if this vaccine has already been priced into the markets and this is the biggest sell the news event in history?
Also Ben: How could this possibly be priced in if markets are going bananas today?! Markets are charging through all-time highs even though we've been talking about a vaccine for months now.
You could wrap yourself in a pretzel thinking through the many possibilities of a post-vaccine world. Investors had about 5 days to consider the impact of a new president on various sectors and asset classes. Now you have to consider how the potential end of the pandemic will impact markets.
It feels like we've had 12 different market environments over the past 3 weeks or so.
There are so many moving parts right now it's enough to make your head spin.
All I know is the vaccine sounds promising and that makes me bullish on humanity.
Further Reading:
My Biggest Post-Election Questions
***Update after the close: Stocks sold off a little into the end of the day with the S&P 500 finishing up 1.2%, Russell 2000 +4.4% and Nasdaq 100 -1.8%.