In some of the presentations I give to financial advisor and investor groups I use the following slide to distinguish between the short-term and the long-term when it comes to the markets: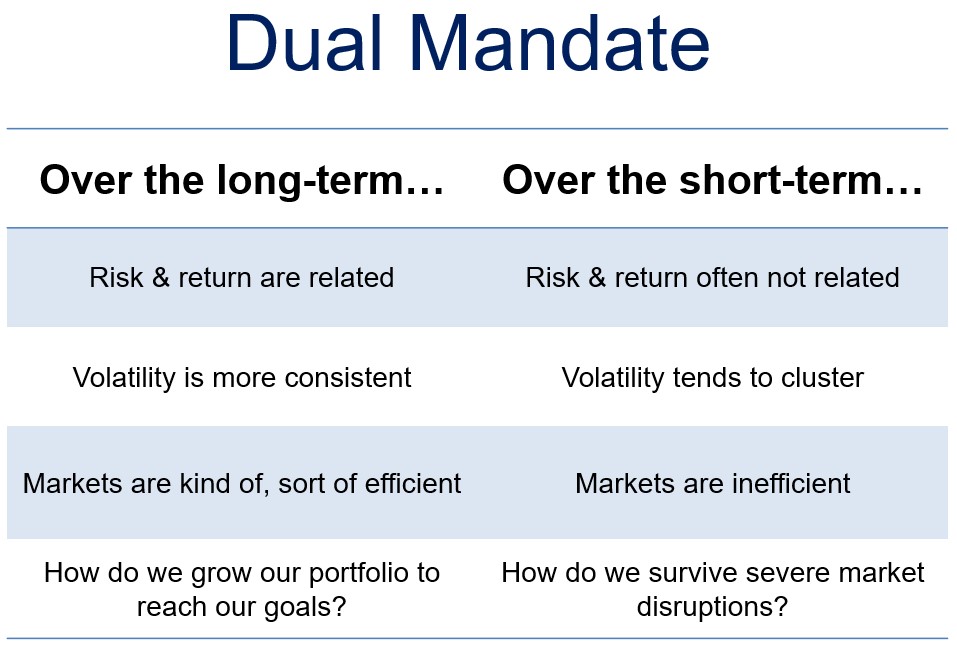 It's easy to tell people to focus exclusively on the long-term when it comes to their investments but as Daniel Kahneman said at his Nobel Prize acceptance speech a number of years ago, "the long-term is not where life is lived." The long-term is just the accumulation of a bunch of short-terms.
This doesn't mean you have to react to the short-term movements of the markets but completely ignoring them probably isn't realistic either.
Balancing the fact that bad things can happen in the short-run while wonderful things can be accomplished over the long-run is one of the hardest parts about keeping your sanity as an investor.
The same can be said about living through a pandemic.
*******
My 6-year-old daughter has been home from school for the past two weeks because of a positive Covid test in her classroom.
She's supposed to go back to school on Monday. There have been two more positive tests in that time in the school. I would be shocked if the school system doesn't go fully virtual well before Christmas.
The virus is getting out of control in Michigan where we have routinely hit new highs in both case numbers and the positivity rate in recent weeks. Here are yesterday's numbers: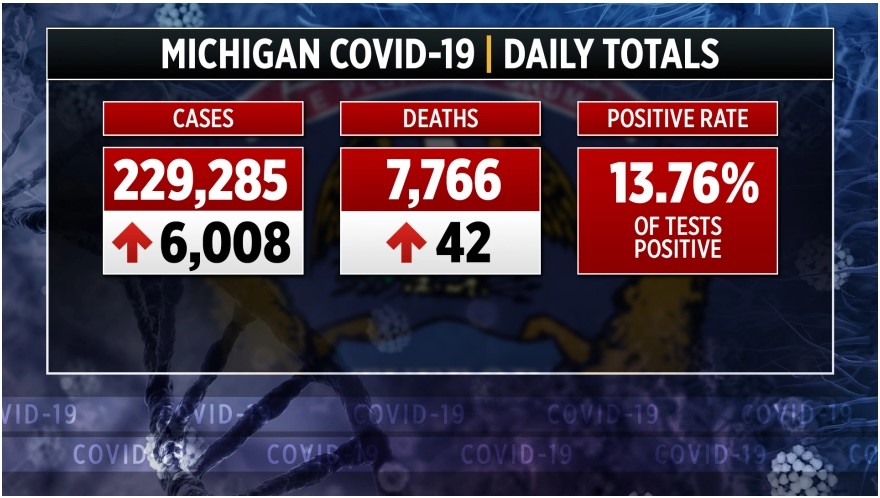 Our local hospital system is reaching capacity and discussing what happens if they run out of rooms:
"We will not be performing tests on people solely with exposure" to the virus, Elmouchi said, explaining the reason for the change is to ensure those with symptoms get test results back quickly.
He said Spectrum was in "active discussions" with public health officials about the possibility of opening a field hospital, but noted it's better to utilize regular capacity first. He also pointed out that staffing a field hospital would be difficult, especially amid cases surges elsewhere in the country.
The fact that they're not able to perform tests on people who have potentially been exposed means the number of cases is likely severely underreported at the moment. The number of inpatients at the hospital has tripled in 20 days and it now eight times higher than it was in September.
It's not just my home state but the entire midwest that is seeing a massive outbreak in cases: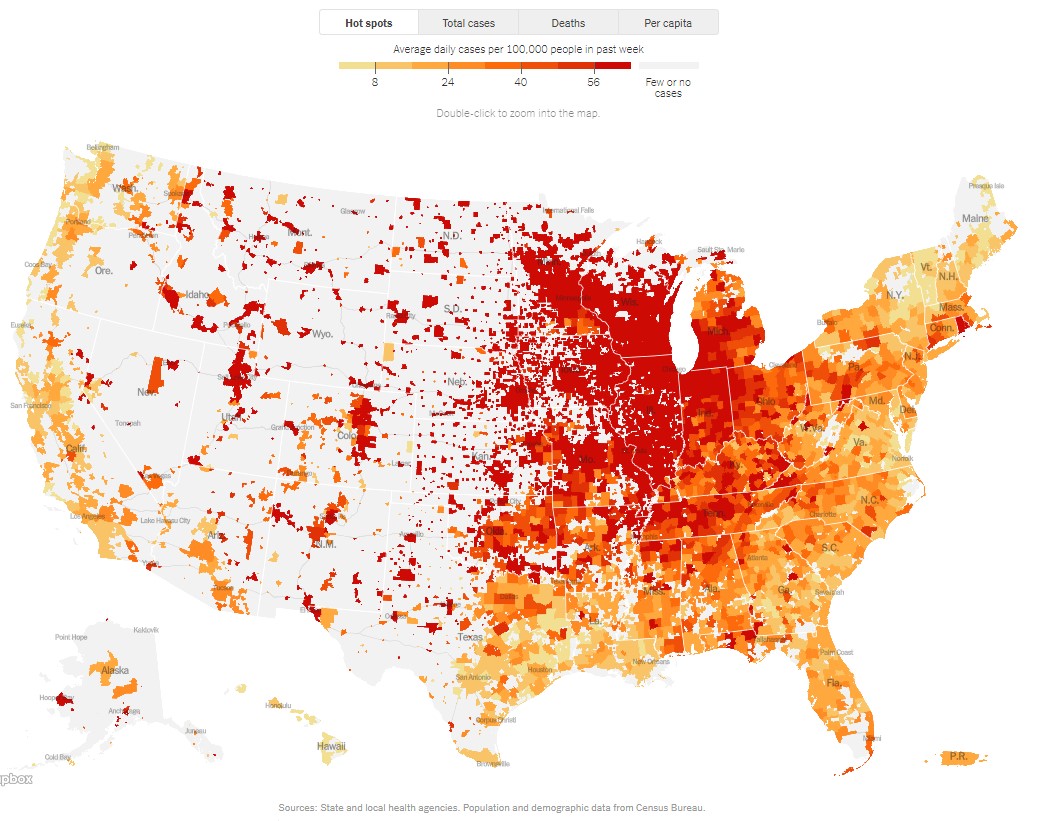 Unless something is done this is only going to get worse. It appears the virus spreads faster in extreme weather, both hot and cold: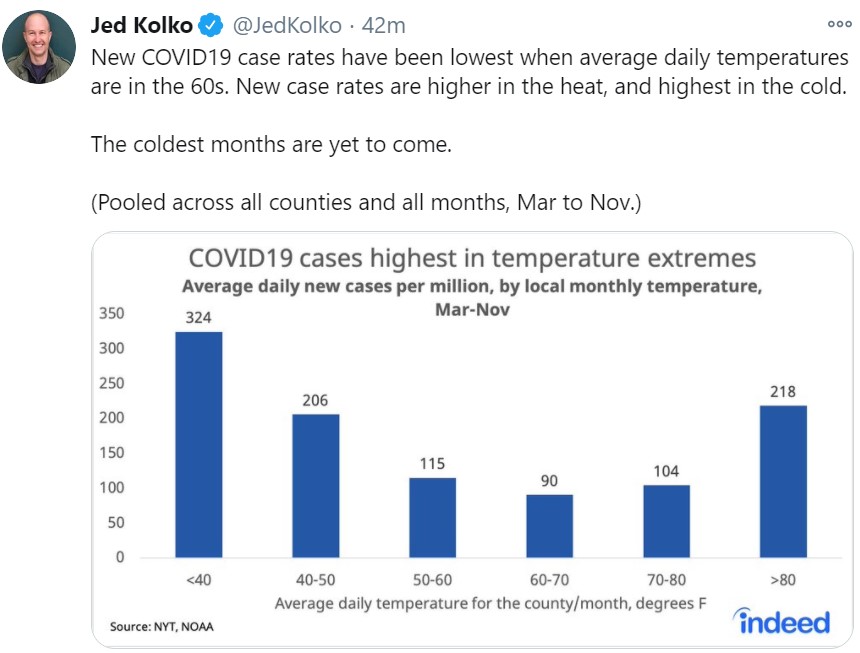 This makes sense when you consider people are inside around other people more often when the weather is too hot or too cold. The problem for the midwest is the weather is only going to get colder from here. It could be a long winter.
Besides the colder weather, there has to be a serious sense of Covid fatigue. People are getting complacent. There have been no more checks sent out by the government. We still don't have access to rapid testing. And ten months into the pandemic we still don't have a coherent national plan.
Things could get really bad in these next few months and it doesn't feel like there is the same sense of urgency there was in March and April to get the spread under control. I don't know what this means for the markets or the economy because trying to predict either has been a fool's errand throughout the pandemic, but I am worried what this spread will mean for many families and small businesses.
I don't see how many restaurants survive the cold weather once outdoor eating is off the table.
On the other hand, the news this week from Pfizer about the potential for an effective vaccine that could be ready to go for 2021 is wonderful news. A vaccine could put an end to this nightmare.
So things could get way worse in this country before they get way better.
My brain is having a hard time squaring these two thoughts. It feels like I'm having to do mental gymnastics to be optimistic about the future but pessimistic about the present.
Cognitive dissonance is the idea that people have a hard time holding two different beliefs that are inconsistent with one another simultaneously. Our minds aren't keen on discomfort so whenever this happens our default is to eliminate that dissonance by taking the path of least resistance.
Eliminating that dissonance in this instance is much harder than usual because this is not simply ideas but people's health and livelihood that are at stake.
Science is going to bail us out eventually but things could get ugly before we get to that point.
Further Reading:
I'm Worried