Two of the most counterintuitive trends during this pandemic are the strength in the real estate market and this country's undying love for speculation.
Each of these trends could play a role in what I consider two potential bull markets of the future:
(1) The financialization of home equity
(2) Sports gambling
Let's start with home equity first.
According to the Wall Street Journal, Americans with mortgages have accumulated almost $10 trillion in home equity: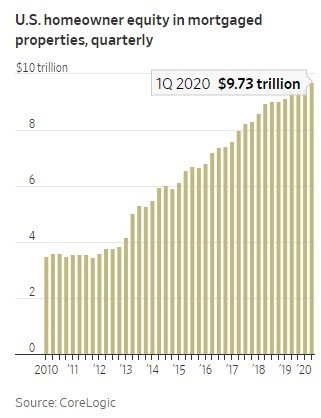 And this is just people with mortgages. Zillow estimates the value of the residential real estate market in the United States is more than $33 trillion.
The conclusion of the WSJ piece was that many Americans are house-rich but cash poor. Many of those same Americans are also house-rich but financial asset poor (via the AP):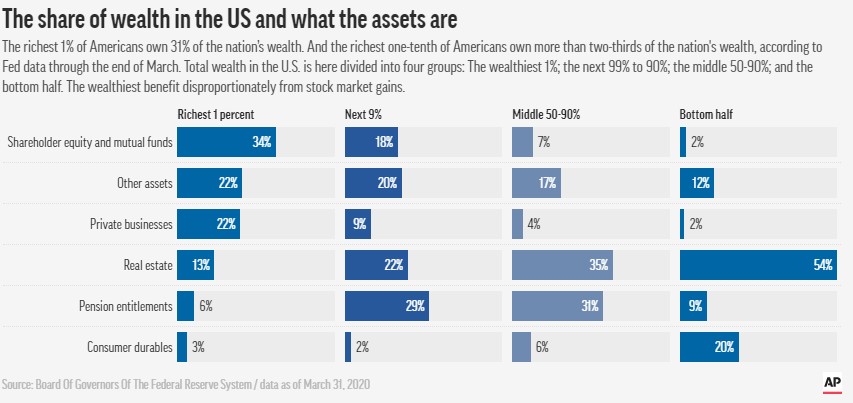 The top 10% hold far more money in financial assets than the bottom 90%, who have the majority of their wealth tied up in their primary residence.
People are going to have to figure out how to tap this equity eventually, especially those who are retiring with little in the way of retirement savings. For many people, the combination of Social Security and home equity is their retirement plan.
The traditional route would be to sell your home, tap a home equity line of credit or take out a reverse mortgage. The problem is many people don't want to sell their home and downsize, a HELOC may not be available for the entire value of your equity and reverse mortgages can be confusing if you don't know what you're doing.1
Since you can't spend your home, it would be nice to see some enterprising fintech firms step up to the plate to figure out how to help retirees make this a more seamless process. Many simply aren't going to have a choice but to tap their equity in some fashion.
Real estate is one of the few places left generally untouched by the technology industry. I don't expect this to last.
And if people can somehow figure out a way to speculate on their home equity, I'm sure many would do so.
If there's one thing we can agree on in this country, it's our love for gambling and speculation. And my contention is this love will only grow in the years ahead, especially when it comes to betting on sports.
In 2018, the Supreme Court ruled New Jersey could legalize sports betting, which opened up the door for all other states to do so if they pleased. Jay Snowden, the CEO of Penn National Gaming, recently remarked on a podcast he believes, "You're probably going to have 75 to 80 percent of the country have access to legal sports betting in the next four to five years, maybe higher than that."
Even before the pandemic, many states were hurting financially so I don't see how they can turn down the potential tax revenue this could produce, especially if they see other states already allowing it. As of now there are more than 20 states who have legalized sports gambling.
In a world where most people would rather stare at their phone than watch a 3-4 hour game, many sports will have no choice but to dive headfirst into this. Imagine how much more involved the fans would be in a Major League Baseball if they could bet on the outcome of every game, inning or at-bat?
Even for those who aren't huge gamblers, this is another way to ramp up the entertainment value for fans in a world where there's endless competition for eyeballs.
And if you think people get emotional about the stocks they trade, just imagine how poor the decision-making process is going to be for the fanatics betting on their favorite pro sports teams. Or maybe you could hedge your emotions by betting against the opposition?
People are going to lose so much money on this but most probably won't care. Gamification is part of our life now and sports gambling is the obvious next step, whether this is a net positive for the actual gamblers or not (spoiler alert: it's not).
Roundhill Investments rounded up estimates for the size of this industry from a handful of financial firms:
And much like the Robinhood traders of today tend to skew millennial, sports betting has a hold on the younger demographic.
Roundhill's Will Hershey did a deep dive on Penn National's acquisition of Barstool Sports to show how one gaming company views this up and coming market: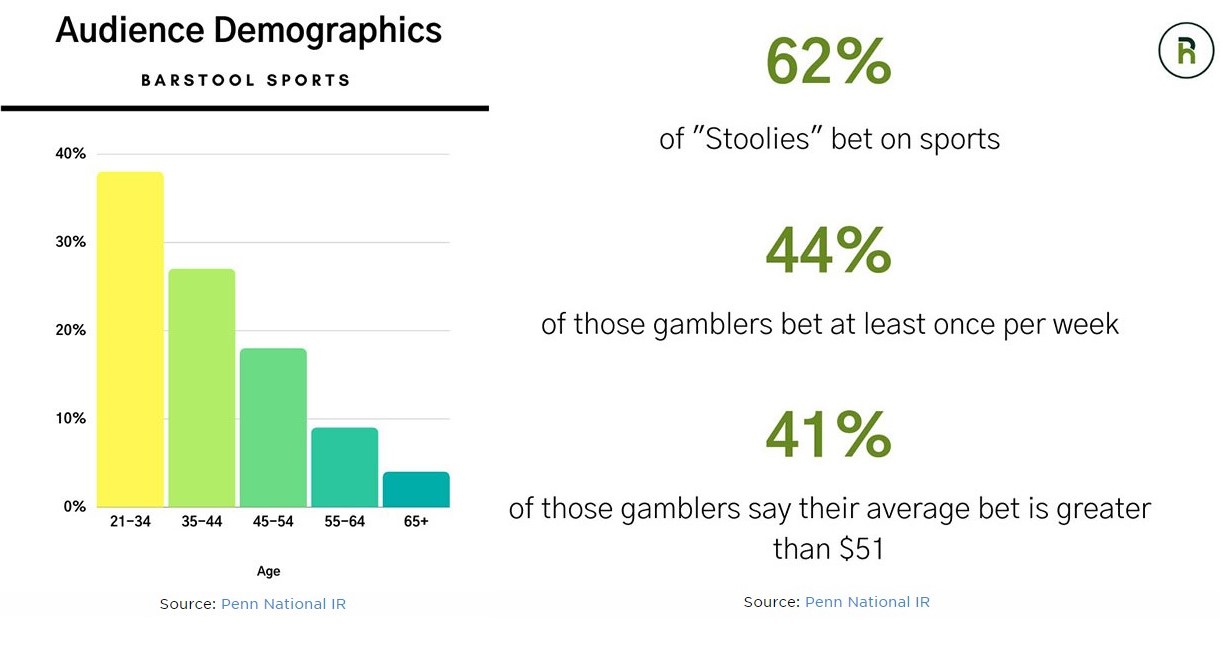 Do the younger demographics have a lot of money to gamble? Not yet but my guess is their bets will only grow over time.
Whether it's Penn/Barstool, DraftKings, FanDuel or someone else, the technology in this space will likely see some dramatic changes in the years ahead as these companies all roll out their own apps to gamify sports betting.
There will likely be multiple Robinhood-type platforms in this space.
I'm not good at figuring out what the investing implications of this could be for specific companies because it's always hard to distinguish between the first-mover advantage and potential competition down the road in fast-growing industries.
But people are going to need help figuring out how to spend their home equity in the years ahead and our insatiable desire for speculation will likely lead to a huge boom in all things sports betting in the years ahead.
Further Reading:
The Most Counterintuitive Recession Ever
Why Housing Could Be One of the Best-Performing Asset Classes of the 2020s
1I recently read Wade Pfau's book, Reverse Mortgages: How to Use Revere Mortgages to Secure Your Retirement. Although Pfau provides a detailed explanation of these products, I came away thinking they were much more complex than I originally thought and without a deep understanding it will be easy to get taken advantage of in this space if you don't know what you're doing.