Just as everyone projected, interest rates have fallen off a cliff since peaking at more than 3.2% last fall: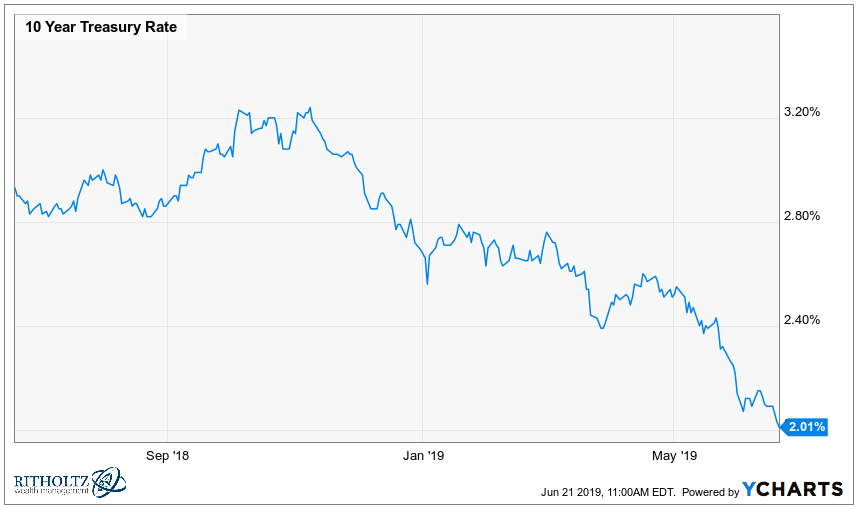 Just kidding. Basically no one saw this coming:
The decline has caught nearly everyone by surprise. In January, none of the 69 economists surveyed by The Wall Street Journal predicted yields would fall below 2.5% by June. The average forecast was about 3%, indicating bonds would have a modest selloff by now.
I love this headline from the Wall Street Journal from this week about the rates story: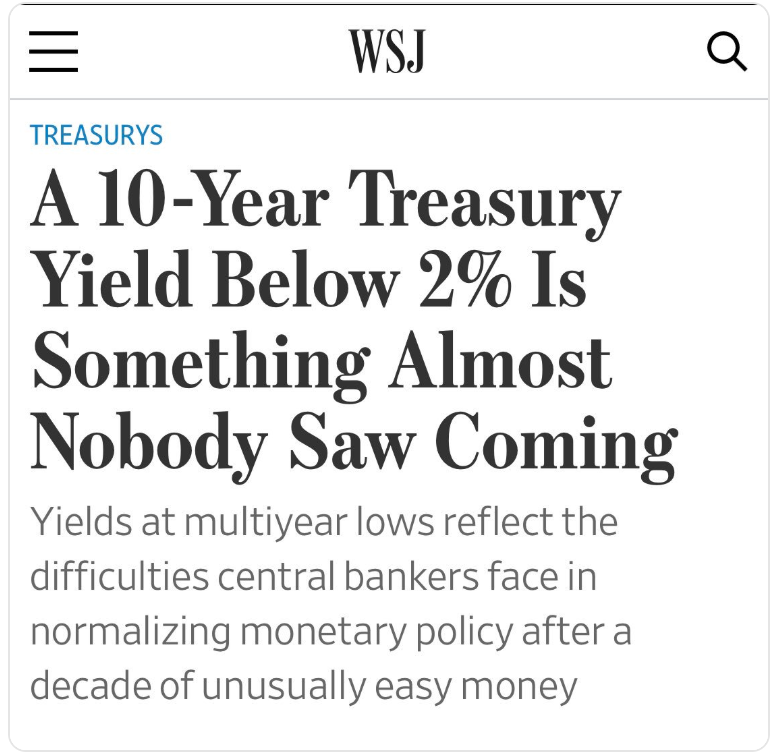 Investing is an exercise where you must become comfortable with "something almost nobody saw coming" occurring on a regular basis.
This headline got me thinking of some of my other favorites from over years, many of which can provide valuable lessons for investors.
Like this one from CNBC: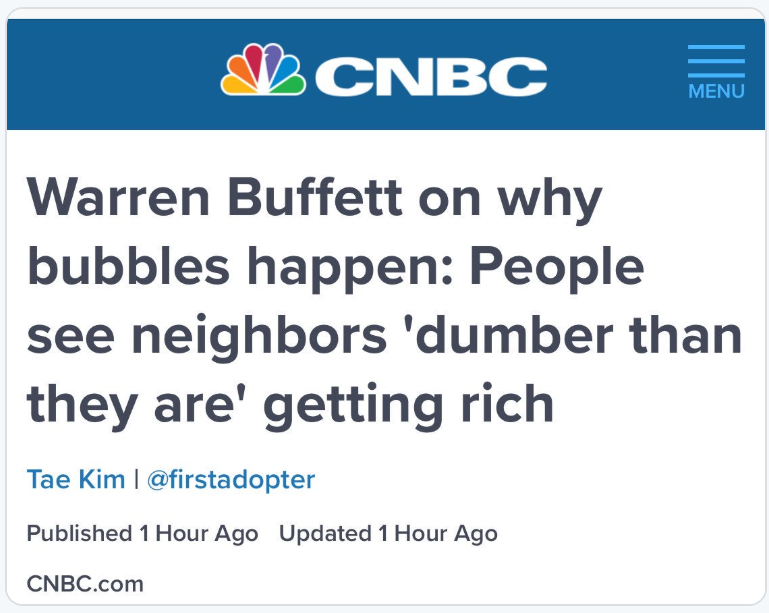 This headline explains more about how markets function than all of my finance textbooks from college combined. If you can understand the importance of the human side of the markets, you're better off than the majority of investors. And that includes the professionals, many of whom think they're smarter than the markets (they're not).
Speaking of seeing neighbors dumber than you are getting rich: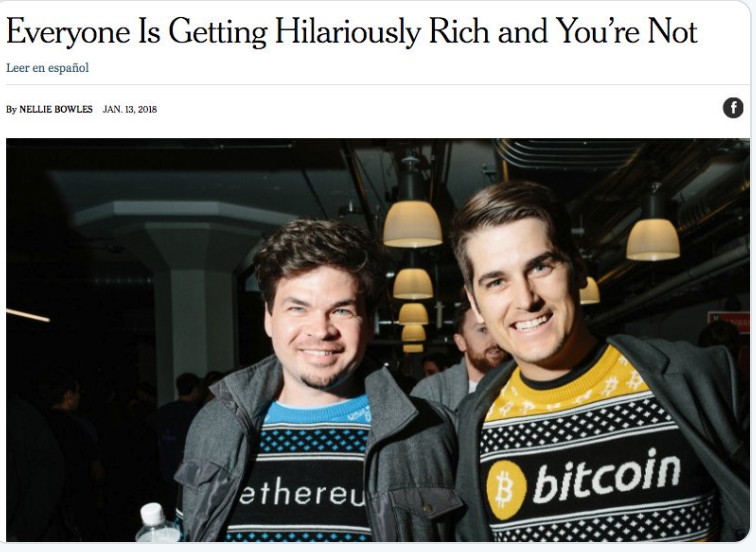 This headline was more or less at the peak of the crypto mania, just before prices fell 80-95% across the board. Headline indicators don't always match up so perfectly, but this was a decent sign things had gotten completely out of hand in the space.
Even if this headline didn't coincide with the peak in crypto, it's a great lesson in how hard it can be to avoid FOMO.
Here's the other side of the headline indicator, the one that got away:

This is by far my favorite headline from this bull market. Many people assumed at the time it was an indicator things were getting too frothy in the markets.
Jackie from That 70s Show is rotating out of cash and into stocks. TOP!
The S&P 500 is up almost 120% since this so-called headline indicator ran. Alas, no one has a perfect record.
This scary headline even came with the requisite picture of the Titanic sinking (from the movie of course):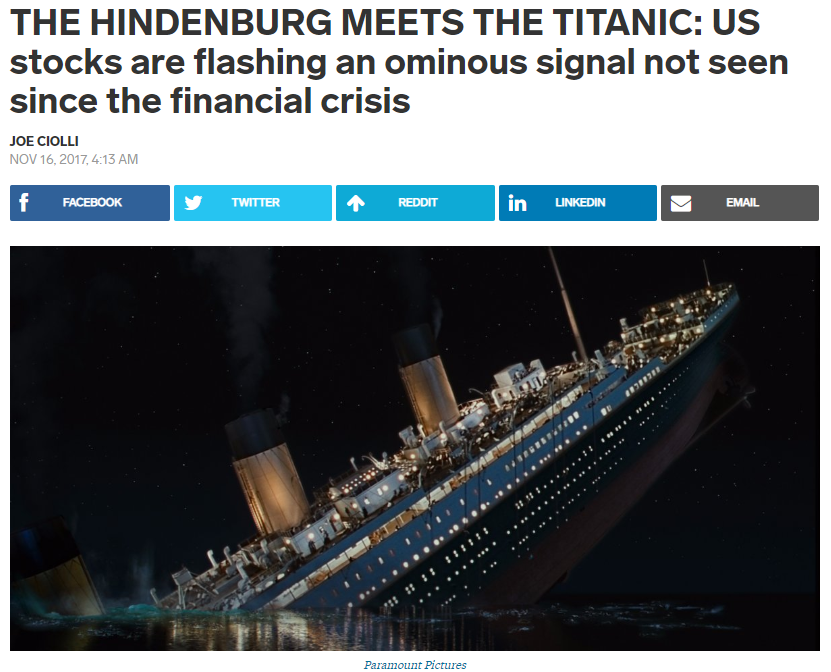 I'm still not sure what exactly a Hindenberg omen is but it sure sounds terrifying. Here's a good reminder every time you see a scary headline like this: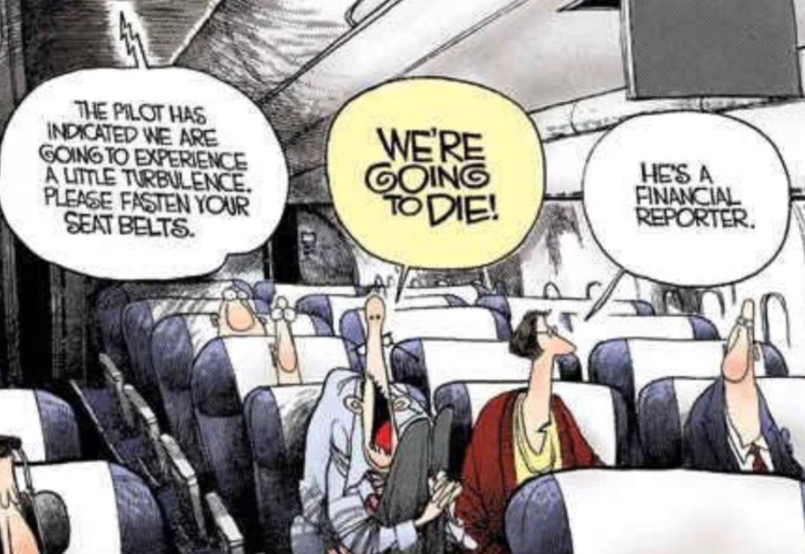 There are times where it would have made sense to panic a little but they don't happen every week.
This one does a good job explaining our complicated relationship with risk:

After a disaster strikes, there's almost always a spike in interest for insurance by homeowners. Then it subsides as things quiet down for a while and picks right back up when another earthquake hits.
Looking to buy insurance after a natural disaster strikes works much in the same way that investors look to hedge their portfolio after the market has already crashed. That black swan fund works better when markets are rocking than after they've already been rocked.
This one is from 2016:

I get the point here. They were trying to say returns will be much lower over the next 10 years than they've been over the past 10 years. And I agree, if I had to bet on it, returns probably will be lower.
But that doesn't necessarily mean things will be ugly for your 401k. If you're saving on a regular basis over the next 10 years, you actually want lower returns (and more volatility) to deploy capital at lower prices over time.
That may be an ugly situation for your current dollars invested, but it's a good thing for your future dollars that will be invested.
Here's an oldy but a goodie: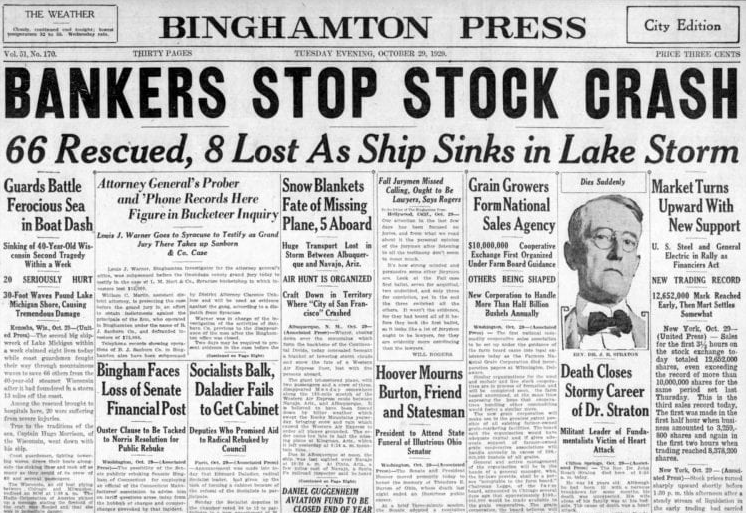 Apparently, the bankers used up all their ammo on that one day. The stock market fell an additional 80% or so from this point in October 1929.
Sometimes the headlines tell us all we need to know about market sentiment. Other times they give us false positives. And other times all the tell us is the financial news organization that put them out had to fulfill their quota for the day.
Just remember it's only investors that care about the headlines, not the markets themselves.
Further Reading:
Financial News Doesn't Rhyme But It Does Repeat Itself