In the past week I've read three different takes on the future of interest rates that really made me think about their direction over the very long-term.
1. The first comment was a tweet from venture capitalist Marc Andreessen in reference to a discussion about the current low level of short-term interest rates being set by the Fed:
https://twitter.com/pmarca/status/614941792132149248
The risk-free rate is generally thought to be an investment with no potential for a financial loss (think your FDIC-insured savings account or short-term treasury bills). Andreessen asks why holding cash, technically a risk-less asset, should generate a return at all.
2. The next thing I read was a blog post by Paul Gebhardt that touches on the effects that innovation could have on future returns on capital: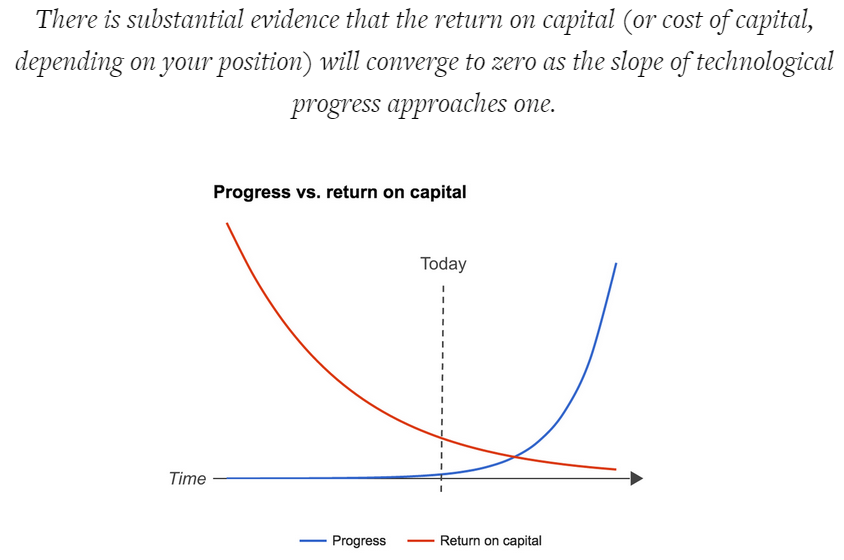 He makes the case technology makes innovation much cheaper than ever before because the costs to start a business are so much lower than they were in the past. This innovation causes an abundance of capital, which leads to lower returns on that capital.
3. Finally, I've been reading William Bernstein's really interesting book, The Birth of Plenty, which tells the story of how the enormous global economic machine came to be over the past 200 years or so after basically going nowhere for thousands of years. He discusses how the maturity of an economy affects interest rates:
Interest rates, according to economic historian Richard Sylla, accurately reflect a society's health. In effect, a plot of interest rates over time is a nation's "fever curve." In uncertain times rates rise because there is less sense of public security and trust. Over the broad sweep of history, all of the major ancient civilizations demonstrated a "U-shaped" pattern of interest rates. There were high rates early in their history, following by slowly falling rates as the civilizations matured and stabilized. This led to low rates at the height of their development, and, finally, as the civilizations decayed, there was a return of rising rates.
A few things to ponder based on all of this:
If the U.S. has the biggest, safest financial markets in the world, why should investors expect to earn a high return on their cash? People seem to assume that there's a long-term equilibrium risk-free interest rate that should allow them to earn 4-5% on their cash savings. Should they? What if those rate levels are a thing of the past?
The Internet is the biggest deflationary invention of all-time. Will technology disrupt the financial markets over the coming decades and lead to deflation in interest rates, as well? (And is disruption the most annoying and over-used word in Silicon Valley?)
Is the U.S. at the bottom of the U-shaped interest rate curve?
The answers to these questions are beyond my pay grade and to some extent they can't all be true because the U.S. can't be peaking if we're about to experience a technological revolution in the coming decades. But from an interest rate perspective, it's an interesting thought exercise, even if it's something that can't possibly be known for many years.
I'm on record saying I think those who think inflation and interest rates will never take off in the future are probably misguided. But Bernstein admits in his book that there are always fits and starts within these longer-term cycles:
For example, the apex of the Roman Empire in the first and second centuries A.D. saw interest rates as low as 4%. The above sequence holds only on the average and over the long term, with plenty of shorter-term fluctuations. Even during the height of the Pax Romana in the first and second centuries, rates briefly spiked as high as 12% during times of crisis.
One of the most heavily cited criticisms of the Fed's zero percent interest rate policy is that "Savers are being punished by the Fed." These people fail to mention that investing is an important part of the saving process. Anyone who's allocated even a small portfion of their savings to the stock or bond markets the past six years hasn't been punished. They've more than made up for a lack of yield on their money market funds, savings accounts or CDs.
Maybe savers have been unduly punished in this recovery. But is it also possible that savers in the past were too richly rewarded for keeping their money in unproductive savings accounts? Should investors expect to earn a decent risk-free rate of return on their assets?
Sources:
The End of Interest Rates (Paul Gebhardt)
The Birth of Plenty: How the Prosperity of the Modern World Was Created
Further Reading:
How Innovation is Affecting Market Valuations
How Often Are Markets Normal?