The National Institute on Retirement released a study last week that further reinforced the idea that a large majority of people are struggling to save for retirement. This was the stat that really grabbed my attention: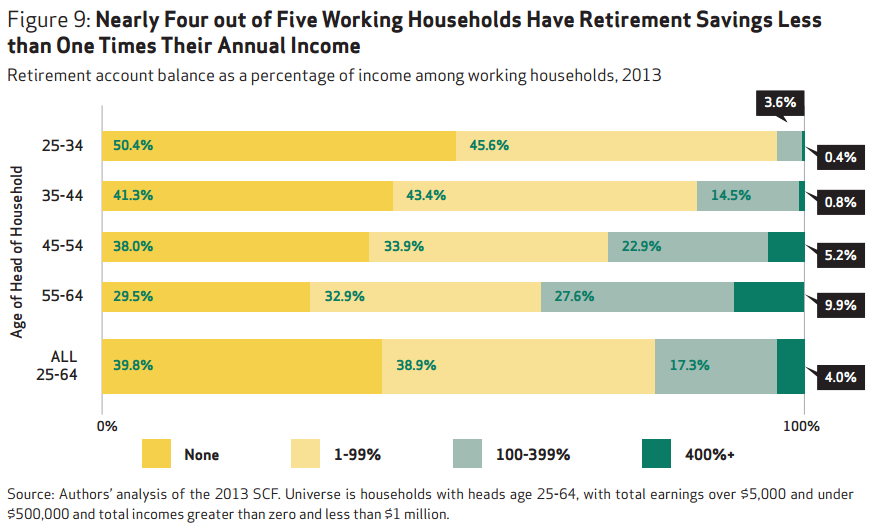 Eighty percent of working households have less that one year's worth of their annual income saved. Even scarier is the fact that more than 90% of those in the 55-64 age group have less than four times their annual income saved as they fast approach their retirement years.
Considering that researchers have shown that you need to have saved 22 times the annual income you want to earn when you retire, a majority of the population is woefully ill-prepared for retirement. One of the biggest problems I noticed from this report is that there are fewer workplace retirement plans available than I would have imagined: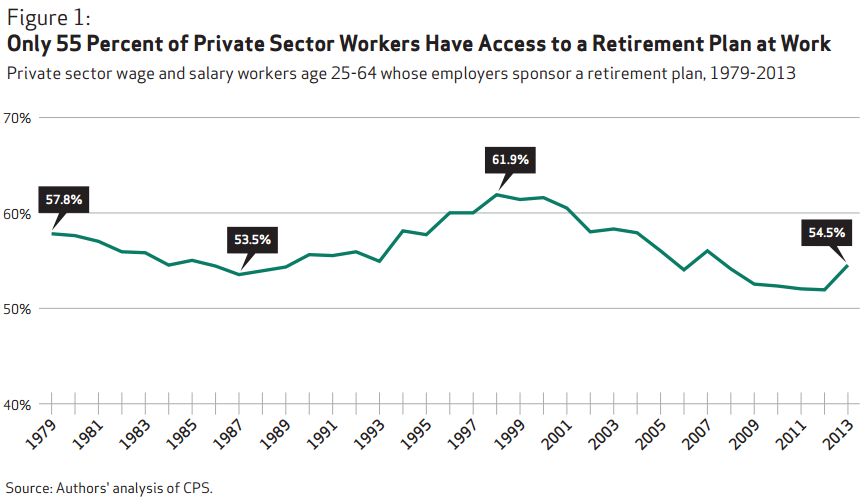 This is disheartening to see, which is why I think the government should make the Thrift Savings Plan, which is the retirement plan for government workers, available to all workers. The costs are too high for many small businesses to offer a retirement plan for their employees so those people are at a huge disadvantage.
Regardless of the investment options available in a workplace retirement plan, the best thing about them is that they're easy to participate in. The contributions are taken directly from your paycheck before you even have the chance to spend that money. And the best investment anyone can make each year is to take a company match, which constitutes a 100% return on your money (assuming your company offers a match — about 60% of 401k plans do).
Not only are households way behind on saving for retirement, but many can't get their personal finances in order to even get to the point of saving. Atif Mian and Amir Sufi, authors of the book House of Debt, looked at a study from FINRA to assess how vulnerable people are with their finances. The numbers don't paint a pretty picture:
Almost 40% of individuals in the United States either could not or probably could not come up with even $2000 if an unexpected need arose.
In 2012, almost 60% of individuals in the United States did not have three months of emergency funds that they could access to cover an emergency. The majority of U.S. households do not have the buffer they need to help them survive through such shocks.
More than 20% of individuals "strongly agree" that they have too much debt. If we add people who at least somewhat agree with the statement, then over 40% of households believe they have too much debt.
35% of individuals both have too much debt and do not have three months of reserve funds in case of an emergency.
I find the financial markets and portfolio management to be fascinating topics to cover. Because of the psychology involved and seemingly endless changes to market dynamics, there is always going to be something interesting to discuss, learn or think about.
But the hard truth is the majority of Americans need to focus, first and foremost, on getting their personal finances in order — getting out of credit card debt, creating a spending plan, saving enough for an emergency fund, building up a good credit score, etc. Only then can people actually start to save money for the future.
For 9 out of 10 people, managing their personal finances is going to be far more important than managing their portfolio or optimizing an investment stratgy.
Sources:
The Financial Vulnerability of Americans (House of Debt)
The Continuing Retirement Savings Crisis
Further Reading:
It Financial Literacy a Lost Cause?
When Saving Trumps Investing