William "Bud" Post lived a hard life.
His mother died when he was young and his father later dropped him off at an orphanage. Post was a drifter for most of his life, doing odd jobs to stay afloat.
When he purchased a lottery ticket in 1988, he had just $2.46 in his bank account. Lo and behold, it was a winning ticket — Post walked away with $16.2 million.
That's a life-changing amount of money but it didn't have the desired effect.
Just five years later Post proclaimed, "Everybody dreams of winning money, but nobody realizes the nightmares that come out of the woodwork, or the problems."
Post blew through the money with some investments in a restaurant and a fleet of used cars. He also purchased a plane even though he didn't know how to fly it. A handful of ex-wives sued him. His own brother even hired a hitman to kill him so he could inherit the winnings (he was unsuccessful).
In a matter of months he was forced to file for bankruptcy, surviving on Social Security and food stamps until he died broke in 2006.
When asked about hitting the jackpot after it all went up in smoke, Post later admitted, "I wish it never happened. It was totally a nightmare. I was much happier when I was broke."
Studies show lottery winners have been shown to be more susceptible to drug and alcohol abuse, depression, divorce, suicide, or estrangement from their family.
I was reminded of Post's story after reading a recent Conor Sen take on tech billionaires: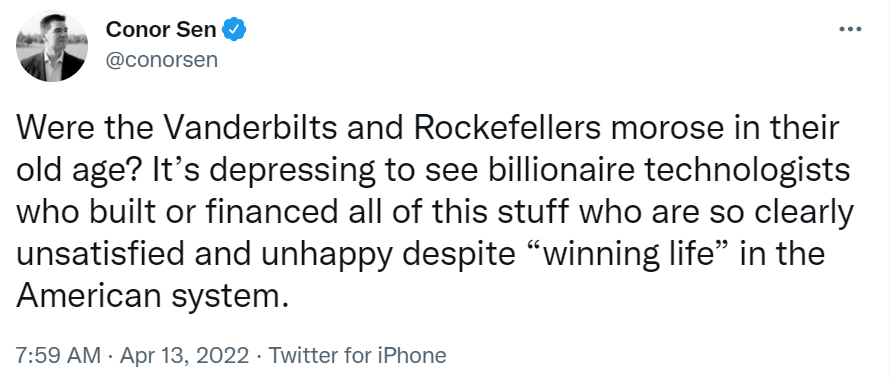 I'm not saying these people are all going to blow through their money but it does seem like many of the tech elite who have seemingly "won" the game are increasingly unhappy or unsatisfied.
They spend their time on social media getting into squabbles with one another, complaining about politics or offering cynical takes on the state of the world.
It's possible I'm reading too much into the Twitter personas of these billionaires but it makes sense.
Having that much money can solve a lot of problems but it also creates a new set of complications, especially when it happens so young.
Buffett didn't become a billionaire until he was 56 years old. Many of today's tech titans strike it rich when they're in their 20s.
I've heard George Clooney mention in a number of interviews that he considers himself lucky to become famous when he was a little more seasoned:
I was 34 before [fame] hit. And I'd failed a lot. And having failed a lot I understood how lucky success was. Because it's not just about your brilliance. Luck has a huge hand it in. I think the reason why a lot of young people are such screw ups,..is oftentimes they didn't have the luxury I had of forming important relationships and opinions and life experiences before having success.
Fame can be very dangerous, because you can start to enjoy that part of it. And that's not the good part of what I do for a living. The good part is the making of films. The unpleasant part is the fame part, if you're not careful.
We've all seen the stories about child actors who experience success, fame and wealth so early in their careers eventually spiral out of control.
If you hit the proverbial lottery and make a ton of money when you're young you don't have time to acclimate to your newfound wealth. Most people spend their whole lives slowly building up their nest eggs by saving methodically and growing their paycheck over time.
This gives you time to adjust as income and wealth slowly build. People who come into large amounts of money in short order don't have that same adjustment period. So while it can be fun to dream about, not everyone can handle fast money.
And even if you become successful beyond your wildest dreams we humans have a tendency to constantly move the goalposts.
It's not just the rich and famous or lottery winners who deal with these problems.
Happiness researcher Michael Norton1 published a paper a few years ago that asked 2,000 millionaires how happy they were on a scale of 1 to 10. He then asked how much more money they would need to get that number to a 10.
Many of these people had well over one million dollars in net worth but Norton found it really didn't matter how much these people had. Pretty much every respondent estimated they would need two to three times as much wealth and then they'd be perfectly happy.
Of course we all know once they hit that higher level it would only increase the line in the sand to reach peak happiness.
Maybe it's a good thing so many people aren't satisfied with what they have. That drive to succeed is one of the reasons these people have created successful companies and vast amounts of wealth.
But those same traits can also lead to your undoing if you lack the self-awareness and maturity to handle oodles of money.
Look, if given the choice almost anyone would choose more money over less. That's obvious.
What's not so obvious is that even though more money can make your life more comfortable in many ways, it won't automatically make you any happier.
You could make the argument that once you make an obscene amount of wealth it could actually leave you unhappy.
Michael and I talked about why so many rich people seem so unhappy these days and more on this week's Animal Spirits video:
Subscribe to The Compound so you never miss an episode.
Further Reading:
How Spending Money Affects Your Happiness
Now here's what I've been reading lately:
1His book Happy Money is excellent.