Disclaimer: I do not know your risk profile or time horizon as an investor so I cannot possibly gauge your suitability for the investment strategy I am about to discuss. I am simply showing how this can be done for those that determine that they have the time horizon and tolerance to take on the risk of investing 100% in stocks over a long time frame. Always do your homework before investing and make sure you are comfortable with your investment strategy.
"Only buy something that you'd be perfectly happy to hold if the market shut down for ten years." – Warren Buffett
The first decade of this century was generally a horrible time to be fully invested in the stock market. In fact, from the beginning of 2000 until the end of 2009 the S&P 500 gave you an annual return of -0.95%. The total return was down almost 10% in that investment period.

That is why so many were calling it the lost decade for the stock market. But was this really the case over that time frame? What if you were investing 100% in stocks over that period? Were your returns really that bad?
If you only invested in the S&P 500, then yes, your returns were just about that bad (with a little wiggle room for the fees you paid). Things actually weren't that bad if you were more diversified.
Luckily investors don't live in a vacuum of 10 year return figures and lump sum investing. But for the sake of this example let's say that you had a large lump sum of money and you put it to work in the stock market on January 1, 2000 (just before the peak of the tech bubble).
Historical data has shown that over very long investment periods, stocks are the highest returning asset. Depending on the time frame you are looking at they typically have shown an 8-10% return. Bond returns over the long-term have been closer to the 4-6% range. Those returns could be lower in the future with interest rates being so low right now. But it's hard to predict future returns.
For those investors that have a very long time horizon for their investments (30, 40, 50 years) and have a high tolerance for risk, having all of your investments in stocks is a possibility. Again, this is not for the faint of heart, but I want to show how it can be done for those willing to take on the risks.
Even though you are putting yourself 100% in stocks you still need to diversify to make sure your returns aren't tied to one market or index. Take a look at the annual returns for large-cap, mid-cap, small-cap, international and emerging market stocks from 2000 to 2009: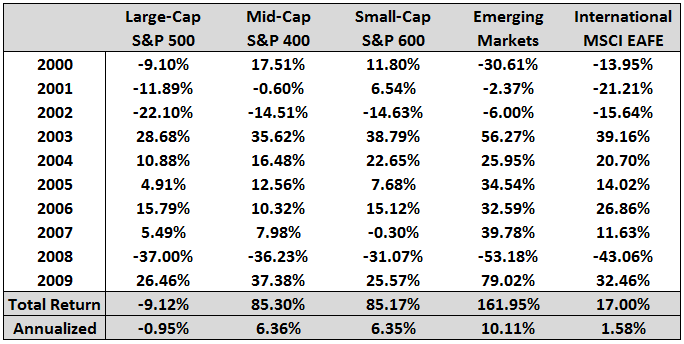 As you can see from these performance figures, the other stock markets had much different return numbers than the S&P 500 index. In fact, all four of the other markets had positive returns in the "lost decade."
A stock portfolio that was spread out equally among the five different stock markets in this example would have had a total return of 66.58% or 5.24% annually in what was one of the worst decades ever for the S&P 500. So instead of losing almost 1% a year by investing exclusively in the S&P 500, you would have had a decent, but not great 5.24% return by diversifying your investments among different stock markets.
And if you would have continued to look past the horrible markets of the 2000s and kept a long-term viewpoint you would have done even better holding through the first quarter of 2013. For that time frame the total return of the equal weighted portfolio was 136.87% or 6.72% per year.
In comparison, the S&P 500 was up only 19.05% in total for an annual return of 2.40% in that time. But guess what one of the best performing markets has been over the past couple of years? The S&P 500, of course.
Go back a little further to 1990 and the equal weighted stock market portfolio actually returned 9.93% a year.  As you can see the performance increases the longer your time horizon is.
LESSONS
Even if you don't have the nerves to invest 100% in stocks you can learn a few things from these numbers.
Diversification in different markets is important. By spreading your bets around and investing in companies of different size, geography and economic status you can keep yourself safe from being tied to the fate of one stock market or region that underperforms.
Even though all of these markets were down in 2008 and up in 2009, the actual return numbers were very different from one market to the next. The same thing is true of the tech bubble in the early 2000s, only there were some markets that were actually up when others were down in that sell off.
Combining investments together that don't move in lockstep with one another is a great way to reduce risk and decrease the bumps along the way. If you can't take the volatility of investing only in the stock market then use this example as a possibility for the stock portion of your portfolio.
You can add bonds, REITs, commodities, dividend stocks, international small-caps and many other investments (style or sector bets) depending on how diverse you would like to make your portfolio.
Just like the performance from combining the various stock markets gives you a different return from investing solely in the S&P 500, by combining other asset classes your returns become that much more diversified.
Also, to get the returns I laid out here you would have to rebalance back to the equal weight positions.  Because some markets will outperform others in different environments you must continue to rebalance to capture the best long-term results.
I don't recommend this strategy for the risk averse. The 100% stock portfolio that I used for this examples was down a little over 40% in 2008. Wild swings in price can cause our behavioral biases to take over and we sell when fear kicks in.
If you know that you cannot handle periodic losses of this magnitude this is definitely not the strategy for you regardless of your investment time horizon. I just wanted to show how it can be done for those that have the inclination to take on short-term risks for potential long-term gains.
Also remember that anyone who starts out invested in a 100% stock portfolio would eventually have to scale that back as they approach retirement to decrease the volatility of their investments (through cash and bonds) since they will have to take distributions for spending needs.
Most investors will be fine with a more disciplined investment plan that incorporates a sound asset allocation mix of investments and a periodic rebalancing to target weights. But there is a way to invest 100% of your investments in stocks without having a lost decade.
Sources:
MSCI
Daily Finance
Further Reading:
Is It Crazy To Be 100% In Bonds?
Would you be able to handle investing 100% of your portfolio in stocks?