A reader asks:
I am a 30-year-old male recently divorced. I received a $130k settlement for a house we purchased in 2021 (she stayed in the home). Total liquid assets are ~$265k plus $50k in my 401k. I live in the SF Bay area and pay $2,600 in rent, making $125k base with $60k variable salary. Having lost a $500k mortgage at 3%, I feel I am stuck without a home in the current housing market. Friends are taking out $7k monthly mortgages when comparable rents are $4-5K. How is that sustainable? How am I supposed to purchase something at 6-7% on a single income? I've explored land purchases to create Airbnbs or purchasing a rental property, but borrowing costs and high prices make this feel impossible. I feel like I am not getting the full value of my $265k and unsure how to allocate it for my financial future. Aside from getting another wife to pay half the bills, what should I do?
Your worries here are understandable. It's a tough break. Obviously divorce is always difficult from an emotional perspective but there are financial considerations here as well.
I wonder how those negotiations went for the 3% mortgage. How much is that worth in a 7% mortgage rate environment?!
I've heard of staying together for the kids but I wonder if we'll see some people stay together for the 3% mortgage rate. But I digress.
You're in a tough spot.
The housing market is more or less broken right now in many ways. Affordability is as bad as it's ever been. Plus you live in the Bay Area where housing prices were relatively unaffordable even before mortgage rates went to 7%.
There is also a lot of peer pressure when it comes to the housing market.
You have to buy a house. Why would you want to pay someone else's mortgage?! You have to build equity!
I'm sure you've heard this or have these same internal feelings.
Let me share a little secret with you: you don't have to buy a house. Owning a home is not for everyone.
Yes, owning a home is a wonderful hedge against inflation. It's a forced savings vehicle. It offers a form of psychic income that is hard to match.
But that doesn't mean everyone has to buy a home.
Here are some reasons you shouldn't buy a home:
You want to retain a level of flexibility in your personal life or career.
You don't want to pay all of the ancillary costs that come with home ownership.
You don't want all the responsibilities of owning a home.
You won't live in the house long enough to cover the switching costs involved in buying, selling and moving.
You run the numbers and renting makes more sense for your financial situation.
You live in a high-cost-of-living area.
The first one and the last two are probably the most applicable to your situation.
You just went through a divorce. There is no reason to get married to a house right now. Take your time. Think about what you want to do with your life. Maybe you decide living in the Bay Area isn't for you anymore. Maybe you could work remotely from another city or state.
And even if you want to stay in there for friends or family or simply because you enjoy living there, you don't have to buy a house to get ahead financially. In fact, it's a horrible time to buy a house.
Prices are high. Borrowing costs are high. Supply is low so it's going to be difficult to find something you like.
As you pointed out, it's much more expensive to buy than rent.
In fact, the Bay Area has the largest premium in terms of buying versus renting in the entire country right now.
Redfin crunched the numbers a few months ago to find out which areas of the country are better for buying and which places are better for renting. By far the biggest homeownership premium was in the Bay Area: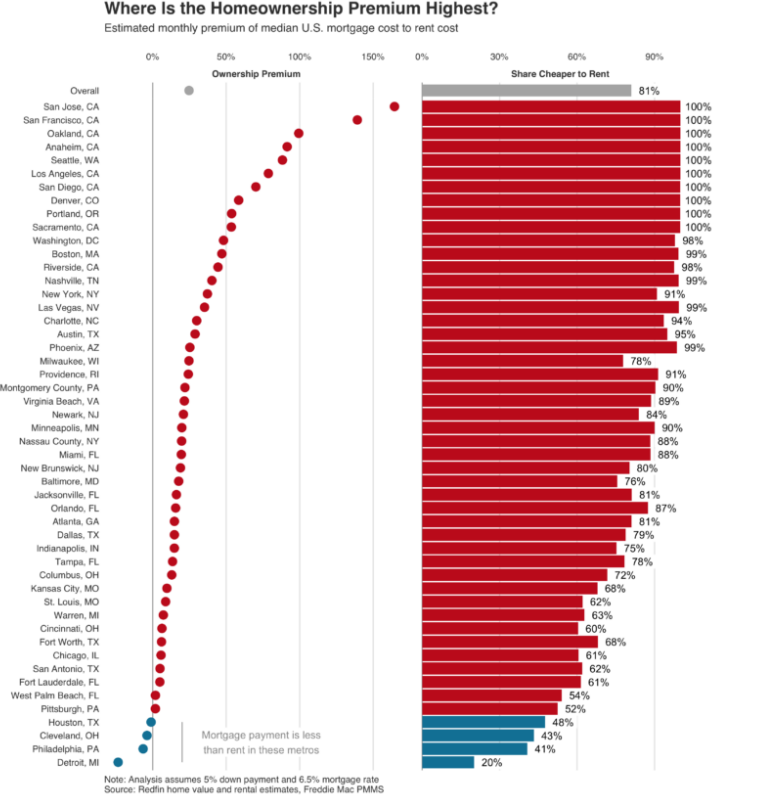 These numbers tell us it's 165% more expensive to buy than to rent in San Jose. In San Francisco it's nearly 140% more expensive to buy than rent.
This analysis was done when mortgage rates were at 6.5%. They're now more like 7.3% so it's even more advantageous to rent.
Here's a list of the most populous cities in the country where it's much more expensive to buy a house than rent: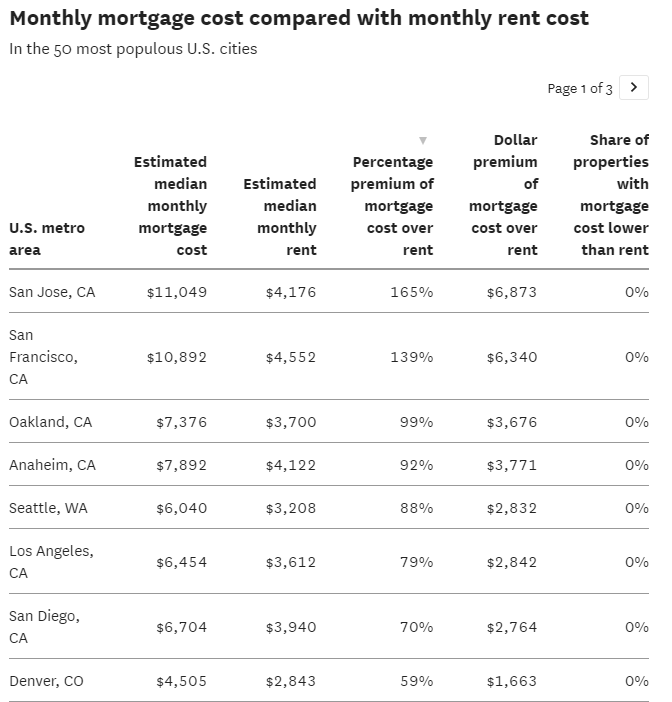 So you can actually save money by renting right now which is why your friends are taking on $7,000 monthly payment while your rent is $2,600/month.
Yes, it's true they are building home equity. And while it's not guaranteed, housing prices in the Bay Area may continue to move higher in the years ahead.
You could always calculate how much it would cost to buy right now and save the difference to see if buying a house is viable in the first place.
The median home price in San Francisco is nearly $1.4 million. If you put 20% down that's $280,000 (which is your entire liquid net worth plus and extra $15k).
With a 7.3% fixed rate mortgage over 30 years, that's a monthly payment of nearly $7,700. And that's before property taxes, insurance, HOA fees, maintenance and such.
Is it really worth it to use up all of your financial resources AND spend well over $5,000 more a month on your monthly payment?
You could even rent a nicer place for $4,000-$5,000 and still save a ton of money versus buying.
For some people, the numbers don't matter. They simply want to buy a house no matter what. And sure, if you have the ability to refinance in the years ahead your monthly payment will go down. At 5% mortgage rates, it drops to roughly $6,000/month.
My point is that you don't have to buy a house just because society says you should.
You have to run the numbers, understand the circumstances of where you live and not rush into a decision simply because your friends are doing the same.
Buying a house can be a wise financial decision but it's not for everyone in every situation.
We discussed this question on the latest edition of Ask the Compound:
Nick Sapienza joined me again this week to answer questions about home equity, paying off credit card debt, asset allocation in retirement and Simple IRAs.
Further Reading:
The Worst Housing Affordability Ever?