Some questions I'm considering right now:
1. Did tech stocks break the stock market?
The leaders in the stock market going into a crisis are rarely the leaders coming out of a crisis.
There is something about a regime change in the economic cycle that tends to shift the way investors allocate their capital to different sectors of the market.
There was a sea change this around too…for a little bit.
Last year during the rising inflation and interest rate environment, growth stocks got killed while value stocks finally had their time in the sun after a decade of tech stock dominance.
Yet here we are again with the same huge growth stocks leading the way.
The Nasdaq 100 is up 40% this year after falling 33% last year.
The Man Group performed some research on the top 100 stocks in the S&P 500 each decade going back to the 1960s to show that many of the leaders from the previous era typically fall from their perch: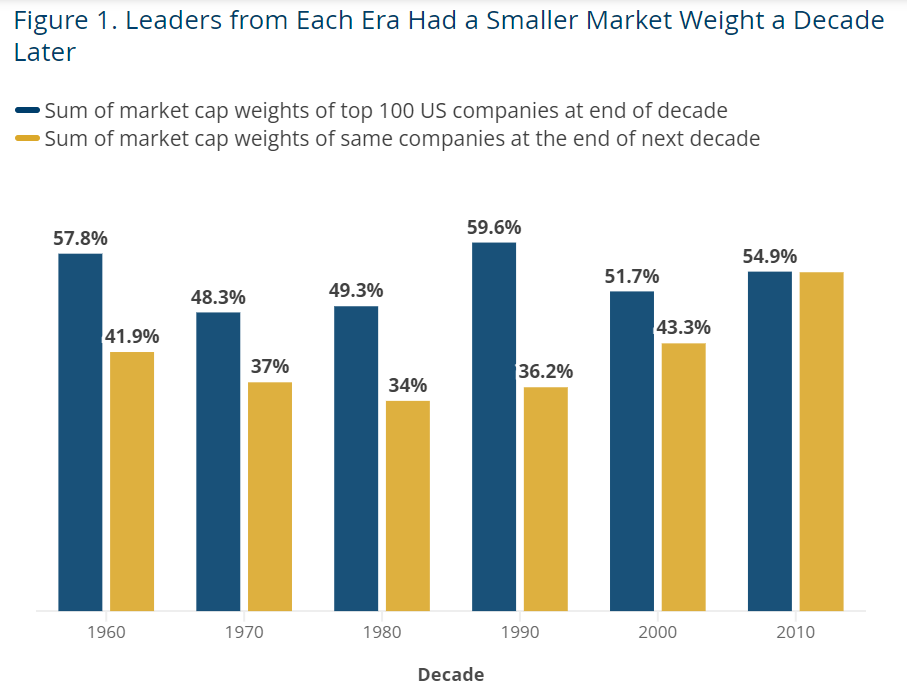 This happened every decade…until the 2010s.
The top stocks more or less remained the top stocks.
History tells us tech stocks should underperform in a meaningful way eventually.
This time is different typically gets you into trouble but John Templeton himself once said 20% of the time it really is different.
Maybe tech stocks broke the mold. Maybe they are setting up for a huge fall.
You could talk me into either argument right now.
2. When are we going to get a useful streaming bundle?
I'm on record saying I will never cut the cord when it comes to cable.
But the streaming revolution is going to make it difficult until we get some sort of combined bundle.
I watched the Michigan game last week on Peacock. It worked OK but here's the problem — it's a pain in the ass to switch to another game during commercials (and there are A LOT of commercials).
Going from an app back to cable and then back to an app takes forever.
I'm sure we'll figure something out eventually where AT&T, Comcast and Spectrum just have the streamers right in their cable packages but the transition to get there is going to be painful for my channel-flipping in the meantime.
I'm ready for everyone to go back to the old cable bundle days.
3. Can the government afford to keep rates this high for long?
I'm not good at predicting the direction of interest rates. I've tried and failed many times.
If you had asked me a few years ago if rates could go from 0% to 5%, I would've said you're nuts. We added trillions of dollars of debt during the pandemic.
I assumed the interest expense on that debt would become a political problem if rates rose as much as they did.
Hand up — I was wrong.
Interest payments as a percentage of GDP are still lower than they were in the 1980s and 1990s but look at how much they've risen in the past 18 months or so:

Here's a look at the total interest payments by the government:

It looks like a meme stock.
I'm not saying a crisis is imminent.
I'm not going to predict a collapse in the dollar (we're still the global reserve currency).
I'm not going to predict an end to the financial system as we know it (people have been complaining about Federal debt levels forever and it's never really mattered).
My worry here is eventually, it's going to become a political issue if we ever stop having ridiculous arguments about culture war stuff.
I'm surprised we haven't seen any politicians who are worried about our debt levels latch onto this as a re-election issue yet.
This also makes me dubious that rates can stay higher for longer but I've been wrong about the path of rates before.
4. Are the Lions finally going to be good this year?
The Lions beat the Chiefs to kick off the NFL season. Expectations are about as high as they've ever been for one of the most tortured fan bases in all of professional sports.
Here's my take: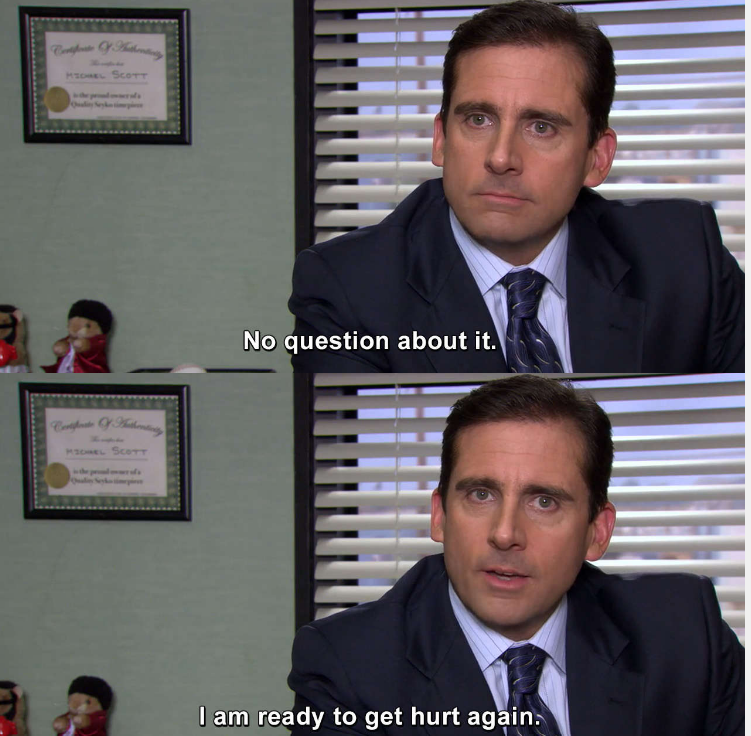 My dad has drilled it into my head that the Lions will disappoint us eventually.
I'm usually a glass-is-half-full kind of guy. Not when it comes to the Lions.
I will believe it when I see it.
5. Can we get a soft landing without hurting the labor market too much?
Look at the path of the inflation rate, number of people quitting their job and number of job openings: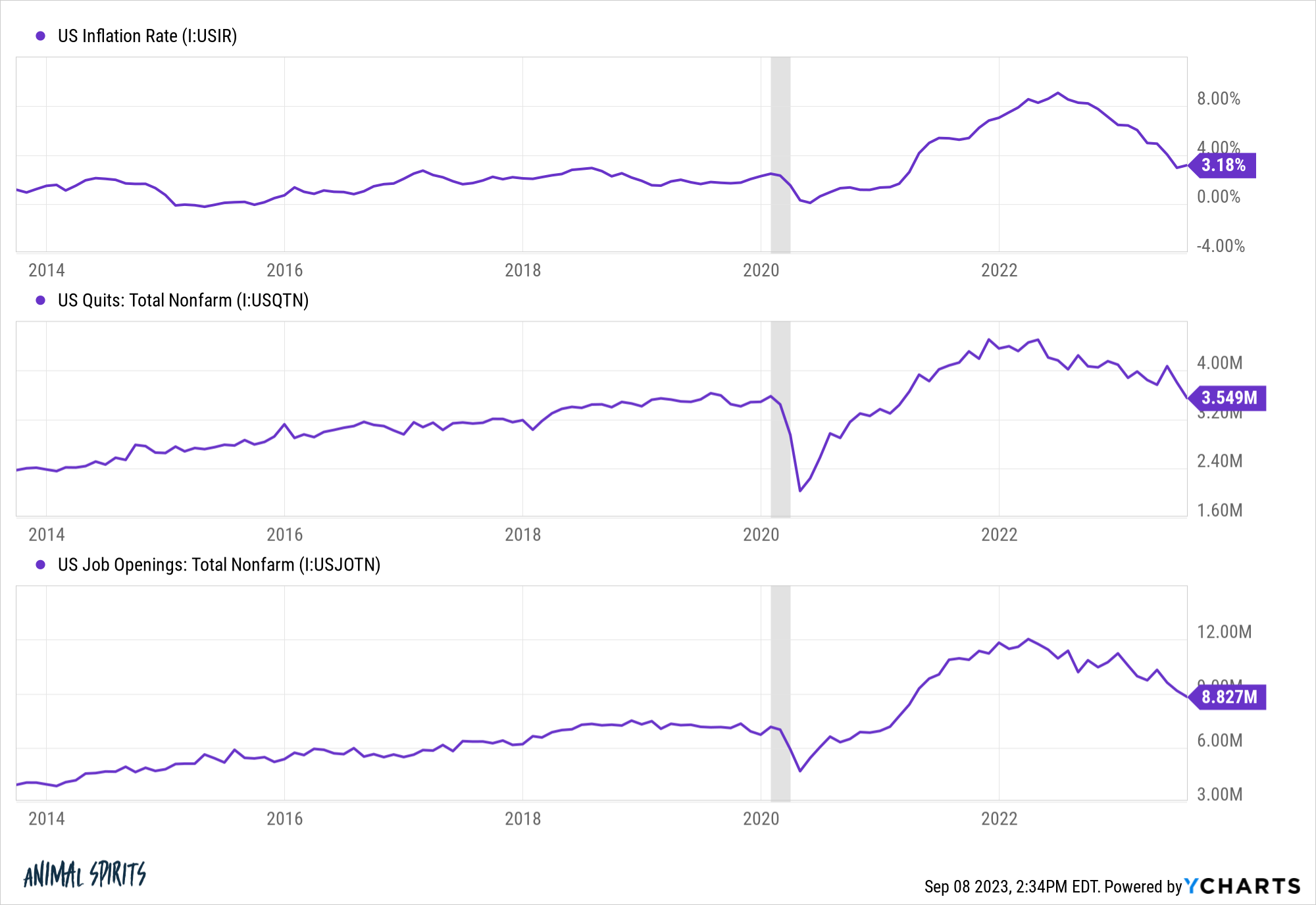 They've all followed a similar path during one of the strongest labor markets in decades.
The unknowable right now is if these numbers can all continue to fall without impacting the unemployment rate too much and pushing us into a recession.
The unemployment rate remains extremely low by historical standards: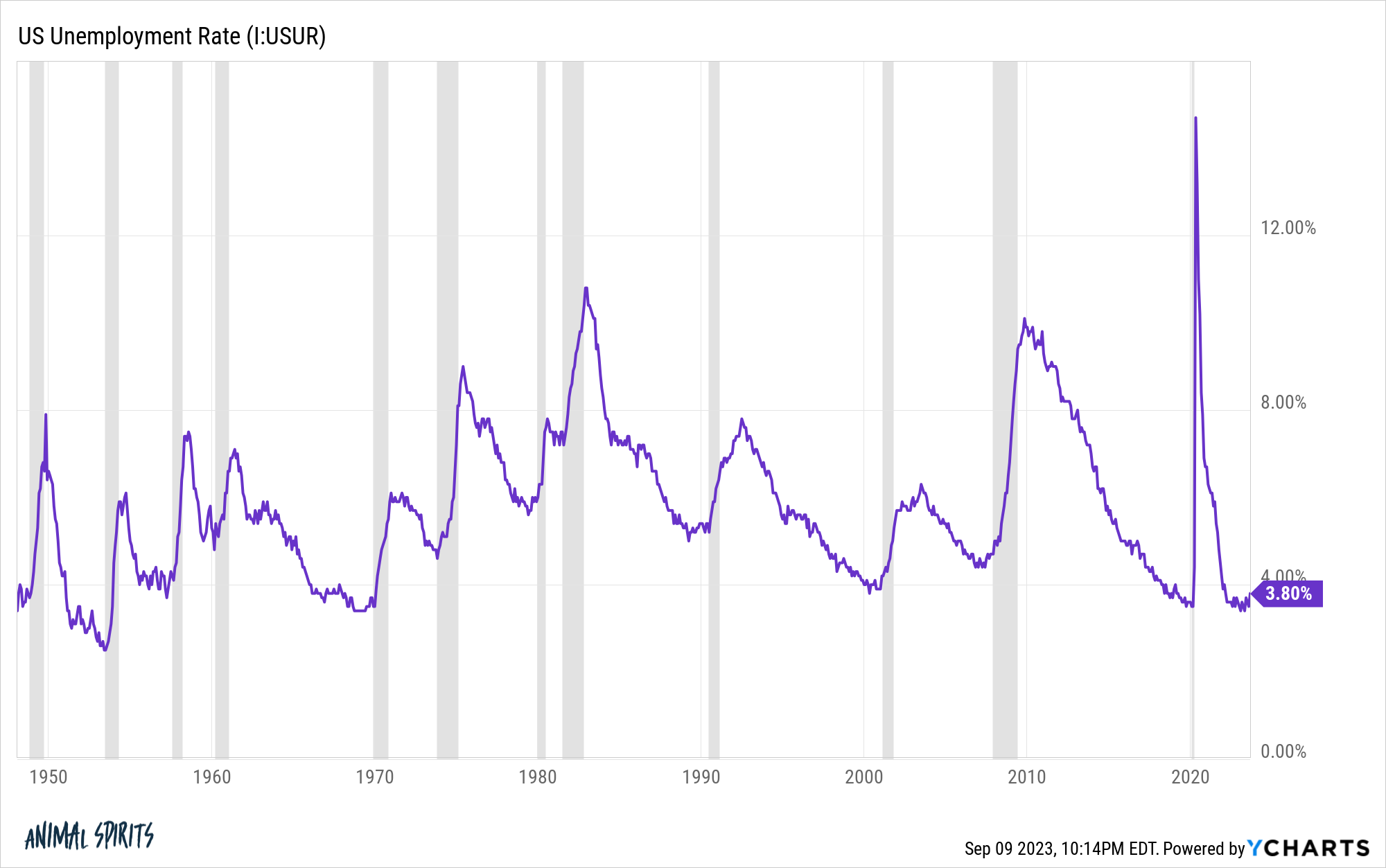 I'm curious how long it can remain near these levels with interest rates so much higher.
6. Did the baby boomers ruin the housing market?
Barclays has a new research report that says the baby boomers are partly to blame for the continued strength in the housing market.
Here's their take (via Bloomberg):
"The US housing sector is on the upswing again, even with mortgage rates at multi-decade highs," Jonathan Millar, Barclays senior economist, writes in the research. "Although much has been attributed to shortages of existing properties and mortgage lock-in effects, we think strong demand is a symptom of the aging population."
I appreciate this hot take in some respect. Close to 40% of all mortgages are paid off in this country. That's mostly baby boomers.
That generation has the ability to sell their homes that are up like 500%, ignore 7% mortgages and buy in cash when they relocate for retirement.
I guess that makes sense but I would blame the unhealthy market on so many other factors before ever getting to the boomers.
Here's my list in no particular order: The Fed, HGTV, the pandemic, remote work, the government (for not incentivizing the building of more homes), the Great Financial Crisis (totally screwed up the homebuilders), NIMBYs and Taylor Swift (her tickets are so expensive no one can afford a house).
If we want to fix the housing market, we have to build more houses.
It's as simple as that.
Further Reading:
The Luckiest Generation