I have some general principles when it comes to investing that have served me well over the years:
Simple is better than complex
Less is more
Markets are hard
Long-term returns are the only ones that matter
Markets can go crazy because people can be crazy
Make good decisions ahead of time
Outperforming the market is not easy
There's more to it than that but those are Ben's general investing rules to live by.1
That last one about outperformance is something I've witnessed firsthand throughout my investment career.
It's hard to believe how much brainpower, time, effort and money go into beating the market by hedge funds, mutual funds, separately-managed accounts and stock-pickers…and the vast majority of them fail at their stated goal.
The Wall Street Journal gave an update on the latest numbers for this year. Spoiler alert — they're not great:
Only one in three actively managed large-cap mutual funds beat their benchmarks in the first three months of the year, the worst performance since the three-month period ended December 2020, according to data from Bank of America Global Research.
That marked a shift from last year when 57% of large-cap mutual funds raced ahead of their benchmarks in a market rocked by red-hot inflation, rising interest rates and worries over a potential recession. More funds beat their benchmarks in 2022 than in any other year since 2007, when 71% of them did so, according to data compiled by Goldman Sachs Group Inc.
To be fair, three months is a ridiculously short period of time when it comes to gauging the success or failure of any investment strategy. Even a year isn't all that helpful. One year does not the long-term make.
The problem for stock-pickers is the longer you go out the worse the results. The annual SPIVA Report from Standard & Poors looks at a number of different intervals through year-end 2022:
Look at those 10, 15 and 20 year beat rates!
Across all these various asset classes, simple indexes beat roughly 90% of all actively managed funds.
These funds are filled with some of the most well-educated people in finance who spend countless hours performing security analysis, meeting with company management, doing channel checks and digging into financials.
I've been over this stuff ad nauseam over the years so no need to beat a dead active manager here.
But this did get me thinking about the timing of outperformance. Actively managed funds did do better in 2022 than they've done in years in terms of beating their benchmark.
Would investors be better off outperforming during bull markets or bear markets?
Our audience at The Compound seems to prefer outperformance during a downturn: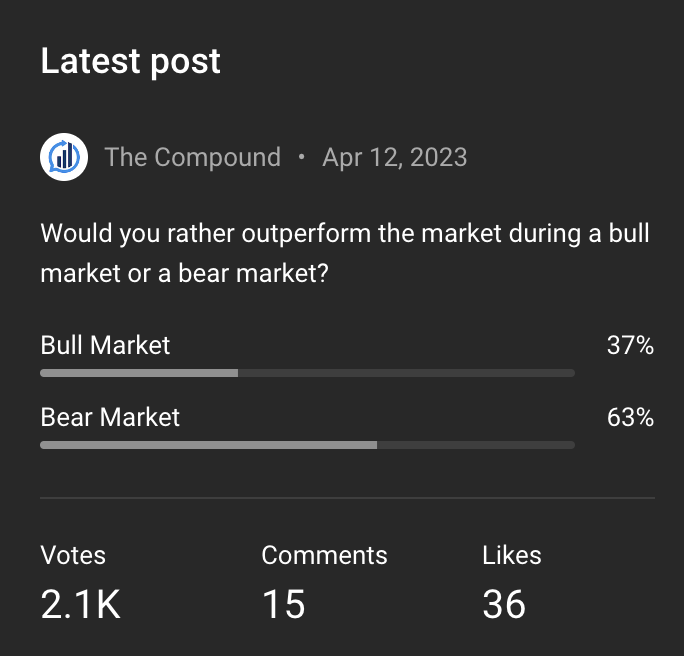 This makes sense when you consider how much we abhor losses as a species. Losing money is painful.
I can see why people would prefer making 40% when the market is up 50% and being down 10% while the market is down 20%. The RPMs of your emotions redline during a bear market.
Sure, there is greed and FOMO during bull markets but as long as you're making money, most investors are content even if they're not making as much as other people.2
Diversification basically guarantees that you'll underperform the best asset class during a bull market and outperform the worst asset class during a bear market: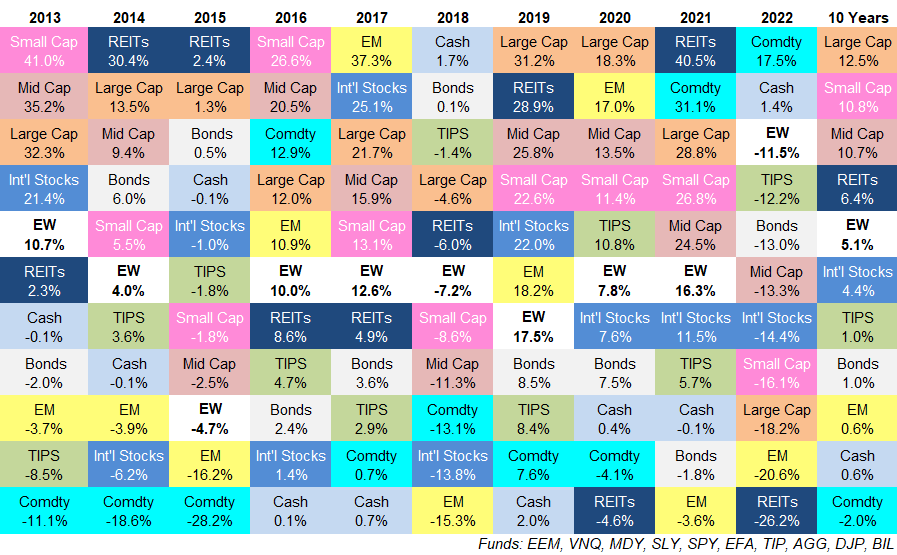 (People always ask when they see this chart — EW is equal weight or a simple average of each asset class.)
It's much harder to be invested in the high flyers at all times because the inevitable busts that follow the boom times can be so brutal.
But if you think about the way the stock market typically works, the gains far outweigh the losses so the bull markets more than make up for the bear markets.
The stock market is up 3 out of every 4 years on average. Bull markets last longer than bear markets.
I'm sure there are people who are wired to own the stuff that's supercharged during a raging bull market with the understanding that the other side of the peak is a deep valley.
Whether they knew it or not, that is the profile of many tech investors who went all in on software stocks and crypto during this cycle. The gains were enormous during the upswing but devastating on the downswing.
Obviously, sometimes you don't get a choice when it comes to when you outperform the markets.
Most people spend all their waking hours in pursuit of the ever-elusive alpha that is nearly impossible to come by.
Most investors would be better served trying to avoid underperforming their own holdings by constantly trying to time the markets or guess which asset class or strategy will be the next big winner.
The markets are hard enough as it is so there's no reason to make them any harder than they have to be.
Michael and I talked about outperforming the market and much more on this week's Animal Spirits video:
Subscribe to The Compound so you never miss an episode.
Further Reading:
Markets Are Hard: Seth Klarman Edition
Now here's what I've been reading lately:
1These are my personal guidelines. They don't work for everyone but they do work for me.
2I'm generalizing here of course. It really depends on your emotional make-up as an investor.