I don't make a lot of predictions because, well, predicting the future is hard.
The problem with predictions is there is almost always something that comes out of left field that derails even the most informed projections.
I predicted the following in March 2020:
I didn't exactly forecast how the move to remote work would impact housing markets across the country but I'll take it.
I'm ready to double down on this take, at least as it pertains to remodeling.
The rapid rise in housing prices and mortgage rates could have a lasting impact on the number of houses on the market.
While higher rates have slowed down the insanity that we saw in 2020 and 2021, the extreme move in mortgage rates is going to be a problem for housing supply.
Redfin's latest update explains:
"Many homeowners have been reluctant to put their houses up for sale during a market slowdown, which is now holding back inventory growth," said Deputy Chief Economist Taylor Marr. "That means buyers have fewer homes to choose from and may lose some of their newfound bargaining power, which allows sellers to maintain their list prices instead of having to cut them."
Pending sales are down 17% year-over-year.
We could be in a situation where buyers go on strike because mortgage payments are so much higher at a time when sellers go on strike because they're unwilling to forego 3% mortgage rates.
We're already seeing this impact NBA trade deals (kidding):
Obviously, most of the people who buy a house have to sell their current home since people will always have to move for one reason or another so it's not like supply is going to vanish altogether.
But if mortgage rates stay elevated for the foreseeable future, there could be a cap on supply in the market compared to the past.
This could keep the remodeling boom going as homeowners decide to stay put with their low mortgage rates and use their home equity for renovations (which is the whole point of HELOCs in the first place).
Lowe's CEO Marvin Ellison discussed this dynamic on the company's latest earnings call:
At this point, we are not seeing indications of material trade down. If anything, we're seeing the opposite with continued strong demand for our new and innovative products at higher price points.
At Lowe's, the three highest correlating factors of home improvement demand are home price appreciation, the age of the housing stock, and disposable personal income. While housing turnover is important, it does not index at the same rate as home price appreciation, housing age, and disposable personal income. And while we acknowledge that housing turnover has slowed, home prices and home equity remains at record highs, which gives customers confidence that they will get a return on the investment that they make in their homes.
They also note more than half of all homes in the U.S. are 40 years or older. Millions and millions of homes were built in the early-2000s housing boom are now almost 20 years old.
All that HGTV watching is going to cause an upgrade cycle of new kitchen countertops, open floor plans, hardwood floors and upgrades to bathrooms.
Nearly three-quarters of all homeowners have mortgage rates of 4% or less: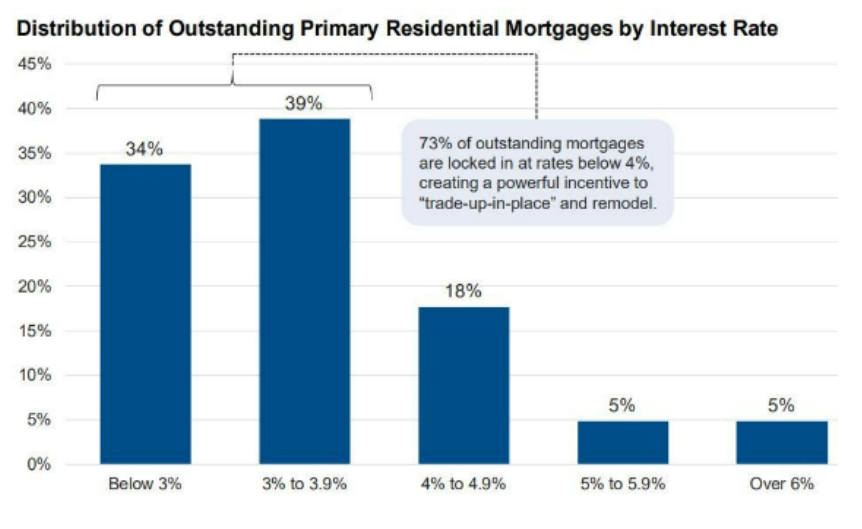 Combine this with higher rates and higher prices and we could see a renovation boom that lasts for years as homeowners decide to fix up their current place instead of moving.1
Since I don't make predictions very often, why don't we do one more?
Consumers are going to see some amazing deals this year for Black Friday.
Supply constraints have made deals hard to come by these past couple of years. That environment appears to be all but over (save for automobiles) now that consumers have shifted their excess spending from goods to services/travel.
I've compiled a handful of anecdotes from some recent Wall Street Journal stories.
Remember when it was impossible to find a bike in 2020? Not so anymore:
At Bicycle Habitat in New York City, lines formed down the block for whatever was available on a given day in the early stages of the pandemic, said owner Charlie McCorkell. Now he has roughly 2,000 bikes in stock, more than double what he would prefer; sales for 2022 are expected to be lower than 2019; and some customers are willing to walk out the door over a bike's color.
The supply chain problems meant consumers couldn't get stuff when they wanted it. Retailers responded by loading up once things improved but by then consumers had changed their spending patterns:
Target, Walmart and Macy's announced recently that they are starting to receive large shipments of outdoor furniture, loungewear and electronics everyone wanted, but couldn't find, during the pandemic.
The problem for retailers—that these goods are delayed by almost two years—could be a windfall for those in the market for sweatpants or couches. Look for prices to start dropping around July 4, analysts say.
"There are going to be discounts like you've never seen before," says Mickey Chadha, a Moody's Investors Service analyst who tracks the retail industry.
Inventory levels go so high that some inventory is going straight to the liquidator stores:
Liquidity Services Inc., Xcess Limited, B-Stock LLC and other companies said they are seeing a glut of kitchen appliances, televisions, outdoor furniture and apparel that major chains are trying to clear out. In many cases, the liquidators are picking up pallets at the ports or from a warehouse without the goods ever hitting store shelves and are selling the items to smaller retailers and individuals who resell them online.
Retailers will eventually figure out the new equilibrium but it appears now is a decent time to find some deals on all that stuff people couldn't get their hands on in 2020.
I'm in the market for some patio furniture and a new TV. I'm willing to be patient.
Black Friday could have some amazing deals this year.
Michael and I talked about housing, inventory levels and much more on this week's Animal Spirits video:
Subscribe to The Compound so you never miss an episode.
Further Reading:
How the Housing Market Has Changed America
Now here's what I've been reading lately:
1This take is contingent on mortgage rates staying elevated for a while. Maybe they come back down if we have another recession but who knows how low that could be.