"Rule no. 1: Never lose money. Rule no. 2: Never forget rule no.1." – Warren Buffett
Warren Buffett has been taking some heat lately for his company's stock performance. Berkshire Hathaway has underperformed the S&P 500 over the past 5 years or so and some are starting to question whether it's possible for Buffett to continue to generate market-beating returns going forward.
This makes sense since Berkshire Hathaway is now a $300+ billion market cap company. It's going to be much harder for Berkshire to beat the market on a regular basis being such a large and diversified company. It's basically a mutual fund at this point. As they say, size is the enemy of performance numbers. Buffett himself has stated this in the past:
Anyone who says that size does not hurt investment performance is selling. The highest rates of return I've ever achieved were in the 1950s. I killed the Dow. You ought to see the numbers. But I was investing peanuts then. It's a huge structural advantage not to have a lot of money.
But I'm willing to give the Oracle the benefit of the doubt until we see another downturn in the market. Going back to the initial year Buffett turned Berkshire into his holding company in 1965, the stock market has finished the year with a negative return roughly 1 out of every 5 calendar years. These are the times Buffett excels.
See the following breakdown I did between positive and negative performance years in the S&P 500 and Berkshire's results: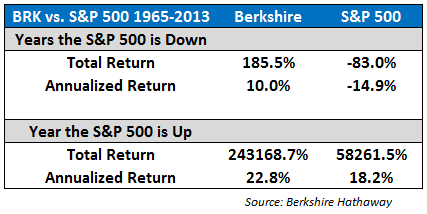 Obviously to get the enormous market-beating returns Buffett has gotten over the years, you would expect him to do well when the market goes up since the market rises much more than it falls. But it's the down years where Buffett has really extended his lead, outperforming the market by almost 25% per year when stocks fall. This is his secret sauce.
Of course, there are plenty of active managers that have underperformed throughout this bull market that will try to use the same exact justification. I think Buffett has earned the right to use this one while the majority of active managers out there are simply making excuses.
I don't expect Buffett to knock it out of the park anymore. But I think he protects on the downside as he had in the past, which is more than most active investors can say.
Source:
Berkshire Hathaway 2013 Annual Report
[widgets_on_pages]
Follow me on Twitter: @awealthofcs