A reader asks:
Is there a way to hedge the price of my home? It has appreciated a lot over the past couple of years and my hunch is that its value will pull back in the coming months. I had a similar hunch about interest rates a year ago and there are products (TBT) to bet on Treasurys selling off. This year, the no-brainer trade is housing prices dropping. How do I play it?
Things are moving fast in the housing market so it's understandable people are concerned about a slowdown.
At the beginning of 2022, 30 year mortgage rates were around 3%. This week I saw them quoted at 6.3% from one source.
In less than 6 months one of the most important borrowing rates for the U.S. economy more than doubled.
Jerome Powell said this week that homebuyers "need a bit of a reset."
Be careful what you wish for, Jerome.
Eric Finnigan shared a chart this year that shows the move from 3% to 6% would exclude 18 million households from qualifying for a mortgage of $400,000, a reduction in potential demand of 36%.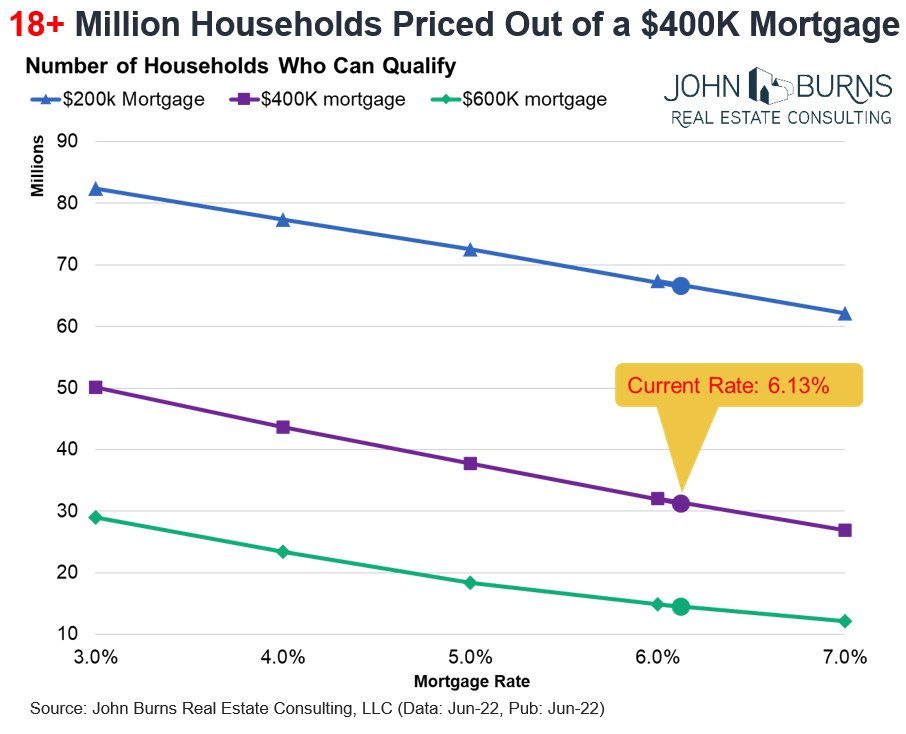 We were due for a pause but I'm not sure how this helps.
Let's look at some examples to show why this rise in rates is so problematic.
Here's a look at the increase at different price points along with the annual totals: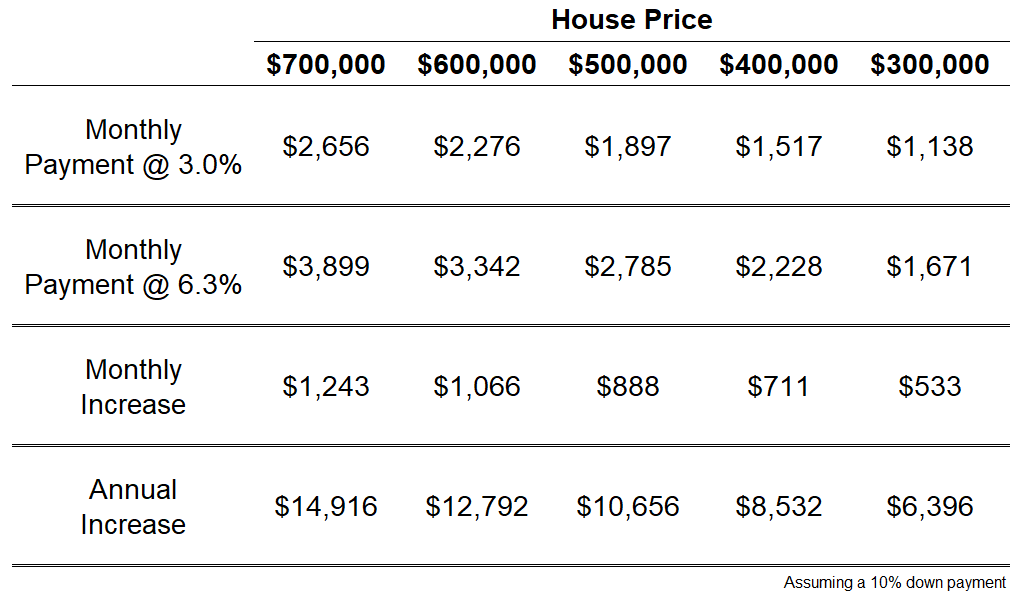 Think about it this way — a $500k house with a 3% mortgage has the same monthly payment as a $340k house with a 6.3% mortgage.
In January 2021, the median existing home price was $313k while mortgage rates were 2.7%. Assuming 10% down, that was a monthly mortgage payment of $1,140.
Prices are much higher now with the median home price closer to $400,000. At a 6.3% mortgage rates and 10% down that's now a monthly payment of more than $2,200.
Housing prices are up 20% but monthly payments are double.
Obviously, something had to be done about rapidly rising housing prices but rates have moved so high so fast I don't think people have had time to process what this could do to the housing market.
Will homeowners with 3% mortgages simply never move?
Will buyers sit things out to wait for price cuts?
Will homebuilders stop building so many houses and make the supply shortage even worse?
Of course some people will plug their noses and buy. People will still buy houses to settle down or live by their family or change jobs or all of the other reasons people become homeowners.
Maybe this will lead to a reduction in housing prices. It's not like the gains we've experienced were healthy.
It's not a foregone conclusion housing prices will fall nationwide but let's assume this reader is right.
How could you hedge a 5-10% drop in housing prices?
I suppose you could go for The Big Short.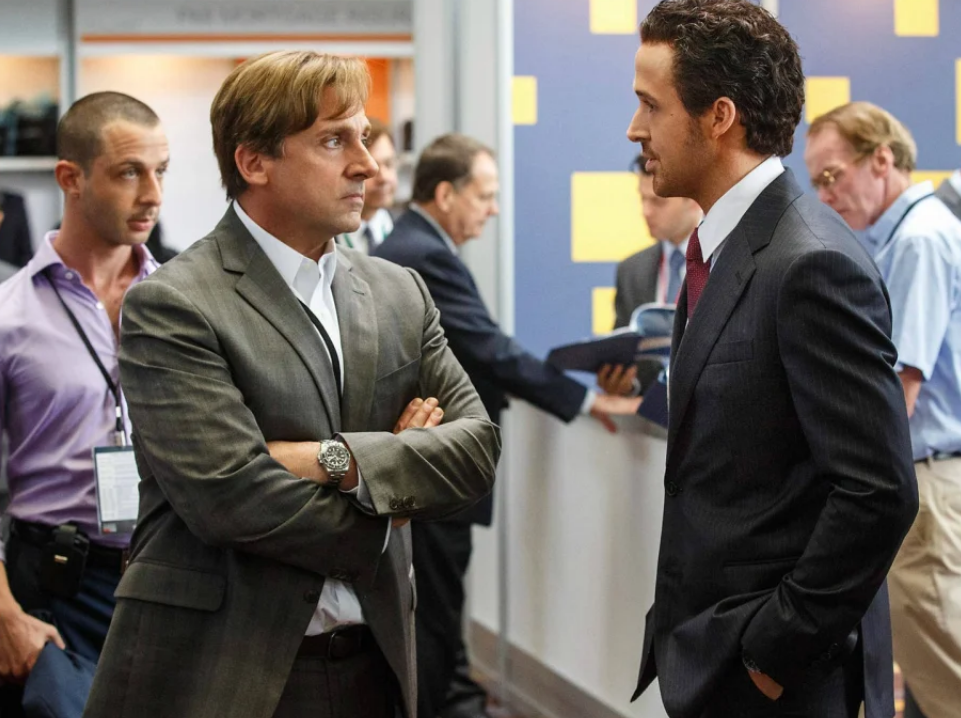 But there is no huge supply of subprime mortgage bonds to short this time around and even if there was it's not realistic for normal investors to build a basket of credit default swaps.
Someone smarter than me could probably put together some sector bets that would pay off with falling housing prices but the timing of that kind of trade is just as important as the direction.
You could be right about a housing price decline and still lose money if you choose the wrong vehicle to express that trade.
Here are some simple hedges against your home falling in value:
You could take out a large home equity line of credit on your home to sell high and take some cash off the table. That cash could then be used to diversify your assets or even fix up the house to increase its value. The downside here is you'd be paying higher rates for this privilege but that's one way to change up your personal balance sheet.
You could also simply sell your house but this one is tough because you have to live somewhere. Downsizing might not be very appealing right now with mortgage rates so much higher and rents going up too.
If you have a low mortgage rate it doesn't make a whole lot of sense to pay it off faster than you have to either with rates and inflation so much higher.
And the final option is…nothing. Don't do anything different. You don't have to be a hedge fund manager with your house. Even if prices do fall a bit as long as you plan on living in your home for 7+ years the price will likely be higher in the future.
I wish I had a sexier answer for you but I'm not sure there is a sexy answer here.
I'm also more worried right now about the millions of people who are going to be shutout of the housing market because of this.
I'm not saying it was a good thing for housing prices to rise 20% year-over-year but mortgage rates doubling is only going to make it harder for first-time homebuyers to afford a house.
We talked about this question and a lot more about the housing market on today's Portfolio Rescue:
Ben Coulthard joined me as well to talk about international stocks and how to survive your first bear market.
Here's the podcast version: