My movie life began in the 1980s.
I grew up on John Hughes, Tom Cruise, Indiana Jones and The Goonies. My love for movies was cemented in the 90s which is without a doubt the greatest movie decade ever.
As a self-professed movie connoisseur, I'm trying to work my way through some of the pre-1980s classics.
In early-2020 I finally watched both Godfather movies.1 It's not groundbreaking to say these movies were great but I liked them so much I decided to read the Mario Puzo book they're based on as well.
I loved the book too. It actually made the movies even better because I knew so much more of the story behind the story.
The crazy thing is The Godfather movies wouldn't be made today.
Today's hit movies are all about intellectual property, comic book characters and franchises.
According to Derek Thompson, the biggest movies of 2019 were all retreads:
Throughout the 20th century, Hollywood produced a healthy number of entirely new stories. The top movies of 1998—including Titanic, Saving Private Ryan, and There's Something About Mary—were almost all based on original screenplays. But since then, the U.S. box office has been steadily overrun by numbers and superheroes: Iron Man 2, Jurassic Park 3, Toy Story 4, etc. Of the 10 top-grossing movies of 2019, nine were sequels or live-action remakes of animated Disney movies, with the one exception, Joker, being a gritty prequel of another superhero franchise.
I more or less agree with Marty Scorcese on this stuff:
Many of the elements that define cinema as I know it are there in Marvel pictures. What's not there is revelation, mystery or genuine emotional danger. Nothing is at risk. The pictures are made to satisfy a specific set of demands, and they are designed as variations on a finite number of themes.
They are sequels in name but they are remakes in spirit, and everything in them is officially sanctioned because it can't really be any other way. That's the nature of modern film franchises: market-researched, audience-tested, vetted, modified, revetted and remodified until they're ready for consumption.
Now, I'm not a hater. I like movies, not films or cinema.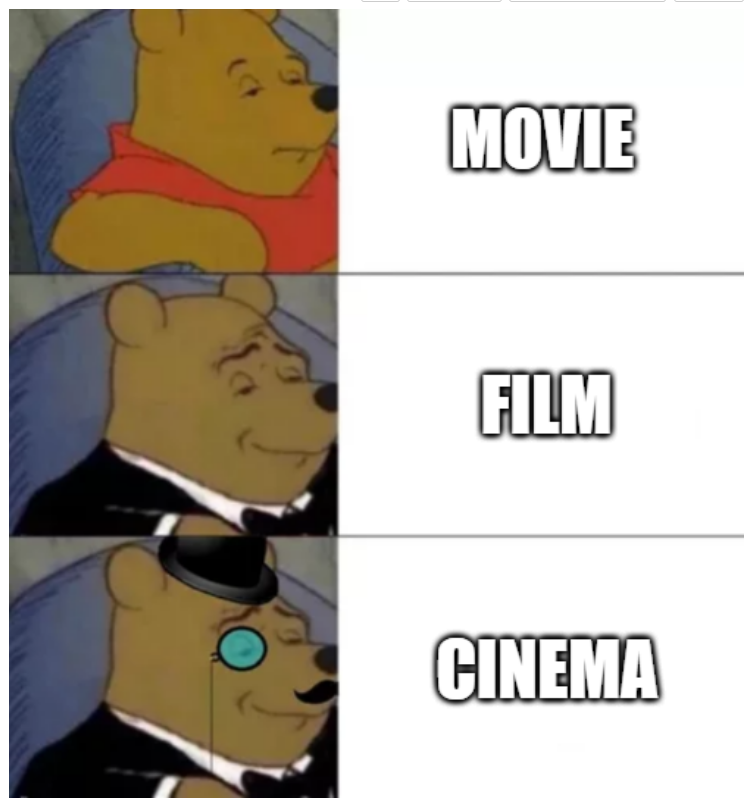 I'll trust the audience over the critics 10 times out of 10 when it comes to which movies to watch.
But it's important to distinguish the difference between 'entertaining' and 'good' when it comes to movies. All 87 Marvel and 19 Fast & Furious movies are certainly entertaining but they're not good.
Don't get me wrong, I get why movie studios keep putting out a new Star Wars every 9 months.
These are the movies that make money. Just look at the massive opening weekend for the 13th different Spiderman of my lifetime. It was the second-highest opening weekend box office ever.
This is the way it is now.
Once more movies came to streaming and on-demand platforms during the pandemic I initially assumed movie theaters were done for.
But now I realize it's not that people won't go to the theater anymore; it's that they're not showing up for good movies. They're only showing up for entertaining movies. It's good movies that are more or less done at the theater.
Just look at what happened to The Last Duel.
I just watched this (on my couch). It wasn't great but was very good. It has an unbelievable cast (Matt Damon, Ben Affleck, Jodie Comer and Adam Driver), accomplished writers (Damon and Affleck's first writing gig together since Good Will Hunting) and an acclaimed director (Ridley Scott).
Fifteen to 20 years ago this movie would have crushed at the box office. But in 2021 it bombed. Scott blamed Millennials and smartphones:
"I think what it boils down to — what we've got today [are] the audiences who were brought up on these fucking cell phones. The millennian do not ever want to be taught anything unless you are told it on the cell phone," Scott continued. "This is a broad stroke, but I think we're dealing with it right now with Facebook. There is a misdirection that has happened where it's given the wrong kind of confidence to this latest generation, I think."
Millennials are an easy target but he misses the mark here.
There are a number of reasons a solid movie like The Last Duel bombed while Spiderman was a huge hit.
There are simply more choices these days for high-quality storytelling. Back in the 1990s there was no competition from streaming channels so we got movies like Shawshank, Pulp Fiction, Forrest Gump, Seven and Goodfellas.
There was a separation of between movies and TV. Yes, some TV actors transitioned to movies (think Clooney from ER) but few movie stars would be caught dead doing a TV series.
Now prestige TV regularly draws Hollywood stars because Netflix, Amazon, HBO and Hulu have such deep pockets.
Even though we're living through the golden age of TV, the high-quality stuff still doesn't do huge numbers. Succession is arguably one of the best shows of the past 20 years. The finale (which was epic) drew just 1.7 million viewers.
The Big Bang Theory, a forgettable sitcom on CBS, was regularly bringing in 18 million viewers in its final season.
The Big Bang Theory is entertaining to a wide audience. Succession is good but only to a smaller audience.
So it's not that The Godfather wouldn't be made at all today. That story works no matter what's going on with people's watching habits.
It's just that it would be a 10-part mini-series on HBO instead of 2 movies.
My wife and I are currently watching Station Eleven on HBO. It's a 10-part mini-series and my initial read is the show is fantastic.
It's an apocalyptic story about what happens after 99% of the population has been wiped off the planet that's based on a 2014 book by the same name.
The production value, acting and storytelling are so good it doesn't even feel like a TV show. It feels like a movie that's broken up into different parts.
In the past, this would have been a two-and-a-half-hour movie that would have felt rushed. Now it's a 10-parter that's probably 8 hours in total.
Good movies are not gone forever. It's just that the ones that aren't transitioned into mini-series will slowly move exclusively to Netflix, Apple, Amazon Prime or HBO Max.
On a recent podcast with Bill Simmons, Affleck said the future for his movies will be streaming. I tend to agree.
As a father of 3 with no desire to go to the movie theater every weekend like I did in my teens and 20s, I'm perfectly fine with this development.
It's just going to be an odd transition where most TV shows are now going to be higher quality than the biggest hits at the box office.
We discussed our thoughts on the future of movies and more on this week's Animal Spirits:
Further Reading:
Every Time Out It's a Guess
1I've been told The Godfather III was so bad it didn't really happen so that's what I'm going with. Godfather II is probably the greatest movie ever made. That doesn't mean it's my favorite movie but it's probably the best.