In 2011, Marc Andreessen wrote an op-ed for the Wall Street Journal called Why Software is Eating the World.
The combined market caps of Amazon, Apple, Google and Microsoft at that time was around $770 billion. Those tech behemoths are now worth more than $7.5 trillion combined. Nvidia was a $9 billion company in 2011. It's now fast approaching $460 billion in market cap.
In 2014, Andreessen wrote an op-ed for the New York Times called Why Bitcoin Matters.
Bitcoin was trading for around $900 at that time. Even after the recent 50% crash, Bitcoin is now trading for more than $32,000.
If you would have just purchased software stocks and bitcoin after reading Andreessen's op-eds and moved to the beach you would be pretty happy with your portfolio at the moment.
No one can predict the future but Andreessen has an undeniably good track record when it comes to the world of technology.
Last week the venture capitalist wrote a piece for a16z called Technology Saves the World where he described the many ways in which technology helped us through the pandemic along with some implications for the future.
His take on the work from home trend stood out to me:
It turns out many of the best jobs really can be performed from anywhere, through screens and the internet. It turns out people really can live in a smaller city or a small town or in rural nowhere and still be just as productive as if they lived in a tiny one-room walk-up in a big city. It turns out companies really are capable of organizing and sustaining remote work even — perhaps especially — in the most sophisticated and complex fields.
This is, I believe, a permanent civilizational shift. It is perhaps the most important thing that's happened in my lifetime, a consequence of the internet that's maybe even more important than the internet. Permanently divorcing physical location from economic opportunity gives us a real shot at radically expanding the number of good jobs in the world while also dramatically improving quality of life for millions, or billions, of people. We may, at long last, shatter the geographic lottery, opening up opportunity to countless people who weren't lucky enough to be born in the right place. And people are leaping at the opportunities this shift is already creating, moving both homes and jobs at furious rates. It will take years to understand where this leads, but I am extremely optimistic.
Maybe we're all just sick of talking about it at this point but it feels like the work from home revolution is almost underappreciated.
It never made sense to me that Silicon Valley was creating all of these wonderful applications yet so many people in tech still had to work in Silicon Valley. That's obviously changing now and not just for those in the Bay Area.
Andreessen Horowitz sent out a survey to the CEOs of their more than 200 portfolio companies about their remote work plans for the future: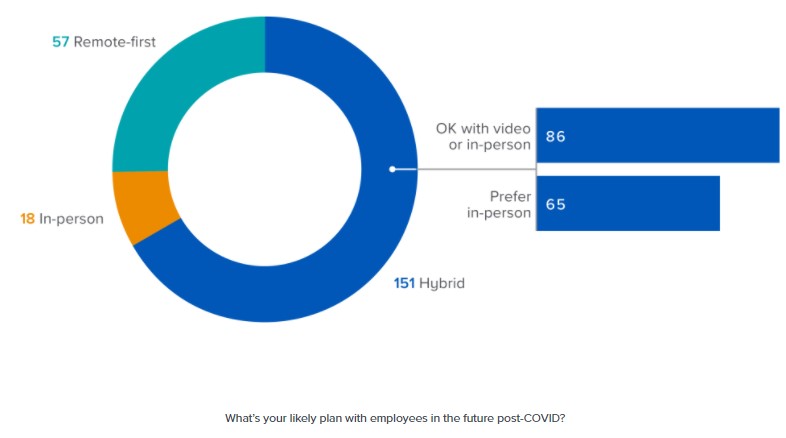 There's probably some selection bias in here since most of their portfolio companies are somehow related to the tech or consumer spaces but this shows around two-thirds of their companies are moving to a hybrid model. Twenty-five percent will be remote-first while just 8% will be in-person only.
The hybrid model is still open to interpretation: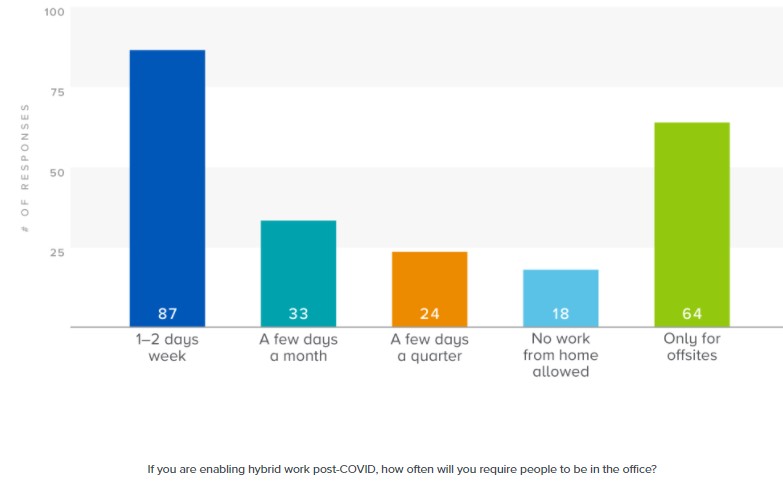 So much of this is going to depend on the industry, company and culture but I can see how there is going to be plenty of back and forth on this issue going forward.
The hybrid model is great if you're looking for more flexibility in your life.
But what if you don't want to live where your company is headquartered? There are going to be many people looking to change companies in the years ahead that allow them to work from anywhere. That's a luxury, obviously, but if you have the resume and skill set to pull it off that's going to be very appealing to many workers.1
Many young people are going to crave remote and work-from-home opportunities. But if you're still trying to move up in an organization it's hard to overstate how important it can be to put in some face time at the office.
You're also going to see companies who don't want to change take a hard line with employees. Morgan Stanley CEO James Gorman made it clear he wants people back in the office last week when he said, "Make no mistake about it. We do our work inside Morgan Stanley offices, and that's where we teach, that's where our interns learn, that's how we develop people."
I can understand where he's coming from. If this is the way you've always done things it's going to be difficult to change your tune.
But this could also send even more talented young people into the open arms of tech companies, who are going to be more open-minded about remote work opportunities.
Corporate America didn't ask for a complete restructuring of the way people work but that's what the pandemic has given us.
It hasn't paid to bet against Andreessen and I think he's right again. This is going to be a story for many years to come.
Further Reading:
The Work From Home Backlash is Upon Us
1This is especially true for those who don't want to pay sky-high housing prices on the coasts.