I distinctly remember listening to the Joe Rogan podcast with infectious disease expert Michael Osterholm 2-3 days before the Covid shutdowns began in mid-March 2020. It scared the ever-living crap out of me.
Osterholm predicted we could see 400-500k people die in the United States from this disease in the coming months if we didn't get the virus under control. I had no idea what the world would look like under that scenario.
As it turns out, Osterholm's estimates were on the low end. According to the CDC, close to 570k people are now dead from the Covid-19:
As you can see from these numbers, Covid-19 has impacted older age groups far more than younger age groups. More than 95% of all deaths have occurred for people 50 years and older.
The number of deaths was so dramatic it took an entire year off average life expectancy: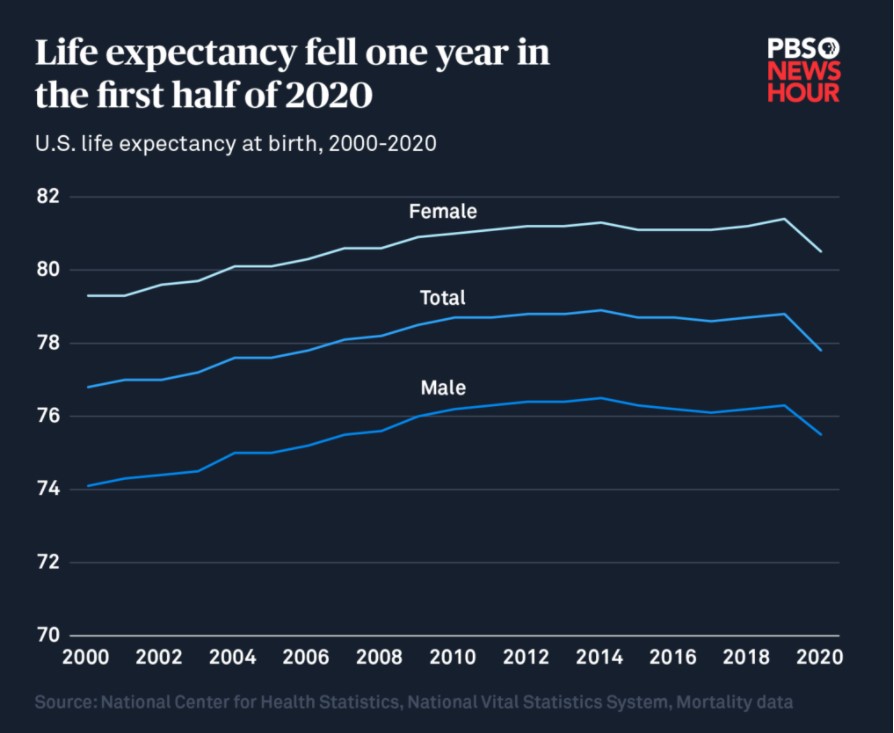 This was the biggest drop in life expectancy since World War II.
Around 80% of all Covid-19 deaths have occurred for those 65 or older. Bloomberg created a chart that shows how this has impacted the number of retirees collecting Social Security: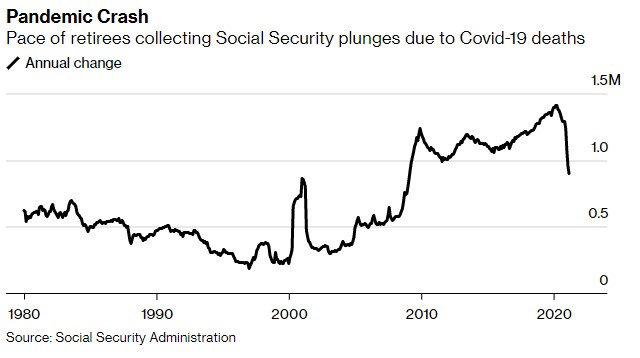 It fell off a cliff in the last year.
This is especially odd during a recessionary period because typically during these times more people decide to retire due to job losses.
This has been an awful 15 months or so for everyone but if you've lost a loved one this pandemic has been even more painful. This whole ordeal shows how fragile life can be. A virus comes out of nowhere and spreads around the world like wildfire, disrupting and taking lives, changing the way we do things and causing immeasurable damage to families around the globe.
I'm a huge advocate for saving money and taking a long-term view when it comes to your finances. But the past year is a stark reminder that the long-term doesn't always work out like we expect. Some people will spend decades of their lives saving and planning for retirement, only to pass away before ever truly enjoying the fruits of their labor.
I would never recommend people become reckless with their money but it is important to balance the need for long-term financial planning with the ability to enjoy yourself in the present.
This is one of my all-time favorite finance-related comics because it perfectly encapsulates the inner struggle we each have when it comes to our finances: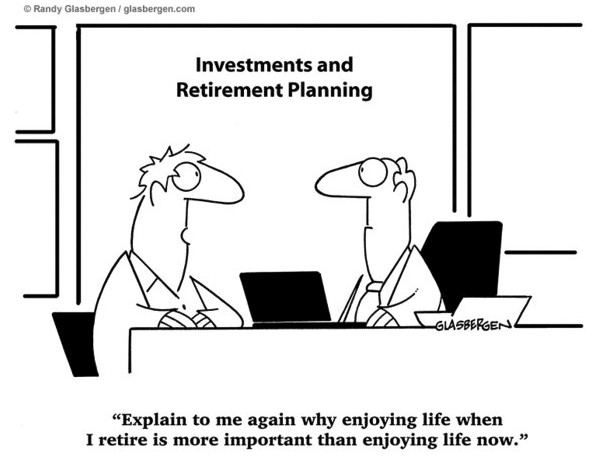 Striking that balance is never easy because no one knows what the future brings.
Michael Kitces performed a study on the 4% withdrawal rule a few years ago that shows the extraordinary upside potential in sequence of return risk: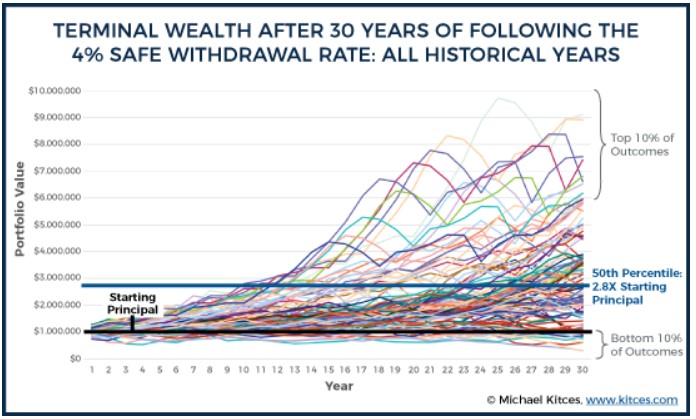 Kitces explained:
As the chart shows, on average a 4% initial withdrawal rate results in the retiree finishing with nearly triple the original principal, on top of sustaining an initial withdrawal rate of 4% adjusted annually for inflation! In fact, in only 10% of the scenarios does the retiree even finish with less than 100% of their starting principal (and in only one of those scenarios does the final value run all the way down to having nothing at the end, which of course is what defines the 4% initial withdrawal as "safe" in the first place).
His work shows most people actually overestimate the amount of money they'll need to have saved for retirement so they don't spend enough. Now, you could make the case returns will be much lower in the future, thus making the future path much harder to see such wonderful upside surprises.
But my big takeaway here is you can't take it with you.
Enjoy some of your money now. And if you can't bring yourself to spend your own savings as you age, then enjoy your money with loved ones. Spend it on trips with family or friends. Give it away to family members. Donate money to charity.
Life is unpredictable. You never know when your time will come to an end. Maybe you'll live to be 100. Or maybe your life will be cut short by an unforgiving virus or other unexpected cause.
Either way, what's the point of saving your money if you never plan on spending it?
Life is too short to save everything.
Further Reading:
Now & Then
Now here's what I've been reading lately: