Beeple's The First 5,000 Days NFT sold last week at Christie's for $69.3 million.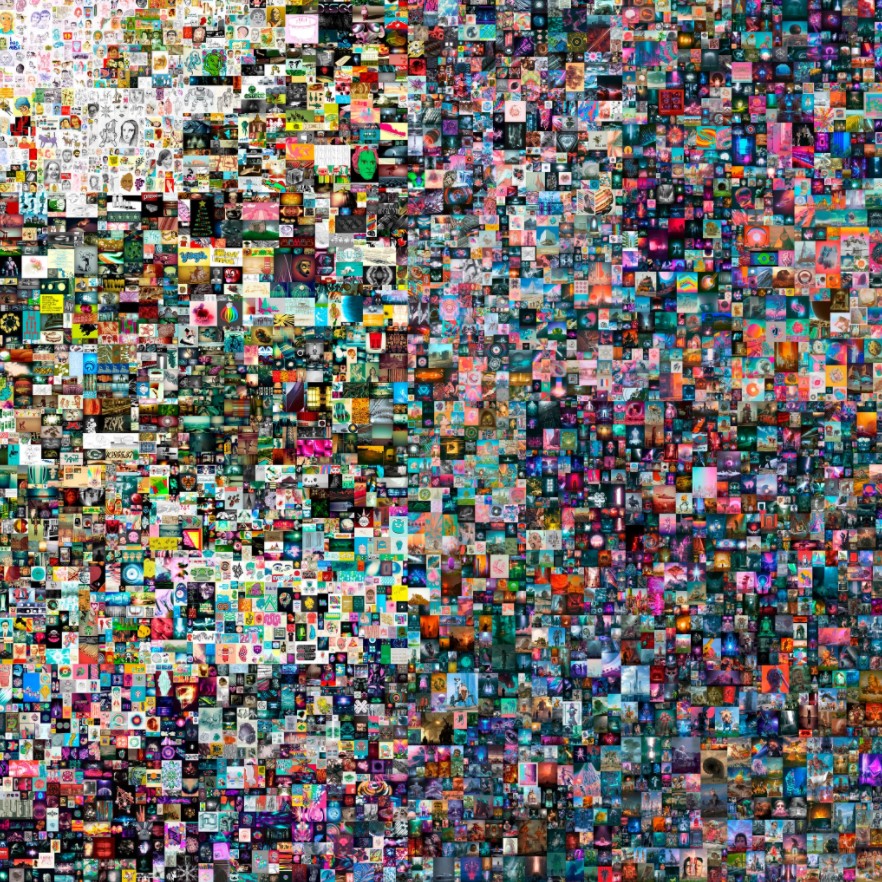 This is a staggering amount of money considering these non-fungible tokens are still in their infancy.
You have two standard reactions to a story like this:
(1) This is ridiculous! It's a JPEG that you can look at on any computer.
(2) This is amazing! It's an entirely new market for artists.
The step forward here is the fact that artists can write into these blockchain contracts that they receive payment every time their NFTs change hands. Opening up a more business-friendly platform could have enormous implications for artists, musicians and other creatives.
Even if the current crop of NFTs are nothing but digital tulips you can see the potential here.
There's a broader investment theme at play here as well — rich people just have a sh*tload of money right now.
People habitually throw around the terms "mania" or "bubble" these days anytime something goes up a lot in price.
And yes, there are certainly a number of elements of speculative manias going on right now.
But so much of everything going on in the markets has to do with the fact that rich people have too much money and nowhere to put it…so it finds its way into investments or new and exciting markets.
According to the Federal Reserve's Flow of Funds Report, Americans have more than $130 trillion of wealth. By my math, that's nearly $430k per person. Of course, wealth isn't evenly distributed in this country.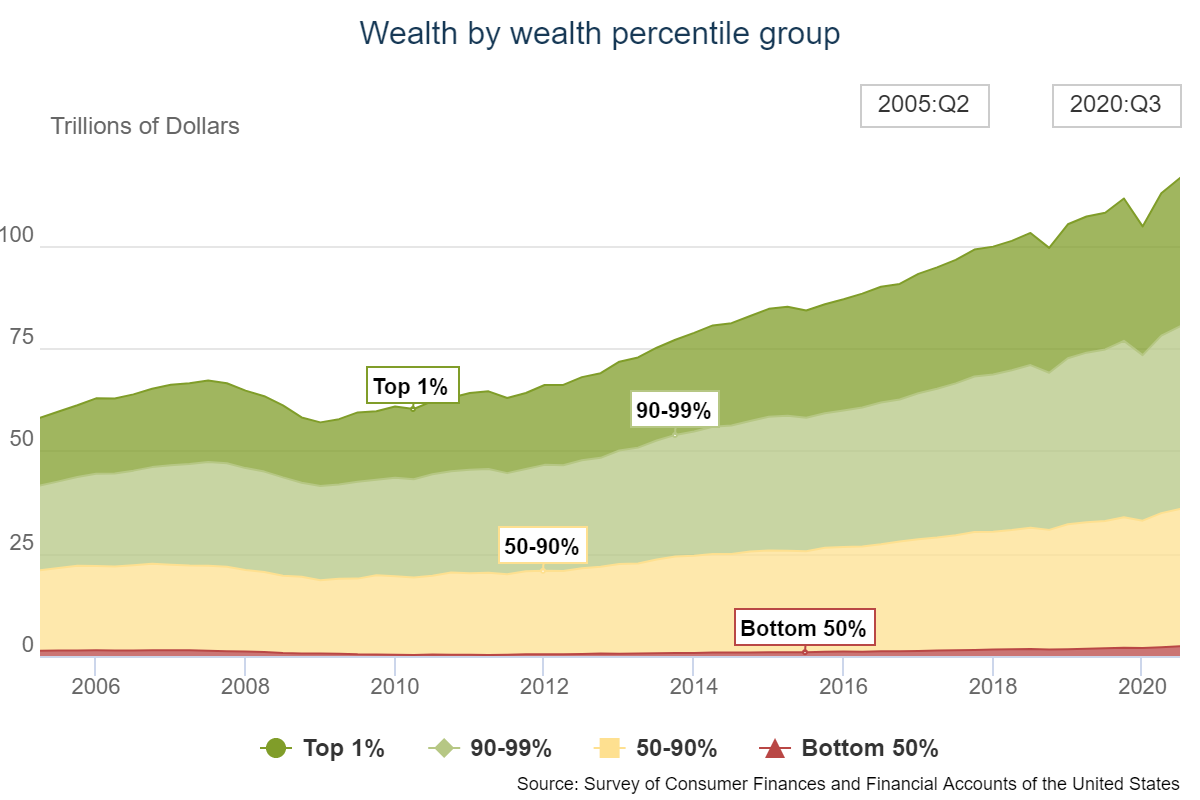 The top 1% controls 31% of the wealth in the United States. The top 10% has around 70% of the wealth, leaving the bottom 90% with 30% of the total. And the top 25% owns more than 90% of all wealth.
Here's the breakdown by asset type: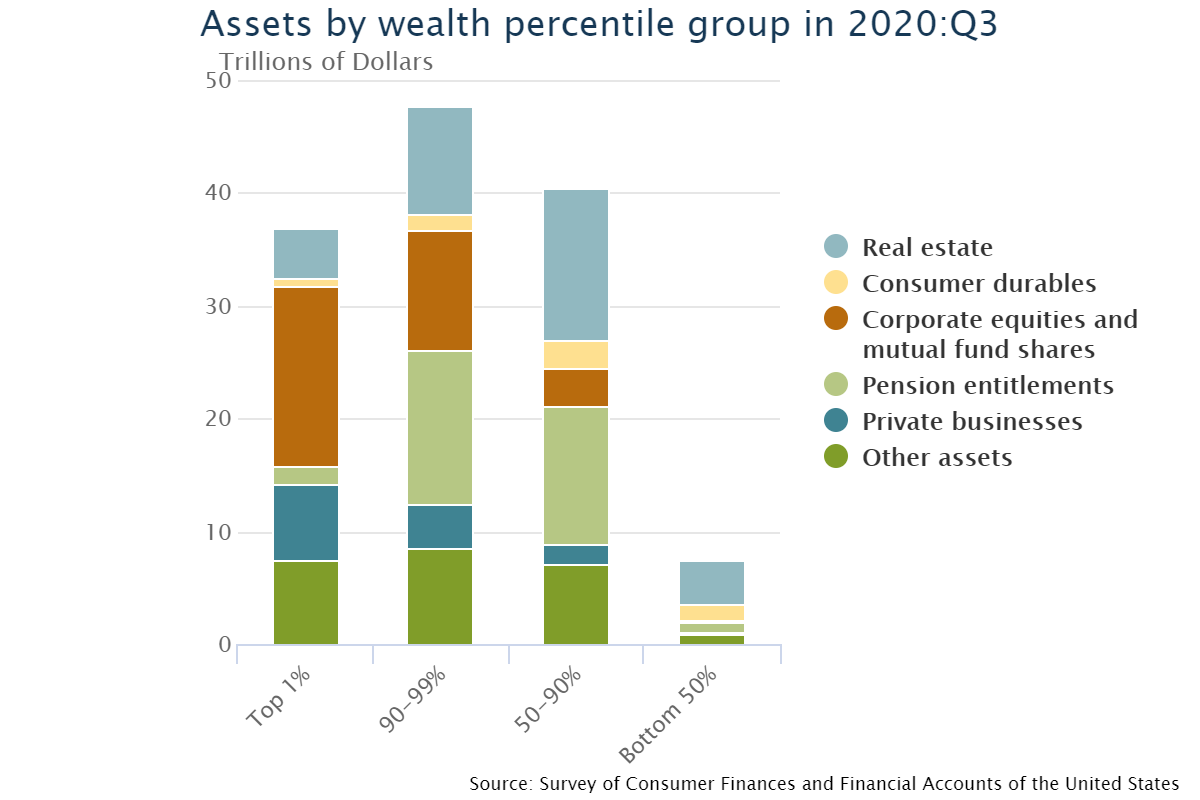 The top 10% has a much higher share of stocks, bonds, funds and private businesses than the bottom 90%.
Wealthy people can't prop up markets forever but they sure can make things happen if they put their money behind it.
Think about the Beeple NFT sale from a demographics perspective. Christie's reported 64% of the bidders for this digital piece of art were under the age of 40. This is basically a bunch of people who have made a ton of money in crypto using those gains to further the cyrpto cause.
The winning bidder was someone in Singapore who is a crypto investor and founder of an NFT fund. There are obvious use cases here but all of these new multi-millionaire crypto people have decided NFTs are going to be worth something…so they're worth something.
Crypto has seen massive gains in recent years but so have stocks and real estate and art and collectibles and the list goes on.
Lots of people are feeling flush right now.
But Ben what happens when there is a bear market?
Yes, bear markets can ruin certain investors, businesses and industries. But bear markets actually make wealth inequality worse in the long-run.
That's because the wealthy elite is in a much better position to ride out the storm. They have high enough incomes to withstand a setback or plow more money into financial assets when they're down.
People at the lower end of the income and wealth scale are the ones who get hurt the most in a downturn.
Just look at these charts from The New York Times on the employment picture during the pandemic: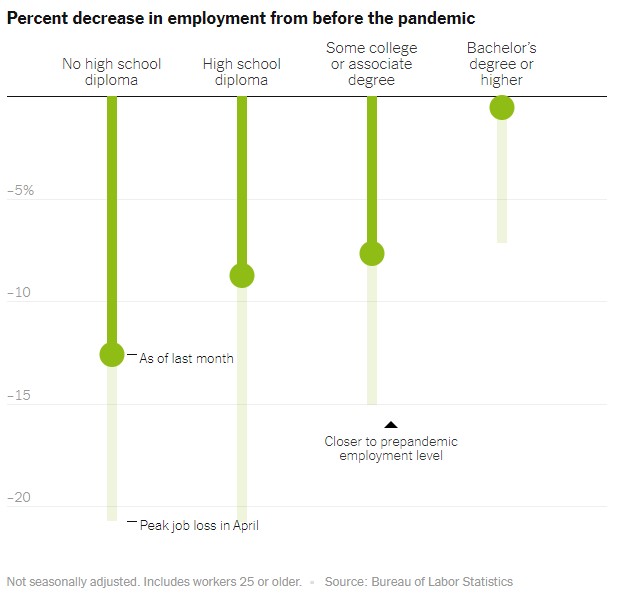 And here is the change in jobs segmented by wages: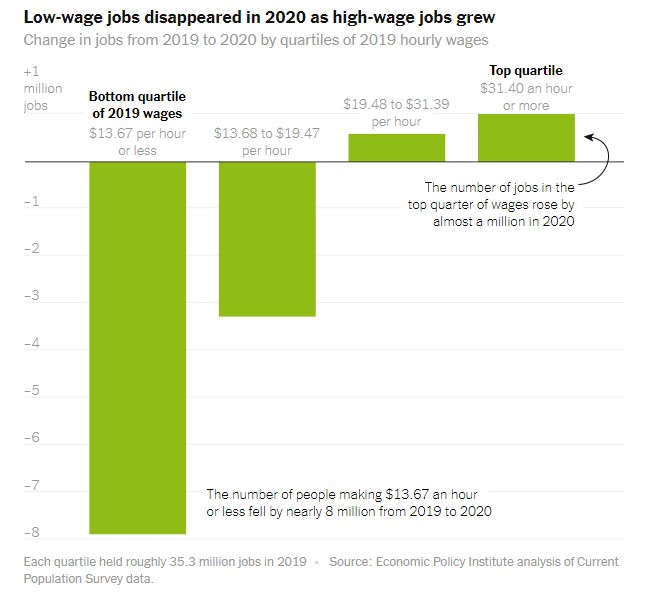 So the highly educated, who tend to make more money on average, have seen an improvement in the employment picture while just the opposite has occurred on the lower end of the education and income scales.
Of course, this is a different kind of economic environment because of the pandemic. Service jobs have been hit the harder while white-collar workers have been able to work remotely.
And it's also true that the same people don't necessarily stay in the same wealth strata their entire lives.
So this is a generalization.
But wealth inequality is a driving force behind a lot of what goes on in the markets today.
And even bear markets don't seem to help alleviate the wealth gap.
If anything, they only make it worse in the end.
Further Reading:
Why This Crisis is Going to Make Inequality Even Worse