Here's a headline this week from Page 6: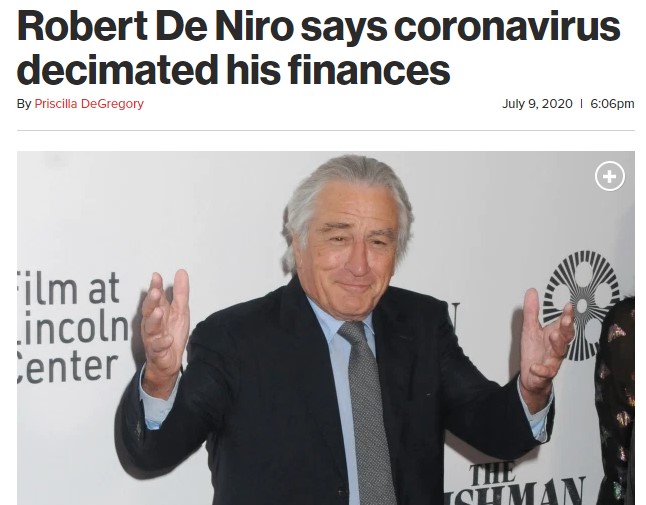 Some details from the story:
The coronavirus dealt a massive blow to the actor's finances, he revealed in court, as his estranged wife asked for an emergency order to raise her monthly American Express card credit limit from $50,000 to $100,000.
But lawyers for De Niro said he cut Hightower's credit card limit because he's taken a huge financial hit as the restaurant chain Nobu and Greenwich Hotel, both of which he has stakes in, have been closed or partially closed for months with barely any business.
De Niro's lawyer, Caroline Krauss, told the judge that Nobu lost $3 million in April and another $1.87 million in May. And he had to pay investors $500,000 on a capital call, which he borrowed money from his business partners to make, "because he doesn't have the cash," Krauss said.
"His accounts and business manager … says that the best case for Mr. De Niro, if everything starts to turn around this year, … he is going to be lucky if he makes $7.5 million this year," Krauss said.
At first glance, it may appear one of the greatest actors of all-time is going broke.
I'm guessing this is more of a liquidity crisis than anything, which is different from going broke.
His income is taking a hit but I'm sure he still has plenty of assets tucked away somewhere that he either can't or won't touch at the moment. This is also a marital dispute involving money so there may be some games being played with the numbers here.
Either way, there are plenty of personal finance lessons that can be gleaned from this situation.
Everyone needs a back-up plan. Businesses fail. Jobs don't work out the way you hoped. Investments can go awry. Life tends to get in the way of even the best-laid financial plans.
In the 1990s classic heist movie Heat, De Niro plays bank robber extraordinaire Neil McCauley. After McCauley's bank heist goes horribly wrong and one of his crew members dies, he states matter-of-factly, "He knew the risks, he didn't have to be there. It rains…you get wet"
During a severe economic contraction, it rains…you get wet.
Even the uber-wealthy need to leave themselves a cushion in case things go wrong.
Liquidity is essential during a recession. McCauley's life philosophy in Heat was summed up as, "Don't let yourself get attached to anything you are not willing to walk out on in 30 seconds flat if you feel the heat around the corner."
Having a margin of safety with your financial life means always having sources of liquidity you can draw on when you feel the heat around the corner.
People always look at money on a relative basis. De Niro is going to be "lucky" if he makes $7.5 million this year and lucky is being used here in a negative connotation.
This is why Chris Rock once said in a stand-up bit that, "If Bill Gates woke up tomorrow with Oprah's money, he'd jump out of a window and slit his throat on the way down saying, 'I can't even put gas in my plane!'"
Having lots of money doesn't make you better at managing it. Johnny Depp has made three-quarters of a billion-dollars on his films yet he basically lives paycheck to paycheck because of his profligate spending habits.
He once admitted, "I'm not a lawyer. I'm not an accountant. I'm not qualified to help my 15-year-old son with his math homework…I've always trusted the people around me."
Wealthy people are just as likely as anyone else to mess up their finances because it doesn't matter how much money you make if your burn rate exceeds your income.
Earning boatloads of money will make it easier to get rich but it doesn't guarantee financial success. Since we're constantly comparing ourselves with our peers or those who are doing even better than us financially, finding a place where you're content and have enough can be difficult for even the wealthiest among us.
If you can't prioritize your spending habits, you'll never be able to save enough to get ahead, no matter how much money you earn.
Michael and I discussed De Niro's finances and more on this week's podcast:


Further Reading:
Wealth is the Stuff You Can't See
Now here's what I've been reading this week: