As of Monday's close, the S&P 500 was down 16% in 2020.
Considering the fragile state of the economy it's surprising to many people the market isn't down more.
The biggest reason the market isn't down more is that it's market cap weighted. The biggest companies drive the performance and those big companies are holding up relatively well through this crisis.
Take a company like Amazon which has a market cap of nearly $1.2 trillion. The stock is up more than 26% this year: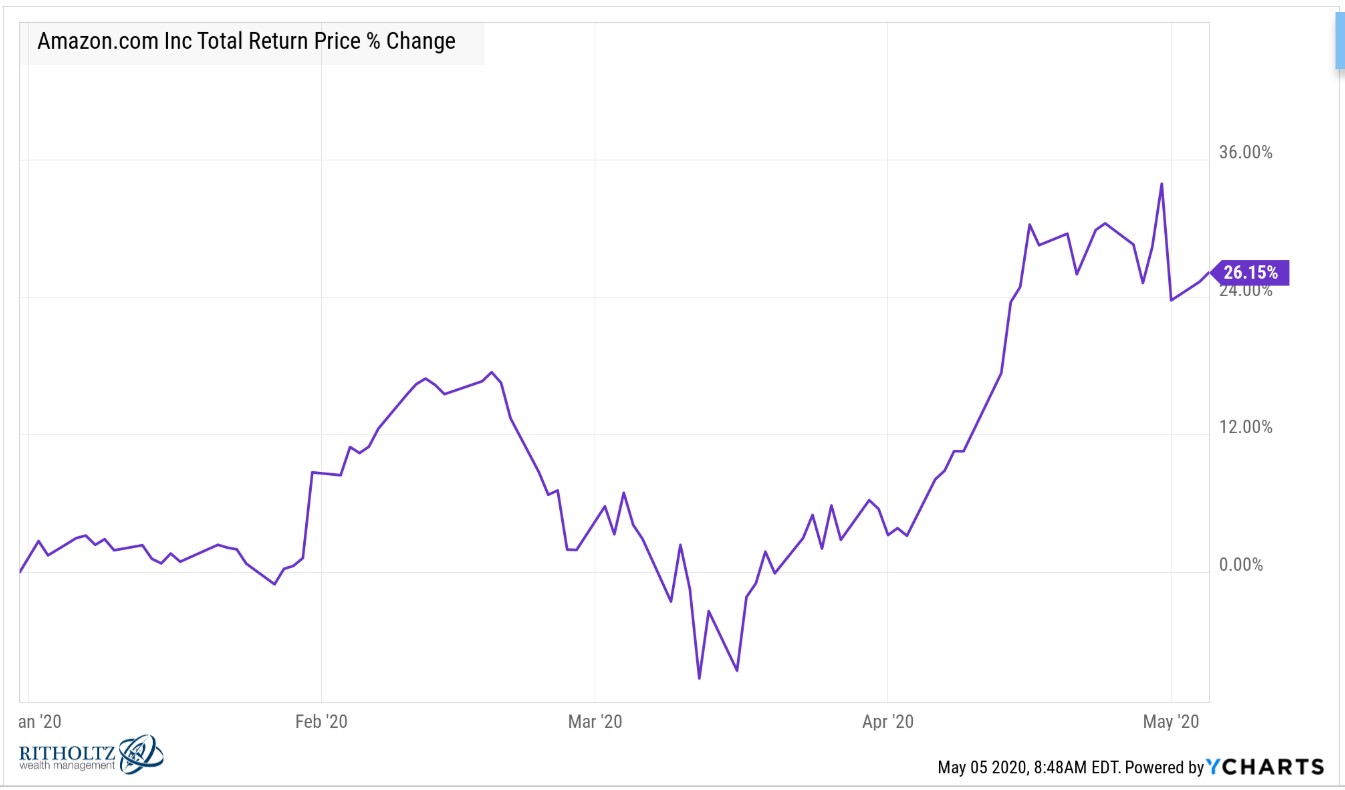 The max drawdown from all-time highs for the stock was just 22% versus a fall of 35% for the overall market by mid-to-late March.
Anecdotally, the performance of Bezo's behemoth makes sense from the perspective of my family's spending habits through the crisis.
Whenever we need something that's not covered at our local grocery store — household items, cleaning supplies, stuff to entertain the kids, etc. — Amazon is the first (and often only) place we look. Our spending there is higher than it's ever been.
Once you start thinking of all the companies that have been impacted by this crisis, both positively and more likely negatively, it can be a painful exercise.
Most of that pain is on the small business side of things but there is a wide divergence in public companies as well.
For instance, I drove by my local Planet Fitness (PLNT) yesterday where I used to work out during lunch hours in a normal workweek.
During the depths of the sell-off the company's stock was down close to 70% from all-time highs: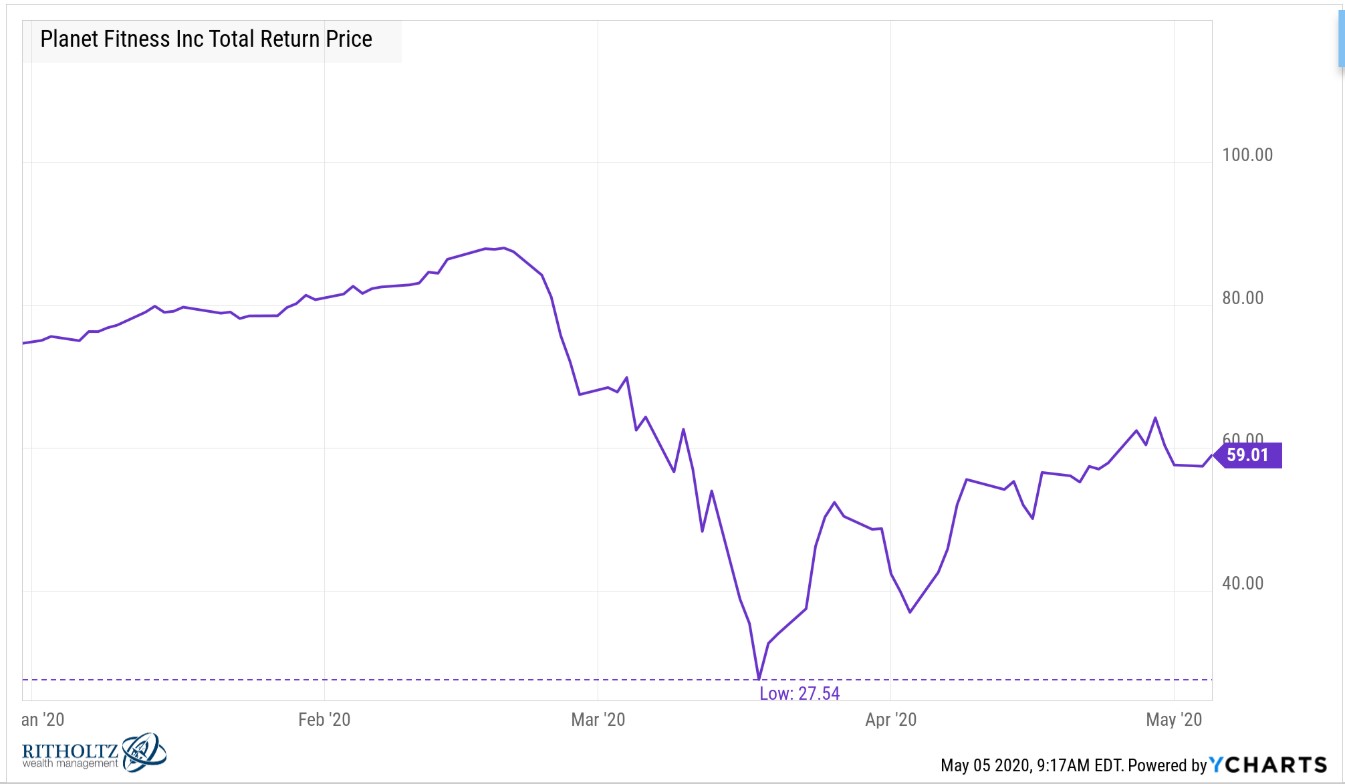 Yet it's up more than 100% since bottoming in mid-March.
I haven't been to Planet Fitness in 2 months and have no clue when I'll be going back, so I bought a Peloton (PTON) for my wife and me to have an easy option for a home workout.
This company seems to have gone public at an opportune time, although it was down almost 50% from all-time highs by the time the March downturn hit.
I think people slowly realized the at-home workout trend is going into overdrive and this stock righted the ship fairly quickly, now showing a nice gain on the year: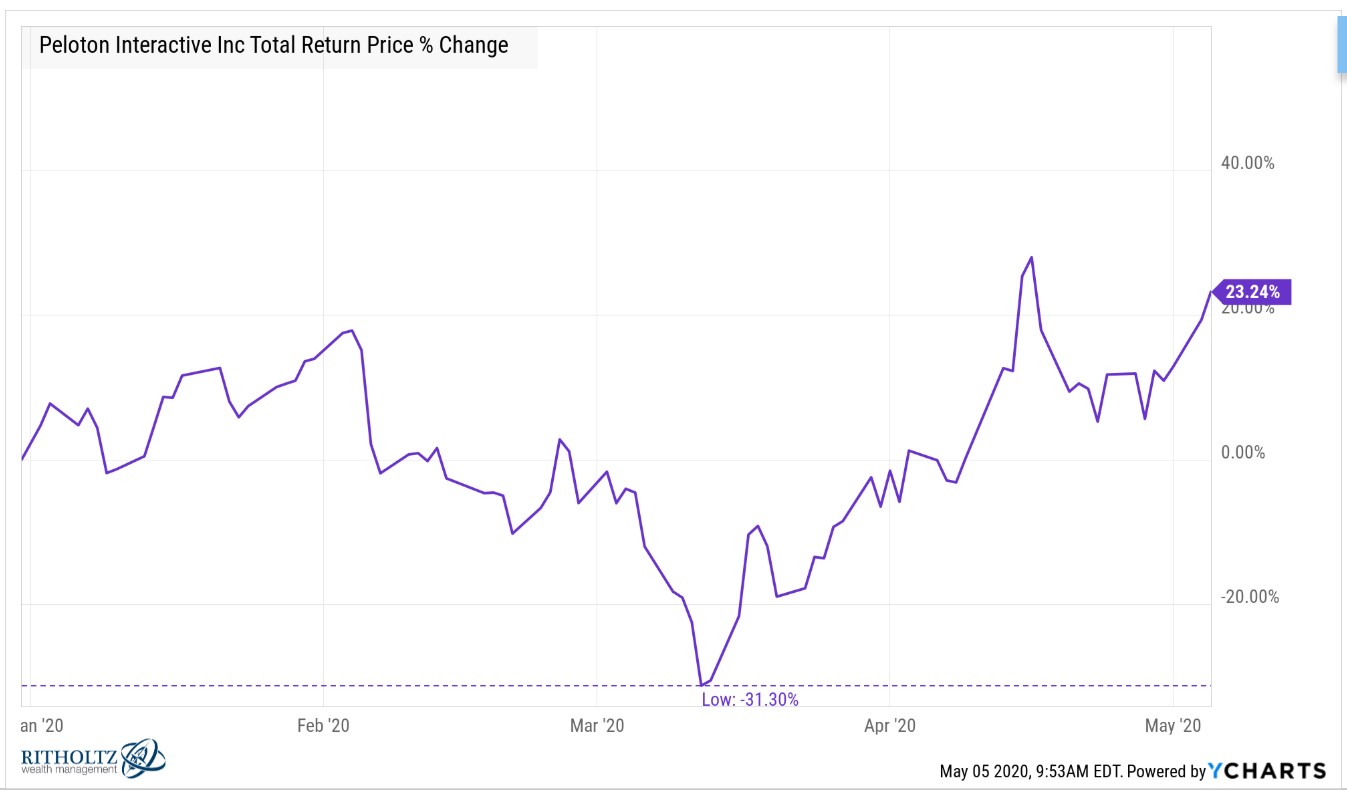 After a month or so of working from home at an old sit-down desk, I quickly realized a standing desk would be helpful. I have one in my regular office and find it helps keep the blood flowing throughout the work day.
Wayfair (W) had a nice economical model1 that I like so much I'll probably bring it to my actual office someday.
In hindsight I should've bought the company's stock when I bought a desk:
The stock is up more than 600% since bottoming in March! Granted, it was down nearly 80% going into this bounce but I'm guessing they've been a beneficiary of the work from home trend.
Zoom (ZM) is the obvious winner of the work from home shift, up more than 100% this year: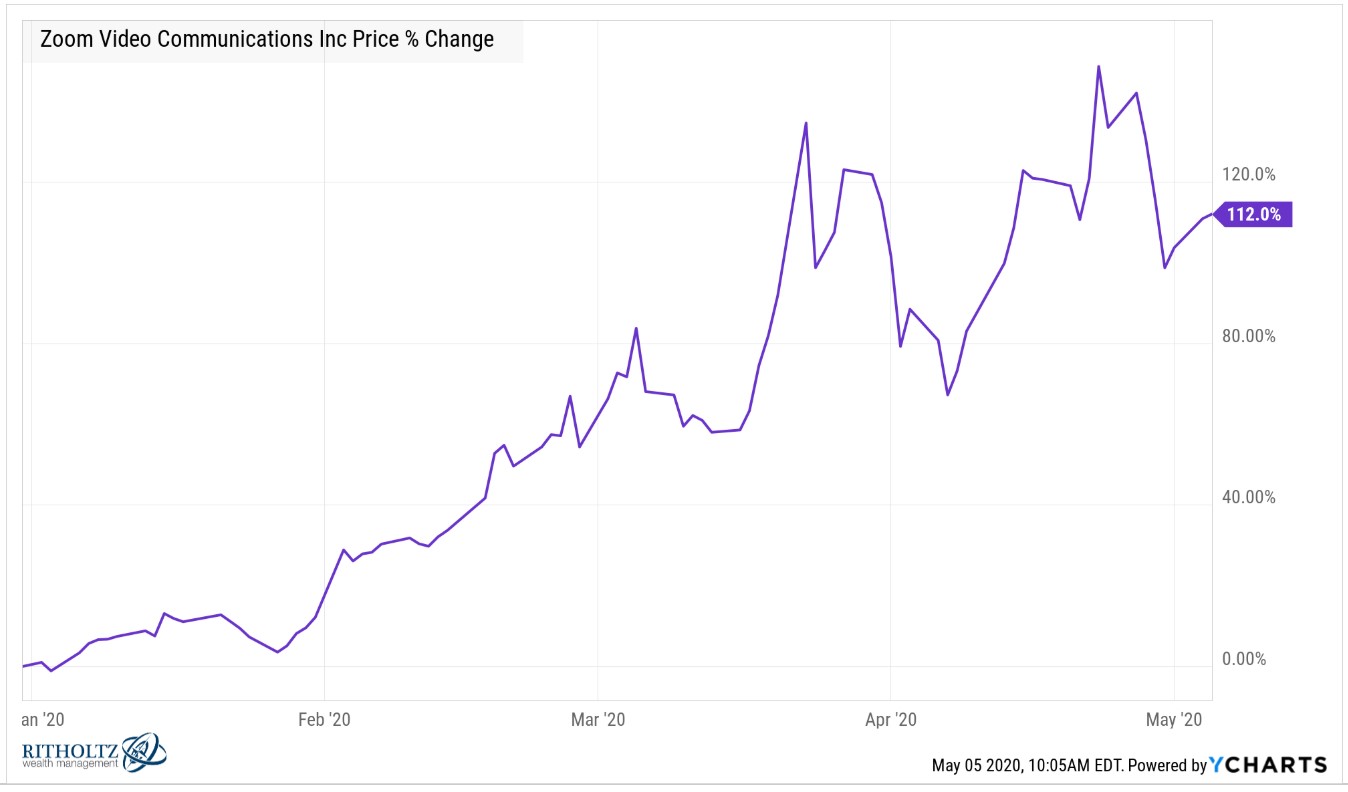 People are using the service for happy hours, family get-togethers, and work meetings. Many of these work meetings probably would have been conference calls in the past but people are still adapting to this situation. My daughter's kindergarten class even has a weekly Zoom call.
I know plenty of nonprofit investment committees that require their money managers or consultants to fly or drive to in-person quarterly meetings. Hopefully, this ordeal will show people how wasteful and unnecessary some of these in-person meetings really are.
Slack (WORK) is a service my firm has been utilizing for some time now. The stock is still down from when they went public last year but is having a nice bounceback in 2020 as companies are realizing how important the service is for keeping people connected: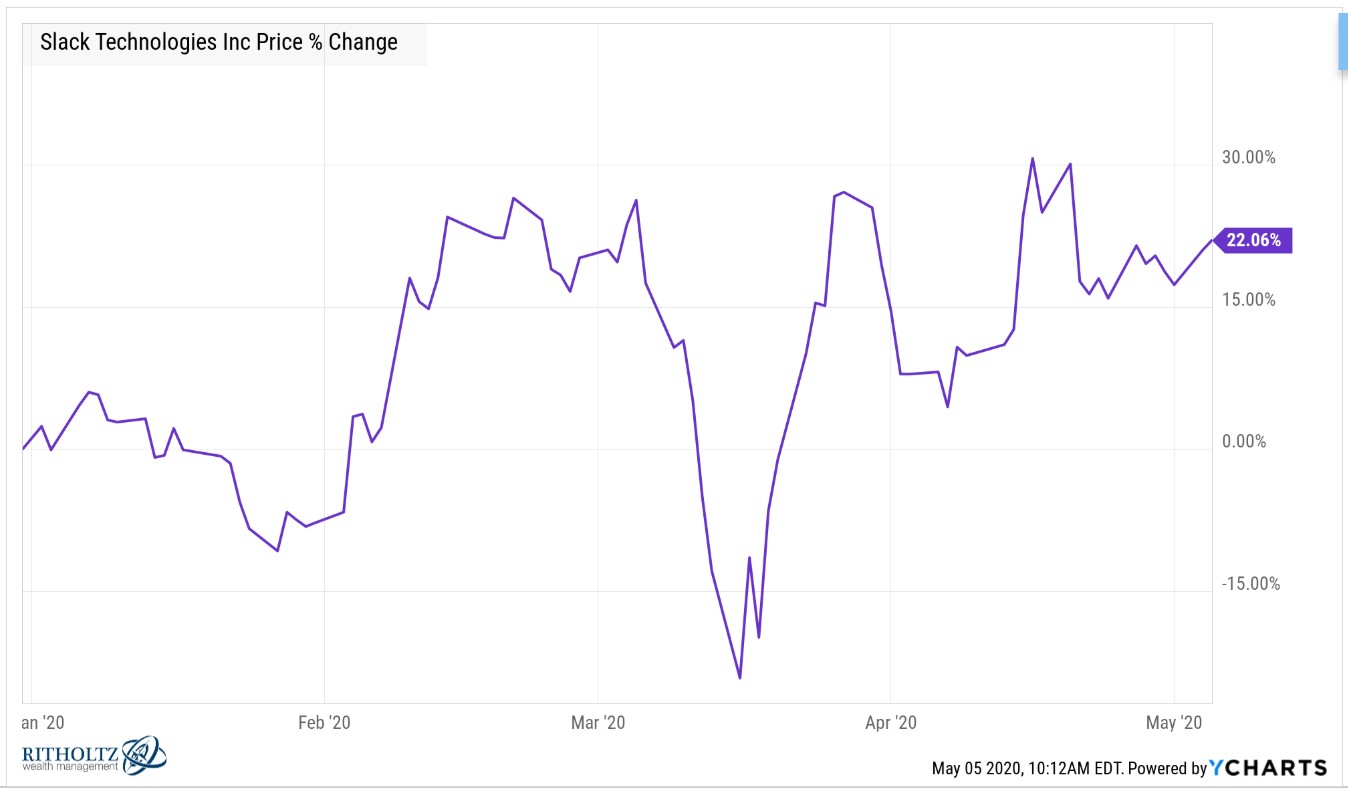 At the end of April, my wife and I had a trip planned to the beautiful JW Marriott (MAR) resort in Marco Island. That trip obviously didn't happen. Like most travel companies, the stock got crushed, initially falling more than 60% before snapping back somewhat: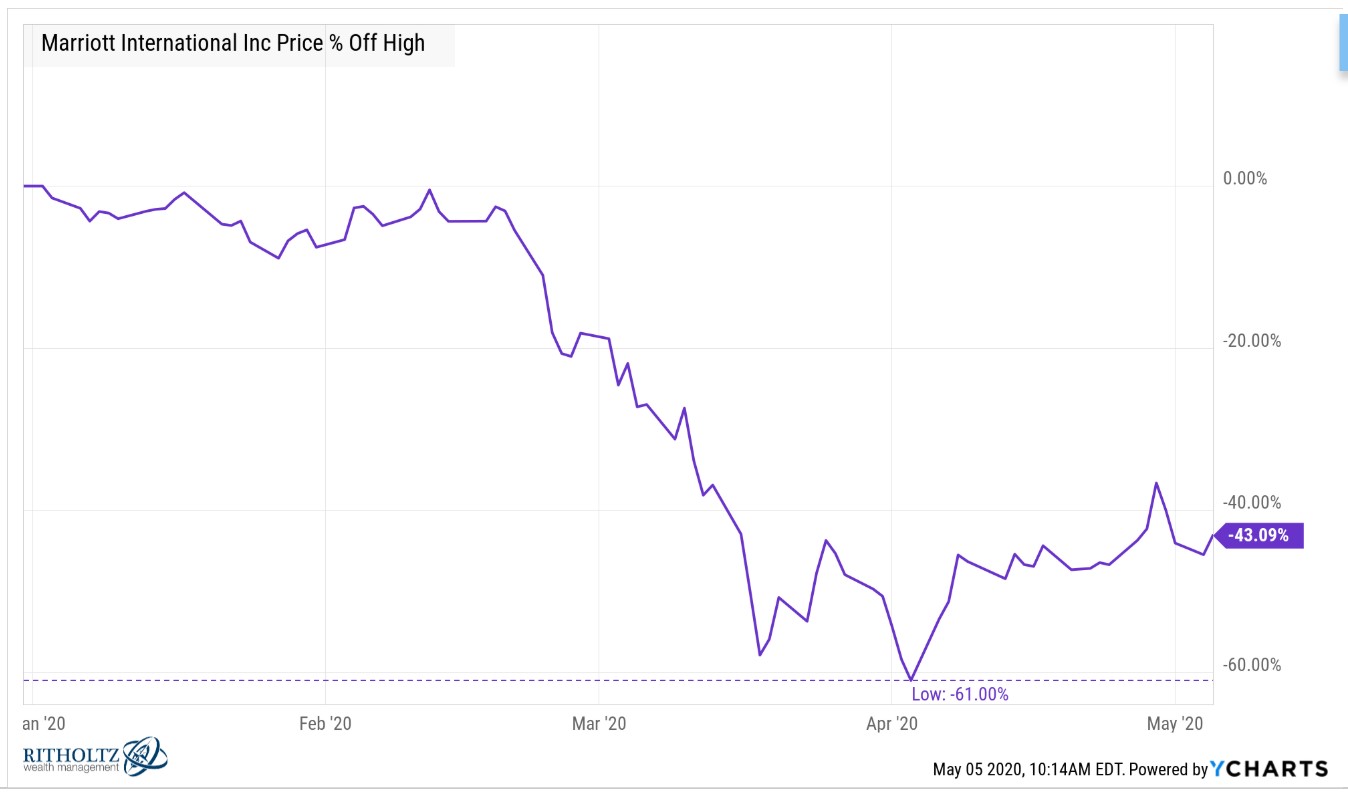 Calling off this trip also led to canceling a rental car with Hertz (HTZ). This is one of the few stocks that hasn't bounced back, still down almost 85%: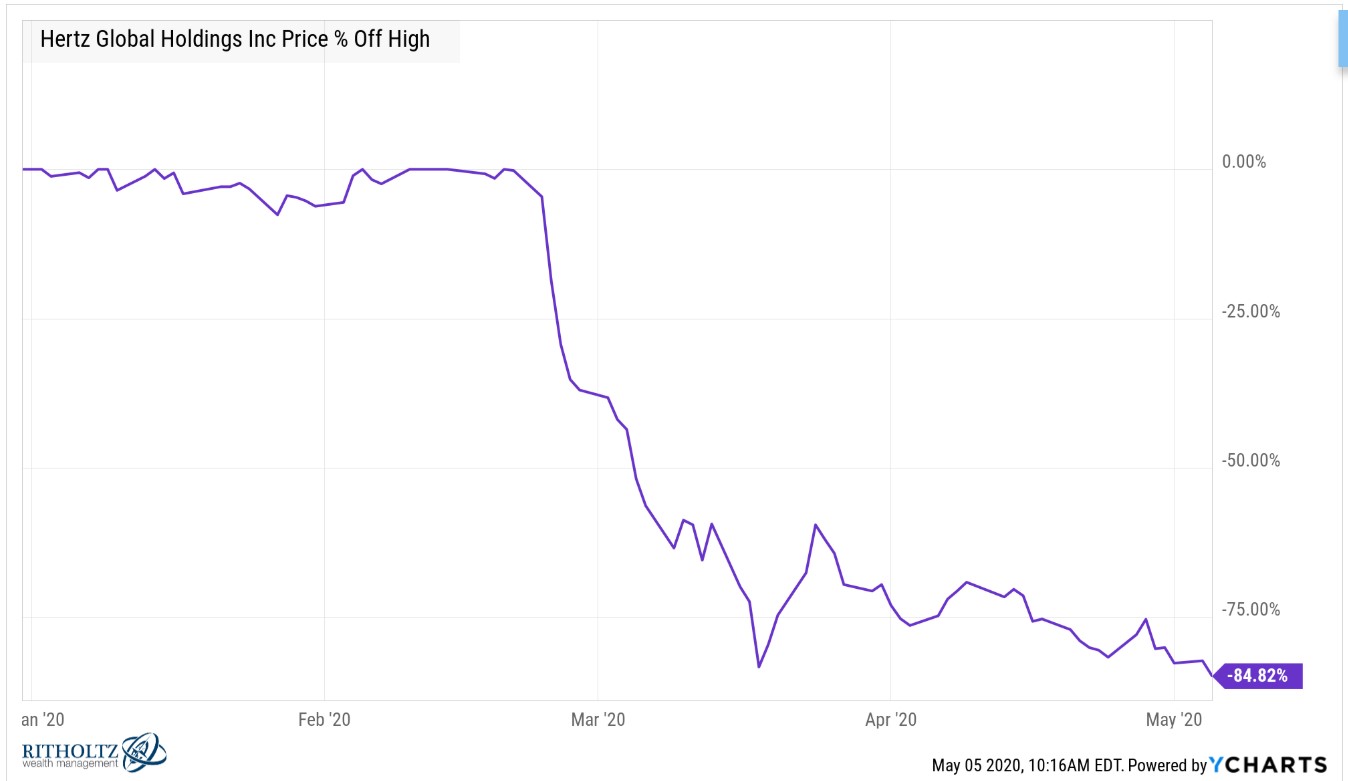 We also had to cancel our flights through Delta (DAL):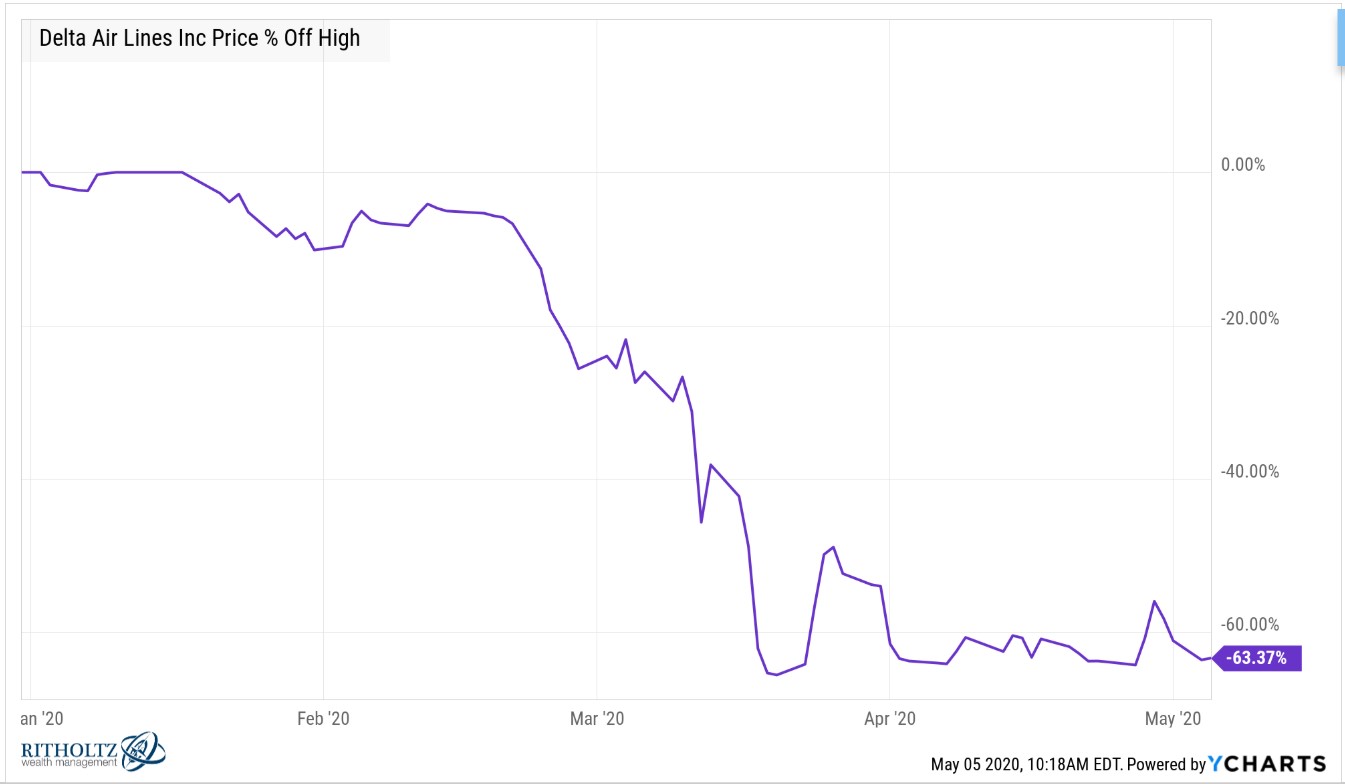 It probably didn't help matters that Warren Buffett said this past weekend he sold all of this airline stocks in recent weeks.
It's become fashionable to pile on cruise lines at the moment but I've been on three of them in my life and have fond memories of those trips. The last one was on the Oasis of the Seas, a Royal Caribbean (RCL) ship. The company is still 70% off prices seen in February: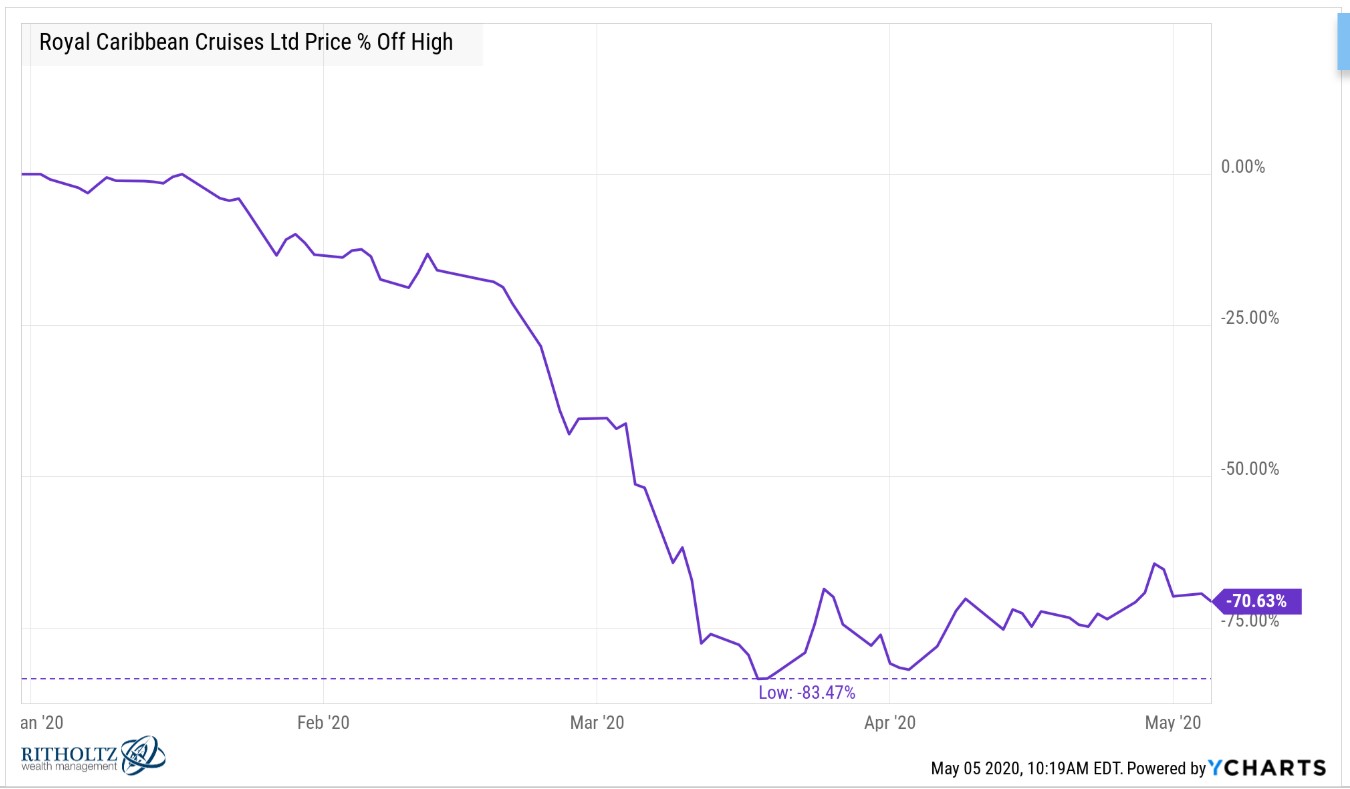 We were going to wait until my twins turned 4 next year for a family Disney vacation but I don't see that happening anymore. The stock has been pummeled this year but my guess is it would have been worse had they not rolled out the Disney+ streaming service last year: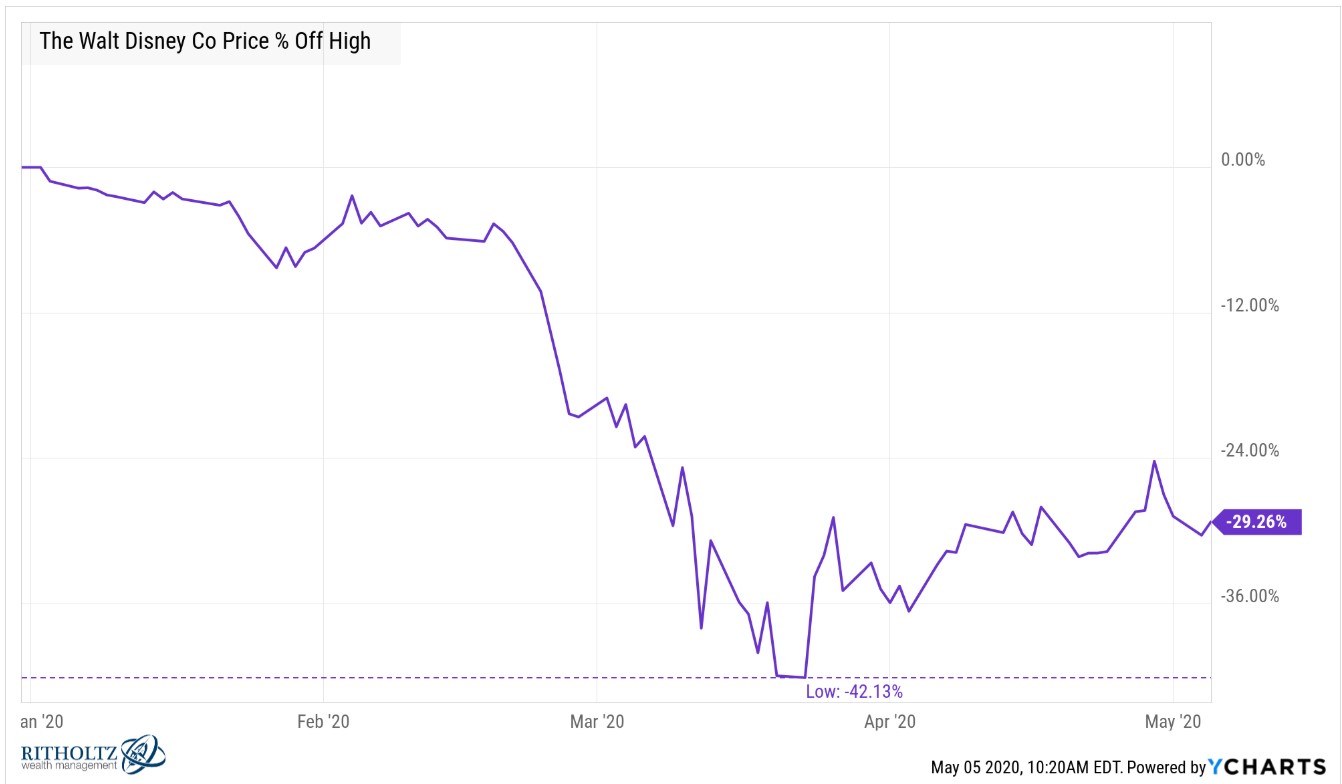 Once you go down this rabbit hole it can be a never-ending exercise when you consider all of the companies and people impacted by the virus.
I didn't even get into retail, malls, restaurants, financial services, healthcare, education, or a whole host of other market sectors that have been impacted in a meaningful way.
The performance of a company's stock doesn't tell the whole story. But you can see just from a shortlist of companies many of us interact with how wide the divergence can be between many segments of the economy based on how this crisis has impacted their share prices.
There are still areas of the economy that are doing well and those companies and industries have been rewarded. But there are also plenty of companies, industries and stocks that have gotten crushed.
The strong recovery in the stock market has given many of these companies some breathing room but even with a mammoth bounce, plenty of stocks remain squarely in crash territory.
Further Reading:
Making Sense of a Stock Market That Doesn't Make Any Sense
1I chose a desk with a handle to manually crank it up and down instead of buying the one with a motorized up/down button that would have cost $300-$500 more. The unintended consequence of this is my kids love cranking it up and down so being cheap frugal led to a nice two-fer on this purchase.
Full disclosure: I own a small number of Slack and Disney shares in my fun portfolio.