Here's something I didn't realize people have such strong opinions on:
I couldn't believe the number of responses, DMs, texts and emails I received from this random tweet I sent last week (mostly telling me the exact make and model I should get). There were plenty of solid ideas and advice such as:
Never buy new.
Just buy something 2-3 years old after it comes off someone else's lease.
Just lease one — it's cheaper.
Buy a minivan instead (we actually already own one).
I'm not necessarily in the market for buying a brand new SUV but I was curious to see what sort of vehicles were out there to help transport my growing family. With three little ones, there's an inordinate amount of stuff to bring with you every time you leave the house. So I wanted to see if it made sense to look beyond a minivan for something with a little more room.
It's a fascinating human quirk that once you start thinking about certain types of cars you immediately begin noticing them everywhere on the roads. In recent months I've become hyper-aware of the sheer volume of SUVs on the road.
At first, I thought it's possible this is because I live in Michigan where we have inclement weather but the numbers back up this observation. In 2013, SUVs and trucks made up 50% of total car sales in the U.S. By 2016, that number was up to 63% of total sales and by the end of 2017 trucks and SUVs made up an astounding 67% of total car sales.
I looked up the 15 "best" SUVs as rated by U.S. News & World Report and ran some numbers to see how much the 2018 models were going for. Here's what I found: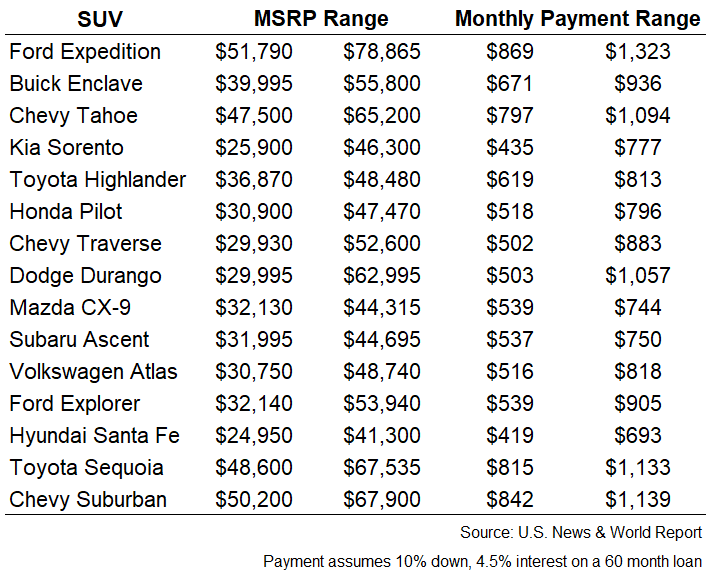 By my calculations, we're looking at an average MSRP in the range of $36.2k to $55.1k or an average monthly payment of roughly $608 to $924 (see my payment assumptions at the bottom of the table).
This doesn't include taxes and all of the crazy fees they charge you or the additional outlays for gas. And I'm going to assume it's few and far between that actually pay the lowest MSRP because most people want all the bells and whistles.
I also understand that most of these large SUVs I see all over the place are more than likely leased. That's fine. It can lower your monthly payment a tad. And for those who would always like to be driving a new or like-new car, it probably does make more sense to lease rather than buy to avoid the hassle of resale and insane initial depreciation that exists with new cars.
If you are going to buy new, the best option would be to make sure you buy a reliable car that can last long enough to see you through to a time where you have no car payments anymore. Here's a list of the top 15 cars people hold onto for 15 years or longer: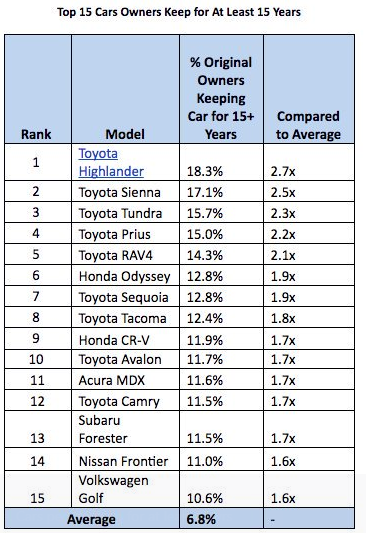 I'm not here to judge anyone's car selection criteria. I'm sure there are plenty of people on the road who can afford to buy new. But I'm also guessing there are way more people driving cars they stretched for simply because they like the new car smell or need the validation of driving a hot whip (fun fact: the reason people use 'whip' as a slang for car is because steering wheels were originally called whips when they were first introduced because actual whips were used to control a horse and carriage).
From a savings and budgeting perspective, it makes sense to review these types of purchases because it's the big financial decisions that can help or hurt your chances of compounding your capital.
Personal finance experts love to discuss how much money you can save by avoiding that daily Starbucks habit or packing a brown bag lunch every day at the office. While I guess you could add to your bottom line somewhat by cutting back on the little things (a) this stuff doesn't move the needle all that much, (b) it's the little things in life that can give you small joys on a daily basis and (c) the large purchases will have a much greater impact on your bottom line.
If you can right-size your housing and transportation costs on a monthly basis, everything else becomes easier from a saving and budgeting perspective (income is the third leg of this stool but that's a topic for another day).
Behavioral mistakes are potentially even more harmful to your bottom line in the personal finance realm than the markets. At least when you make mistakes with your investments you've already put that money aside. When it comes to personal finance mistakes, you're often hurting your chances of saving enough money in the first place.
Buying an expensive car or SUV can be an enormous savings killer for those who aren't putting enough money aside for the future.
If you're maxing out your retirement accounts, saving for your children's college fund, and have a nice emergency savings backstop, by all means, enjoy your expensive gas guzzler if you have some money left over. There's nothing wrong with guilt-free spending when all of your other bases are covered.
But if you're one of the many people who are woefully unprepared for retirement or any of your other saving goals, a good place to start would be cutting back on any unnecessary spending on transportation.
Further Reading:
Where You Live and the 50/30/20 Rule