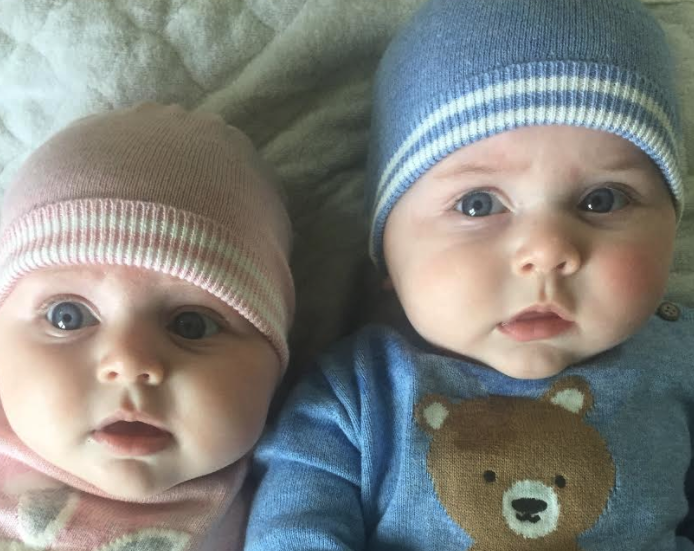 "Wow, you really have your hands full, huh?"
I get this comment roughly 3-4x a week when people see me out and about with my 5-month old twins and 3-year-old daughter in tow.
If I'm in a good mood and carrying two car seats I'll even throw in a dad joke and reply, "Literally!"
Our life can be hectic at times but having twins has been an amazing experience.
When I announced my wife and I had twins I received a ton of great feedback from people who have twins (or even triplets) through social media and email. The financial aspects of this type of life-changing event are never fun to think about, but it's something you're forced to deal with whether you like it or not.
One of the funniest parts about having twins is that it feels like other parents are secretly hoping my wife and I are tired and miserable (because new parents love to complain about being tired and miserable) but we're really not. It's not easy but I wouldn't have it any other way.
So this is not a list of complaints, but rather the realities you're forced to deal with when you have multiple little ones:
Childcare is like adding another mortgage payment to your budget. When you have multiple kids who aren't old enough to go to school yet you have a few options — (1) get help from family members; (2) have someone stay home with the kids, and thus, quit their job; (3) send them to daycare; (4) hire an in-home nanny. Family help is obviously the cheapest option but it's not very realistic when dealing with twins because they're a lot of work for a grandparent to handle.
So most people are stuck with paying through either outside help or by cutting back on your income. If you hire a nanny, and want to keep it legal, you have to take care of things like Social Security and Medicare on wages paid along with unemployment taxes. A good daycare facility can run you anywhere from $1,000/month to $2,500/month depending on the city (and that's per child).
There's no right or wrong answer but we went with daycare because we had such a great experience with the facility where we send our 3-year-old. Whatever the choice, childcare can be a huge expense that many parents aren't prepared for. On the bright side for those who are worried about how much college is going to cost someday, paying for childcare is a good way to understand how it will feel.
Amazon is your one-stop shop for baby supplies. We go through multiple boxes of diapers, wipes, and such every month so the Amazon subscribe & save has been huge on this front. And any time we need anything we forgot, the first place we check in Amazon because they seemingly have everything. I price-checked this stuff everywhere and when you factor in all of the discounts you get through this program, Amazon is the best option. And even if there is a better deal out there somewhere the convenience of having a box show up on your doorstep with everything you need is worth avoiding the hassle of having to go to the store.
Grocery shopping is a horrendous experience. Speaking of convenience, I've always hated going to the grocery store — waiting in line is not my thing and everytime you go your patience is bound to be tested by another store patron who is texting, walking too slow, or not paying attention. Getting kids in and out of the car makes this process even more laborious. We finally signed up for a grocery delivery program through a company called Shipt and it's totally worth the annual fee for the amount of time it saves. If Amazon can figure out how to make this an even better experience I'm guessing 10 years from now most people will wonder why they ever wasted their time shopping for groceries on the weekend.
Don't buy everything right away. We learned after having our first daughter that you don't need everything they tell you to put on the baby registry. Every baby is unique so different babies require different supplies depending on how things go.
Your car and furniture are likely going to get destroyed. Babies are messy. Don't waste your money on nice furniture or cars when they're super young. They're going to get spilled on and stained. Which brings up another good point — when you have little kids, invest in a quality handheld vacuum. It's bound to get a ton of use.
A high-quality laundry machine is key. We probably average 1-2 loads of wash a day. I would never have cared about what kind of washer we had before having kids but getting a good one has been really helpful for all the use it gets.
Get all of your insurance and saving needs in order. Life insurance is a must when your dependent list grows like this. You can get decent term life insurance for $20-30/month. It's tough to think about saving for college at this point but the longer you wait the harder it becomes to start. Even small amounts can help over time.
I read somewhere that the average family spends roughly $25,000 during their first year with twins. When you include the cost of childcare, this estimate is probably on the low end. Luckily, for parents of twins, you'll be so busy taking care of your little ones that there will be no time to spend money on yourself.
Further Reading:
When Your Financial Plan Gets Thrown Out the Window