I shared a statistic in my last post that received a fair amount of questions and scrutiny from readers (see: Playing the Probabilities). Namely, that the worst 30 year total return on the S&P 500 was close to 850%.
When investors see a number this large the first reaction for many is disbelief. I'm always quick to point out the caveats when showing historical market data such as this — it's not a guarantee of future returns, it includes dividends reinvested, it doesn't include costs or inflation and it generally tells us more about potential risk than returns — but this number still caused a bit of an uproar.
While the total return looks huge, it was actually an annual return of just over 7.8%. While a respectable number, that kind of return wouldn't be all that shocking to anyone who pays attention to the markets. The reason that 7.8% turns into 850% is for two simple, yet widely misunderstood reasons: (1) time and (2) compound interest.
Over long enough time frames even fairly mild returns can grow to massive sums as compound interest takes over. Here's a table that shows a number of different annual returns and what they would grow to in total over 30 years:

Pretty impressive numbers when you think about it. But these numbers don't tell the whole story. Compound interest is like a snowball that rolls downhill, slowly picking up speed and size at first, but really takes off over the long run as gains build on top of gains. For example, here is the growth of $1 over 30 years at an annual return of 7.8%: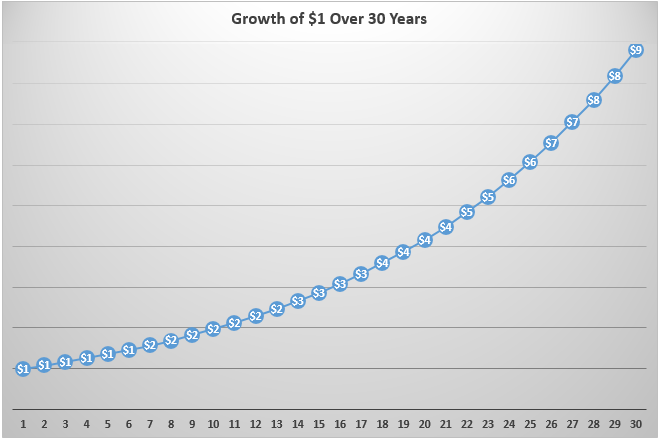 In this example it takes about 20 years to go from $1 to $4. Then, as the snowball grows in size, it takes just under 10 years to go from $4 to $8. The majority of the dollar gains are back-loaded. Obviously, the markets don't go up in a smooth line like this. And there's a very good possibility that an investor's tolerance for risk will change as they accumulate more money in their portfolio.
So it's not always that easy to reap the benefits of time arbitrage. Yet it's a huge mistake to underestimate the potential of compound interest as you look to grow your portfolio. The biggest asset most investors have is time.
***
A number of people mentioned the fact that my numbers didn't include the effects of inflation which can be substantial over 30 years. I decided re-run the same numbers using real (after-inflation) results as well. The worst 30 year total real return was just shy of 240%. While not as impressive as 850%, that's still 4.1% over the rate of inflation over 30 years.
Here are the annual 30 year real returns for comparison purposes:
Further Reading:
Caveats on the Long-Term
The Role of Luck in Your Portfolio