A number of media outlets have picked up on the five-year return estimates that Vanguard's global head of investment strategy, Joe Davis, put out at last week's Morningstar ETF Conference. Here's what he had to say, via the latest Mutual Fund Observer:
Given the fragility of the global economy, Vanguard does not see interest rates being raised above 1% for the foreseeable future. End of the day, it estimates investors can earn 3-6% return next five year via a 60/40 balanced fund.
Estimating market returns over any time frame can be difficult. Over the short-term, you're dealing with unstable and unpredictably investor emotions. And over the long-term, there are far too many unknowns to consider.
Forecasting difficulty aside, investors have to set a reasonable range of return expectations for planning purposes. You're never going to make a perfect forecast, so the point of this exercise is more about setting expectations to keep your behavior in check within the confines of your investment plan. I always like to err on the side of conservative estimates so any surprises will be to the upside.
Anything is always possible, but after close to 12% annual returns on a 60/40 portfolio over the past five years (through the end of 2014), investors need to adjust their expectations. If nothing else, markets are always cyclical as periods of above-average returns are invariably followed by periods of below average returns.  Of course, the timing of that mean reversion is always the tricky part.
I wanted to look back at the historical returns on a 60/40 portfolio to see how often Vanguard's forecast for a balanced portfolio has occurred in the past. Here is the historical five year annual return breakdown on a U.S.-centric 60/40 portfolio going back to 1928: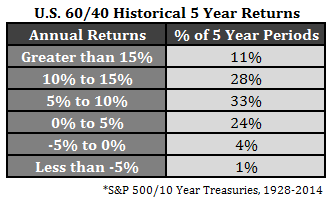 The 3-6% annual returns Vanguard projects have occurred about 20% of the time. Amazingly, almost 40% of all five year periods have seen double-digit annual returns. But, it's worth pointing out that 5% of the time a 60/40 mix has shown negative five-year returns. Returns were 6% annually or lower 34% of the time.
There's nothing special about a 60/40 portfolio. It's just a very simple, balanced approach to portfolio construction. You can't expect miracles, but it is nice to know exactly what you're getting yourself into in terms of asset class behavior.
Over multi-year periods bonds tend to perform in line with their starting yield. High-quality bonds currently yield in the 2-3% range. If we assume this relationship holds and bonds return 2-3%, by Vanguard's estimates, that would give you a stock market return of somewhere in the range of 3-8% per year.
Some people seem to think that Vanguard's return estimates are far too high. Others may think they can't afford to see annual returns of a balanced portfolio of 3% a year for five years.
Whenever investors discuss their return expectations I'm always reminded of the following Peter Bernstein quote: "The market's not a very accommodating machine; it won't provide high returns just because you need them."
Source:
Mutual Fund Observer
Further Reading:
The Real Risk to a 60/40 Portfolio