As discussed a couple weeks ago, it's been over nine years since the Fed has raised interest rates. ZIRP has also now been in place since late-2008. Anyone who's tried to earn interest in a money market fund, savings account or CD should understand the impact that these zero interest rate policies have had, as yields are basically non-existent.
The common argument from many commentators is that the Fed has been punishing savers these past few years with their policies. A recent article from Quartz made this exact same argument to show how difficult it's been for investors to earn a risk free rate of return when compared with the past:
For decades savers could get both returns and safety. The figure below is the three month-treasury bill rate (which closely follows other liquid short-term rates) over the last 40 years: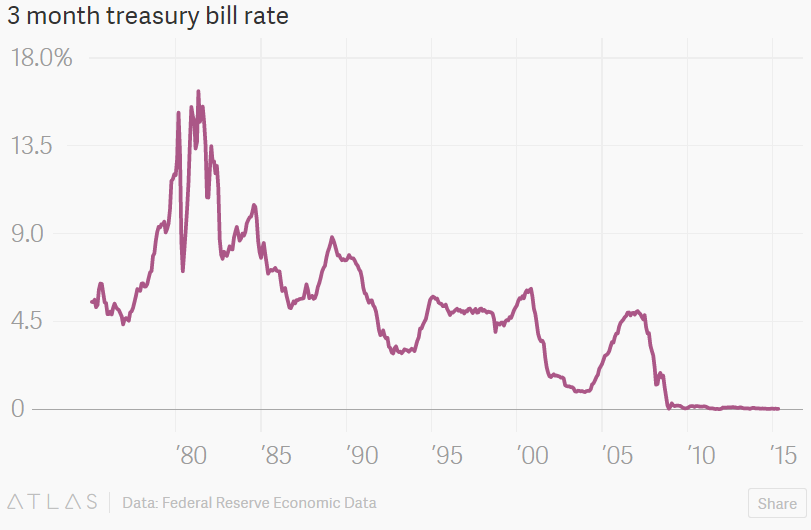 For the uninitiated, the 90 day t-bill is very short-term treasury debt that's the industry standard for cash equivalents. The t-bill yield is a decent proxy for the interest rate you'll earn on a savings account at a large bank. They've basically earned you nothing for each of the past five years. Here are the annual returns for t-bills going back 40 years, which you can see lines up nicely with the graph above showing the annual interest rates: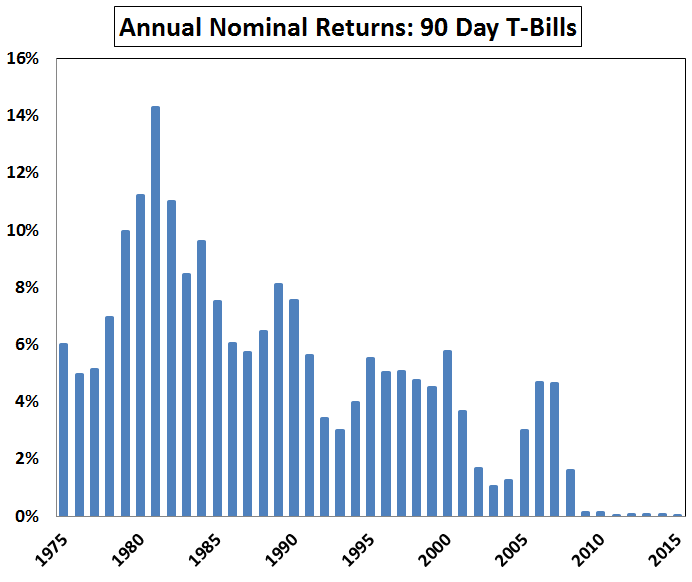 These "safe" returns look quite impressive before the recent financial crisis. In fact, from 1970 to 2007, t-bills returned 5.9% per years (go all the way back to the late 1920s and the annual cash return is closer to 3.5%). But, these are nominal returns. Investors should always think about real, after-inflation returns, especially when viewing an asset such as cash that will barely keep up with inflation over time. Here are the real returns on t-bills, taking into account the annual rate of inflation: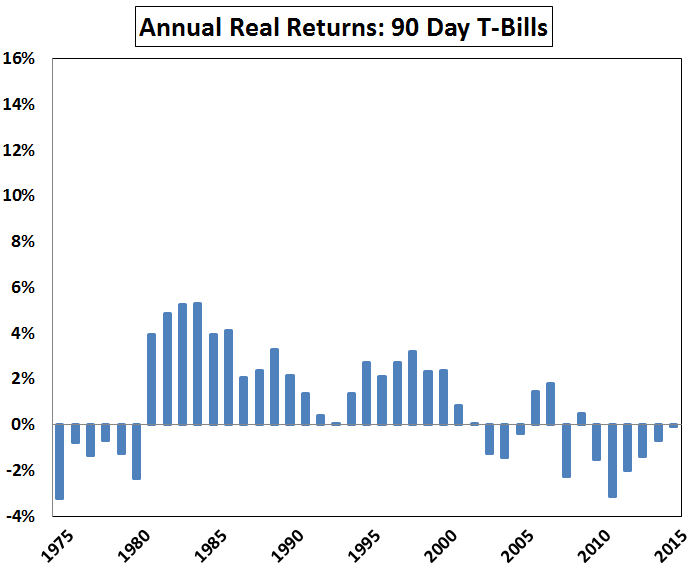 Not quite as impressive anymore. Over the entire period, after-inflation returns were just 0.8% per year. Real returns have been negative in recent years, which you would expect with near-0% yields and even a hint of inflation. But look at the late-1970s and early-1980s. Those too were negative on a real basis, even though interest rates were in the 5-10% range at the time.
Now look at the returns by decade on both a nominal and real basis:

Things were better in the 80s and 90s, but it's not nearly as bad as nominal rate differential would suggest.  Savers have definitely been punished by the Fed to some degree as t-bills have seen negative real returns this decade (nominal returns are slightly positive at 0.3%/year). But it's not nearly as much as some would have you believe.
It's also worth noting that the S&P 500 is up nearly 17% per year over the past five years. Anyone who's allocated even a small piece of their savings to the stock market has more than made up for any shortfall from their paltry savings account yields.
Source:
Why U.S. Savers Shouldn't Get Too Excited About Higher Interest Rates (QZ)