In one of my favorite psychology books, Mindless Eating, there are a number of interesting studies that show how the way food is presented or described can have a huge impact on they way it's viewed or rated.
For example, a group of researchers took two pieces of day old cake. One was simply labelled "chocolate cake" while the other was given the much fancier title of "Belgian Black Forest Double Chocolate Cake." They were exactly the same, but when given the choice, a majority of people chose option number two with the fancy name. Not only did they choose it more often, but they actually rated that it tasted better too.
This is why restaurants are always trying to come up with new and exciting ways to describe their menu options, even though the food is mostly the same in many places. The financial industry tries to take a similar approach by using complex jargon to get people to invest in their products or services.
According to a new study, it turns out this is the wrong way to go about this. Finance people love to push complexity, but what people crave is simplicity, especially in how something is presented or explained to them. Yesterday the Wall Street Journal highlighted a study undertaken by Invesco Ltd. about alternative funds:
The findings seem to show a preference for simplicity over jargon. For example, the study found that investors respond better to the phrase "alternative mutual funds that are bought and sold like any other fund" instead of "liquid alternatives," even though they are technically the same thing.
This is like a version of the chocolate cake study turned on its head. The research focused on liquid alternatives, a fast growing segment of the fund management industry that can be confusing for both clients and the advisors or consultants trying to sell them. Here's a nice graphic from the same story that shows the words to avoid when talking about these products: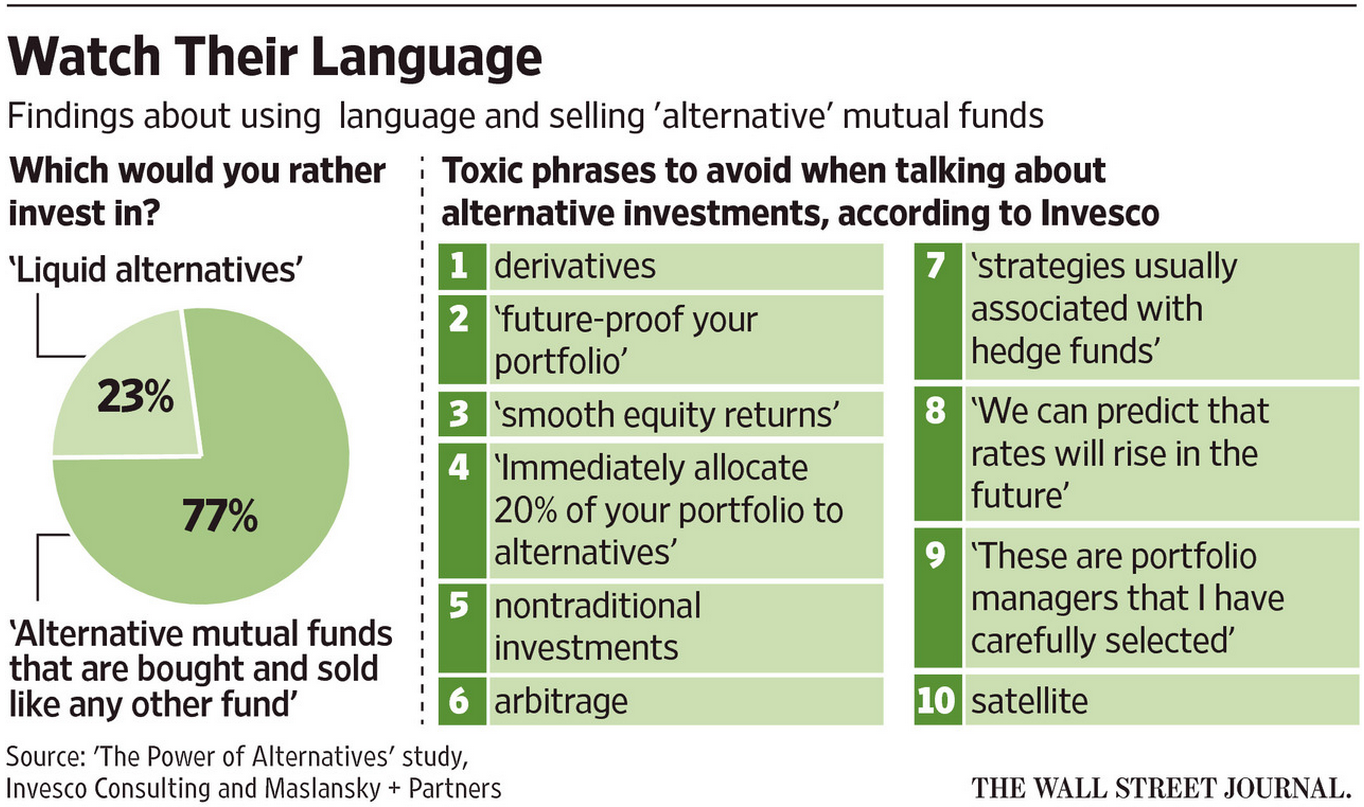 We're still in the early stages of liquid alt funds. The fund companies are still trying to figure out the correct message to attach to this group. Advisors are looking for ways to comfort worried clients by providing access to different portfolio strategies. I'm sure there are a number of advisors out there using these products who don't understand the risks involved. Investors are always searching for solutions to a potentially difficult market environment. Many of these investors will end up investing in products they don't understand or shouldn't be involved with in the first place. There will be growing pains.
One of the biggest reasons I think non-finance people have a difficult time with the markets is because it's rare that those in the industry can explain how it all works in plain English. Part of this is because many on Wall Street are incentivized to sell a seemingly endless supply of new products to unsuspecting buyers. It's not in their job description to tell the truth. But another reason for this disconnect is the fact that communication is generally a skill that's lacking for those who aren't part of the sales or marketing department.
Plenty of finance people assume their clients or potential clients are looking for proof of their brilliance, so they shower people with jargon to try to impress them. In the process most end up talking over the head of the person they're trying to impress, leaving everyone worse off. Little do they realize that what their clients really need is for someone to tell them the truth in a way that actually makes sense and resonates with them. Clients don't help themselves in this respect because many are looking to be sold something that just doesn't exist, so both sides are at fault here.
My friend James Osborne says the era of "trust me" finance is dying. I hope he's right, because that style of advice does no one any good on either side of the aisle. I think to get there we need to have more people in the industry who are willing and able to effectively communicate in an honest and transparent way. I may be biased by my surroundings but I'm definitely seeing a push for this in a majority of the younger up and comers in the world of finance that I interact with. Most of the people I talk to don't like the old way of doing things that is shrouded in sleight-of-hand sales tactics. I'm hopeful more people will see that there's a better way of doing business.
When you mix good client communication skills with people who are looking to do right by their clients, everyone wins.
Sources:
An Alternative Investment by Any Other Name is Still… (WSJ)
Mindless Eating
Further Reading:
The Secret Sauce of the Investment Business
How Framing Affects Investment Decisions & Outcomes
Subscribe to receive email updates and my quarterly newsletter by clicking here.
Follow me on Twitter: @awealthofcs
My new book, A Wealth of Common Sense: Why Simplicity Trumps Complexity in Any Investment Plan, is out now.