There's an old saying that stress is the difference between where you are and where you would like to be. If that's the case there are a lot of people still trying to get to where they would like to be when it comes to their finances.
A new survey from Legg Mason found that people spend an average of one hour and twenty minutes a day thinking or worrying about money. That's nine hours a week, just shy of 500 hours a year or roughly 20 days. And 10% of respondents claimed to spend two to three hours a day stressing out about money.
Yesterday the Wall Street Journal shared another survey, this one from a group of employees, that showed why people can find money decisions so overwhelming: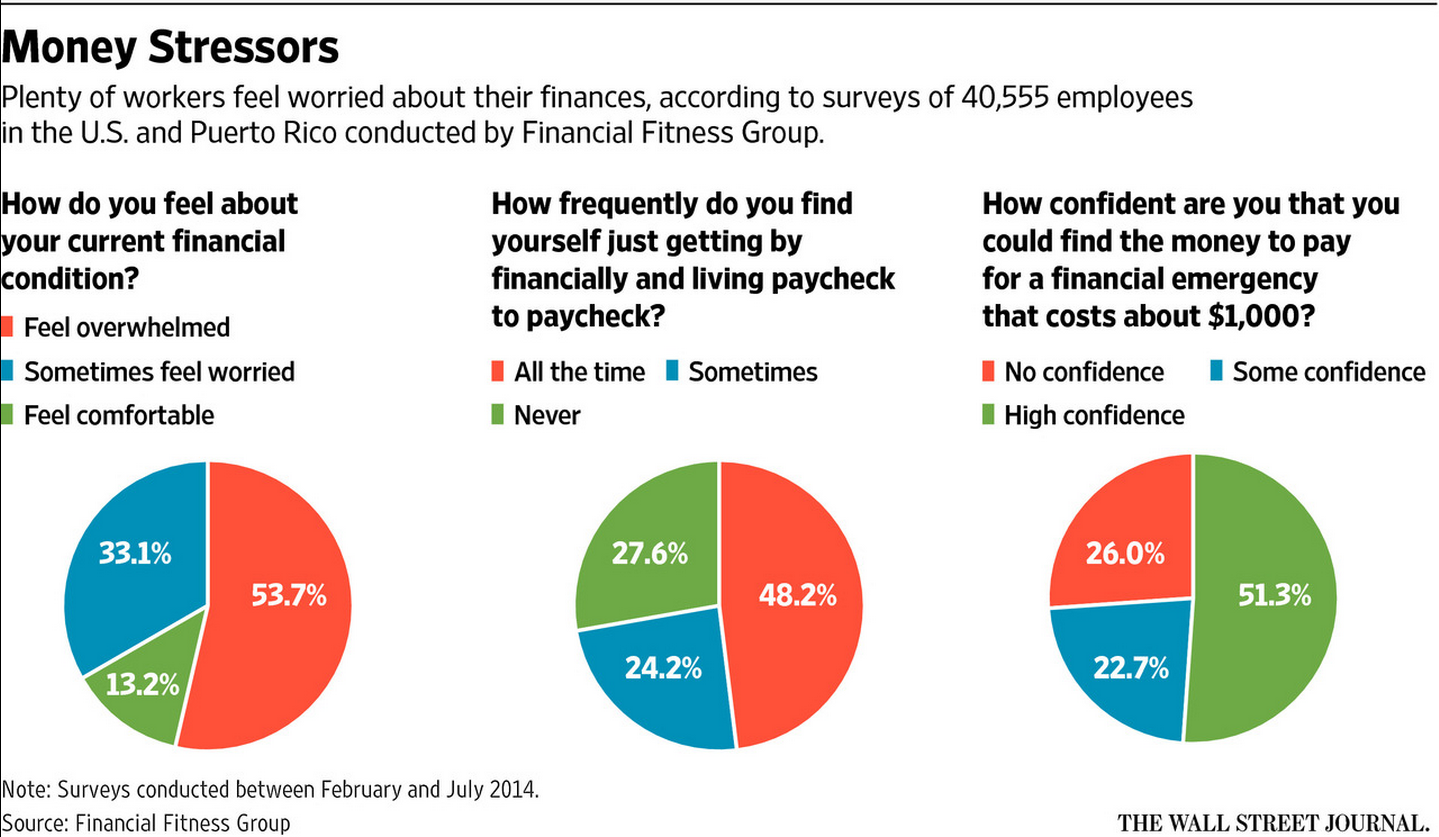 There aren't too many people that are confident about their financial standing as over half of this group feels overwhelmed by their current financial condition and nearly half find themselves living paycheck to paycheck. Employers are starting to take notice and some are even trying to remedy the situation because financially stressed out employees can be an issue on the job:
Companies say financially stressed workers call in sick more often and may be delaying retirement. In 2013, 76% of employers said they were interested in financial-wellness programs, according to a survey by Aon Hewitt. Last year, 93% said they were planning to create or expand their efforts.
This makes sense. Employees that are stressed out about their finances will have a difficult time focusing on their job during work hours. Educating people on their personal finances and investments is a great way to make for a better working environment. In a way it's a form of preventative care if they can stop the problems before they get out of hand.
Depending on which study you're looking at, arguing about finances is one of the top two or three biggest reasons that couples get divorced. It still amazes me that one of the most important aspects of people's lives — personal finance — is a subject that's not taught in school.
I used to think that most people should be able to handle their financial situation on their own and teach themselves how to save, invest and deal with other important aspects of financial planning. My position on this has slowly changed over the years. I'm now convinced that the majority of people would be better off getting sound advice from a reasonably priced financial professional or advisor.
There are simply far too many important parts of your life that finances can affect if you don't know what you're doing. You're never going to be able to save everyone from themselves, but I think there needs to be a better way to educate people about their finances. Too many people are on their own when it comes to making financial decisions.
Sources:
Can Companies Solve Workers' Financial Problems? (WSJ)
U.S. Investors Need $2.5 Million For Retirement (Legg Mason)
Further Reading:
Personal Finances > Portfolio Management
Investing, Basically
Is Financial Literacy a Lost Cause?
Subscribe to receive email updates and my monthly newsletter by clicking here.
Follow me on Twitter: @awealthofcs