I ran some numbers on Warren Buffett's performance for a post this week (see Two Finance Phrases I Could Do Without) which led me to run some different calculations on Berkshire Hathaway's returns over the years.
I have never seen Buffett's performance broken out by decade. These are the annual returns against the S&P 500 starting in 1965 and going through 2014: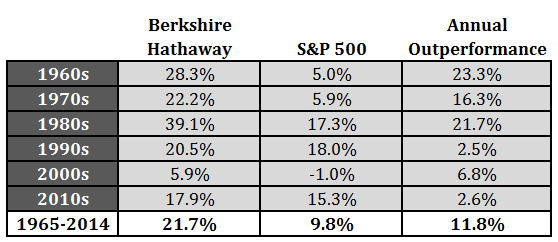 The two decades that really stand out to me are the 1970s and the 1980s. The 70s were a terrible decade for the financial markets, in general, as inflation destroyed the returns of both stocks and bonds. Didn't matter — Buffett still compounded the company's stock at double digit real returns.
His performance in the 1980s was even more impressive in my opinion because everyone looks at value investing as a style that outperforms during the downturns and tries to keep up during the upturns. Berkshire had 39% annual returns for over a decade! And this was on top of the nearly 25% annual returns already earned from 1965-1979.
At this point just about everything there is to say about Buffett has been said. Some people get rubbed the wrong way by Buffett because there are times when he plays the 'do as I say not as I do' card. Regardless of your feelings about the man's actions or writings (I've always been a huge fan) there will never be another Warren Buffet. I will always marvel at his past performance. It's truly amazing.
Further Reading:
My Favorite Warren Buffett Shareholder Letter