"If you think the market's "too high" wait 'til you see it 20 years from now." – Nick Murray

In late July the S&P 500 closed at an all-time high level of roughly 1,988. It was the 26th all-time high based on the closing price for the S&P in 2014 alone.
Because we've seen all-time highs in 2000 and 2007 both lead to 50%+ declines in the stock market, the phrase 'all-time highs in stocks' has turned into one of the scariest headlines investors want to read these days.
But all-time highs are perfectly normal in the stock market. Since 1950 there have been over 1,100 new all-time closing highs in the S&P 500. That's 6.8% of all trading days or roughly 1 out of every 15 days the market is open that it's closed at a new high level.
All-time highs also tend to cluster around one another. Here are the number of all-time highs since 1950 broken out by by decade: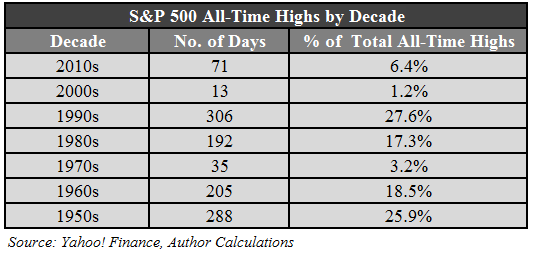 Over 70% of all-time highs occurred during the 50s, 60s and 90s. There were also some long dry spells as the 70s and 00s constitute only a small fraction of new highs. These were the three longest droughts from peak to peak between all-times highs since 1950:

Granted these are only price levels. They don't include reinvested dividends to see things from a total return perspective. But it's worth noting that after the biggest market crashes since World War II it's taken a number of years to break-even on a price basis.
There are two ways to look at these lengthy periods between peaks: (1) buy and hold requires patience if you have a mature portfolio or (2) market crashes offer long stretches of time for net savers to put money to work at lower prices. Perspective matters in the financial markets.
Just because all-time highs happen on a regular basis doesn't mean stocks can't or won't fall. They absolutely will at some point. There are any number of reasons for stocks to decline. But stocks don't have to crash merely because they hit all-time highs.
It's perfectly normal.
Subscribe to receive email updates and my monthly newsletter by clicking here.
Follow me on Twitter: @awealthofcs