"If you have trouble imagining a 20% loss in the stock market, you shouldn't be in stocks." – John Bogle
Ryan Detrick shared an interesting chart on his blog this week: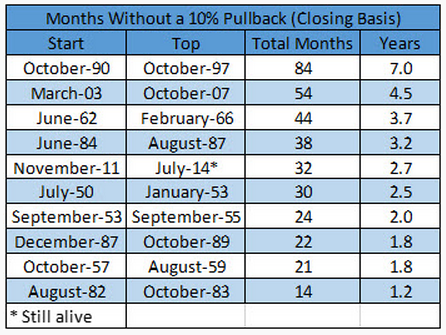 He showed that going back to 1950 there have only been four bull market streaks that lasted longer than the current one without the S&P 500 experiencing a 10% correction. Many are saying we are overdue for a correction but the market doesn't always cooperate with cliches.  These things can last much longer than most people realize.
Some investors are sure we're heading for a crash because we've had such an uninterrupted rise in stocks.  While a crash is never out of the realm of possibilities, just because stocks are up doesn't mean they have to immediately crash.
I shared Ryan's chart on Twitter and was asked how large the subsequent losses were once the market did finally pullback following these rallies.  Here's what I found: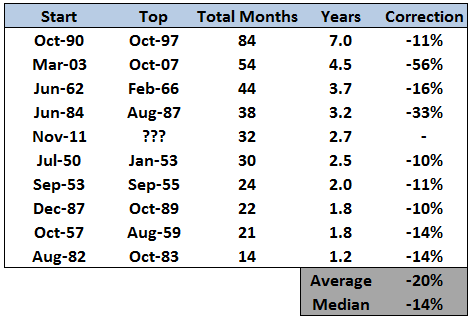 There were a couple of crashes after these lengthy rallies, but the majority of these were run-of-the-mill corrections that you should plan on experiencing every few years in the stock market.
It can be difficult to remember this fact after it seems like the market only goes up in the midst of a strong bull market.  Periodic losses help weed out the real long-term investors from the bull market groupies.  It's an unfortunate byproduct of the zero sum nature of investing.
Plenty of pundits have been calling for a pullback for a while now.  Eventually they will be right.  It's the timing that gets you on these type of calls.
Source:
Another streak during this bull market (Ryan Detrick)
Further Reading:
Sometimes the stock market goes down
Subscribe to receive email updates and my monthly newsletter by clicking here.
Follow me on Twitter: @awealthofcs