"Believe there are bubbles, but don't go around looking for them and betting the ranch on them." – Cliff Asness
Jeremy Grantham is a legend among investing circles. His quarterly letters are on my must-read list. I've seen him speak before and he has the uncanny ability to make complex investing topics easy to understand, which I think is one of the signs of a truly great investor.
Grantham's investment firm, GMO, is considered an expert on asset price bubbles. They have studied market bubbles going back hundreds of years. Grantham is credited with calling the Internet bubble in the late-1990s and the real estate/global debt bubble in the most recent financial crash.
In his most recent piece, Grantham lays out his current thinking with a guess on a possible end to the bubble he sees in stocks:
But after October 1, the market is likely to be strong, especially through April and by then or in the following 18 months up to the next election (or, horrible possibility, even longer) will have rallied past 2,250, perhaps by a decent margin.
And then around the election or soon after, the market bubble will burst, as bubbles always do, and will revert to its trend value, around half of its peak or worse, depending on what new ammunition the Fed can dig up.
These types of calls garner plenty of media attention because everyone would like to be able to weave in and out of the markets to avoid painful losses.
But does spotting bubbles improve GMO's investment performance?
The only problem with this strategy is that there's being early and being way early. Take a look at the past decade (GQETX only started in '05) of returns for GMO's Global Asset Allocation and Quality Fund results versus the benchmark returns: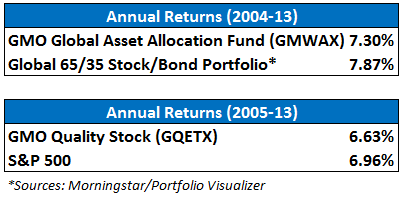 I was actually surprised when I ran these numbers. I would have thought the GMO funds would have crushed the markets during the crash and lived off of that relative outperformance for years to come.
Based on the annual return numbers I looked at, even though the funds did protect on the downside in 2008, they were far too defensive in the two years leading up to the crash and stayed defensive during the snap-back rally that led to the new bull market.
The asset allocation fund currently carries a little less than 20% of fund assets in cash. This could turn out to be a prudent move if the markets crash and they are able to deploy at much lower prices. But if markets go higher the needle will continue to move as far as relative underperformance goes.
Of course, GMO is much more than just Grantham's bubble calls. As Tom Brakke recently pointed out, focusing exclusively on timing and market levels misses the real point about risk management and market perspective.  There could be many other reasons for the underperformance of these funds.  And GMO's risk-adjusted returns are better than the overall market because they didn't fall nearly as much in 2008.
But this just goes to show you how hard it can be to try to run your portfolio based on the predictions of booms and busts.  The leading experts in asset price bubbles have been unable to completely take advantage of them even though they saw them building in real-time before just about everyone else. Timing these moves requires not only getting the direction of the call right but also pinpointing the reversal of the move.
That's because human nature is impossible to quantify. No one knows when or why investors will decide something is overpriced today versus last week or last month at a similar price and valuation.  This is why risk management is so important.
Most investors investors need to use probabilities in combination with portfolio risk controls (asset allocation, diversification, rebalancing, etc.) when dealing with uncertain outcomes.
Would life be easy if we were all able to completely sidestep market meltdowns?  Yes, of course.  But even if you aren't able to do this (and trust me, you can't) you can still earn solid returns in the markets if you behave and don't let the periodic downturns scare you.
Obviously, a diversify, buy, hold and rebalance strategy is not without its own psychological pitfalls. It's not easy to stick to a long-term plan.  I just think that for 95% of the investors it's the simpler option because it requires a much lower number of decisions.
Unless you have a systematic process that tells you exactly when to move in and out of the market, it's a constant game of second-guessing and anxiety.  Even then, it's a very difficult strategy to pull off for even the best investors.
*******
*For the Global 65/35 Stock/Bond portfolio I used index funds that tracked closely to the Morningstar benchmark for a global asset allocation fund: 30% Total U.S. Stocks, 25% International Stocks, 10% Emerging Market Stocks, 15% U.S. Bonds and 20% Global Bonds.