"What difference does this sort of volatility make if you have a long term time horizon." – Charlie Munger

I attended a CFA conference a few weeks ago and had the pleasure of listening to a presentation by Dr. Jeremey Siegel.
Siegel is a professor at Wharton Business School and has authored two really great books on stock market history, Stocks for the Long Run and The Future for Investors.
He has been called a perma-bull in the past for his tendency to have an optimistic outlook most of the time, but he at least admitted to making some bad calls over the years in his talk. Many well-known investors fail to admit their mistakes and simply continue to make forecasts.
Siegel is probably most known for his data series on the markets that extends all the way back to the early 1800s.
Here are his updated long term real (after inflation) stock and bond returns for US markets: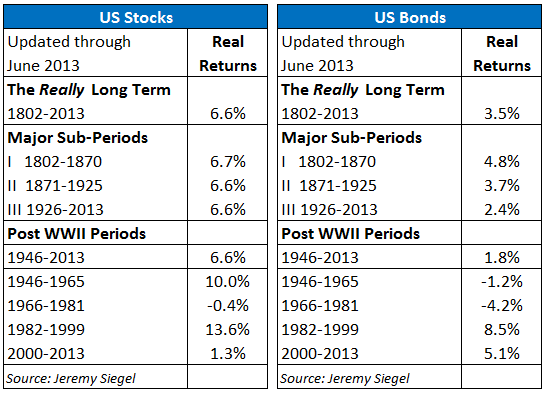 I'm always amazed at the consistency of stock returns over the really long term. You can see that after accounting for inflation, over the long term the returns of the major sub-periods are all fairly close.
However, over much shorter time frames stock performance is anything but consistent. You can see the major cycles had been boom and bust since WWII. It would be great to clip that 6.6% real return year in and year out but it's not that easy.
As for bonds, it might be surprising to anyone who has only been investing post-1980 that bonds can lose money to inflation over longer time frames. We could be entering one of those periods again as rates in the US are at such low levels and could continue to rise.
I'm not saying you shouldn't own bonds, because they still have a very different risk profile than stocks.  Just something to think about as returns could be lower going forward.
I've probably spent far too much time discussing the short term level of the market lately (here, here & here) so it's nice to take a step back and look at the bigger picture from time to time to keep the proper long term perspective.
Source:
Jeremy Siegel
With US markets continuing their strong rise don't forget about international markets. Dividend yields matter greatly for your long term returns and yields are much higher around the globe right now.  Read my piece at Dividend Ninja for more: Go Global for Higher Yield Dividend Stocks
Now for the best stuff I've been reading this week:
[widgets_on_pages]