"You get what you don't pay for." – John Bogle

Some interesting graphs from Vanguard: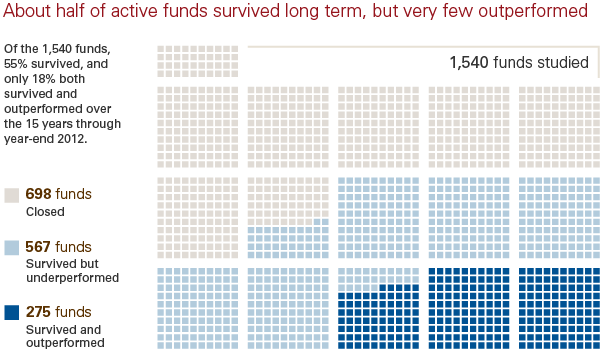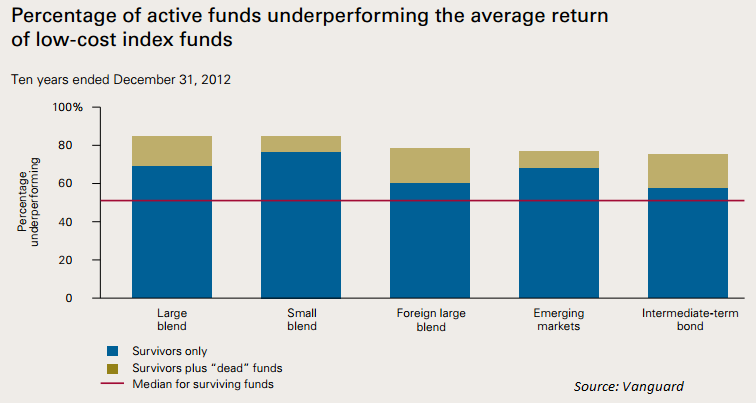 The underperformance of active mutual funds is well publicized at this point.  These graphs are just another nail in the coffin.
What got my attention with this data is that it shows how many active mutual funds just completely go out of business.  Basically, the get shut down or merge with another fund.
The first study shows that only 55% of active mutual funds survived the 15 year period through 2012. Somehow, 36% survived but underperformed.  And only 18% both survived and outperformed their index.
The second graph shows how much worse active fund underperformance is once you add in the graveyard funds.  Nearly all of these asset classes go to roughly 80% underperformance against their index over 10 years including the dead funds.
In Don't Count on It, John Bogle informs readers that there were only 49 stock mutual funds in 1945.  By 2006, that number had ballooned to 4,200.
He also shared that around 50% of the mutual funds created in the 1990s failed and 1,000 funds failed in the 2000-04 period.
So not only are you competing against simple, low-cost index funds when trying to choose active funds.  You also have to dodge the walking dead zombie funds that end up dying.
Mutual fund companies will continue to churn out funds that mirror the hottest performing sector or asset class.  If they don't work those funds will be swept aside for the next revolutionary idea.
Don't take the bait.
Source:
Vanguard
[widgets_on_pages]
 Follow me on Twitter: @awealthofcs