Whenever the next recession happens, every human being on the planet can take credit for calling it in advance.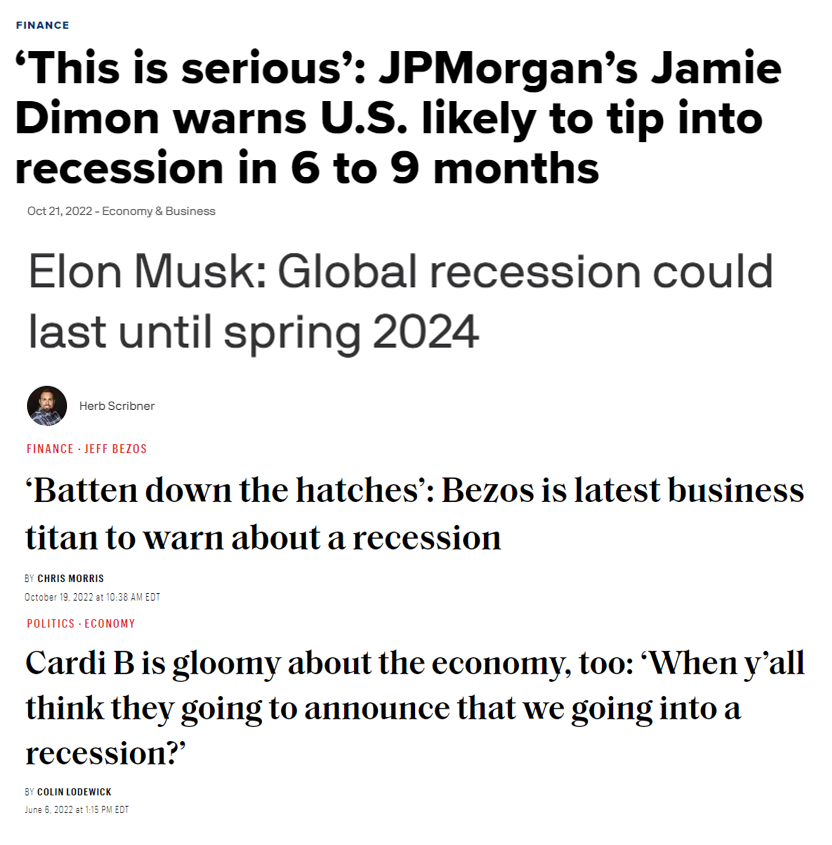 Everyone and their brother has been predicting an economic slowdown for months now. I guess when the Federal Reserve tells you they are willing to throw the economy into a recession to slow inflation, you should believe them.
The weird thing is it would be hard to say we're in a recession right now. I could always be wrong but does this really feel like a recession to you?
People are still spending money and I'm not sure 4% interest rates are going to slow them down anytime soon. It might take an actual recession with jobs losses to get people to stop.
Anecdotes never tell the entire story but allow me to share some to give you a sense of my view of consumer spending.
I went on two work trips last week — one in Boston and one in Fayetteville, AR.1
My regional airport doesn't have a lot of direct flights so I had some layovers. Every airport was packed. I could barely find a parking spot at the Grand Rapids airport when I left. It's October.
Why are so many people traveling? I guess when you put off travel for 18-24 months it shouldn't come as a surprise that people want to take a vacation. I am surprised at how long this current travel boom has lasted considering its not peak season for it.2
It was unseasonably warm in West Michigan this past weekend so we loaded the kids up on Sunday morning for fall festivities. There is a farm an hour north of us with pumpkins, apple cider, playgrounds, games, shows and animals the kids can feed.
This place was bursting at the seams with millennial parents shelling out cash so they could get enough memories and Instagram-worthy pictures of their kids having fun. We've been to this farm on many occasions and I have never seen it as full as it was this weekend.
Then at a birthday party this weekend, some friends told us they had just gotten back from Disney. They said the parks were at capacity every day.
I've heard this same thing from a number of people over the past 12 months or so. The crazy thing about Disney is it keeps getting more expensive, but people keep filling the parks and spending through the pain.3 This is from a recent Wall Street Journal piece:
The biggest change in the past two years—and the most lucrative for Disney—is the introduction of a smartphone-app feature called Genie+ that costs $15 per person a day, on top of the price of admission, and allows parkgoers to skip the unreserved lines for some attractions, which the company refers to as "standby." But Genie+ doesn't cover everything. To skip the standby lines at the most sought-after attractions, including some Star Wars and Guardians of the Galaxy-themed rides, reservations now cost an additional $10 to $17. Standby waits for popular attractions can last hours.
At the same time, many benefits that used to be free—from parking for certain annual passholders to airport shuttles to MagicBand wristbands that serve as combination hotel-room keys and park passes—have been eliminated or now come with a price. Disney has raised prices on hotel rooms, food and merchandise over the past year as inflation has climbed to record levels in the U.S.
These are just anecdotes, of course. I'm sure you could offer some offsetting examples in the other direction.
But everywhere I go — restaurants, bars, theme parks, apple orchards, airports, etc. — places are packed with people spending money.
And don't just take my word for it. This is what American Express CEO Stephen Squeri had to report on his company's most recent earnings call (via Quartr):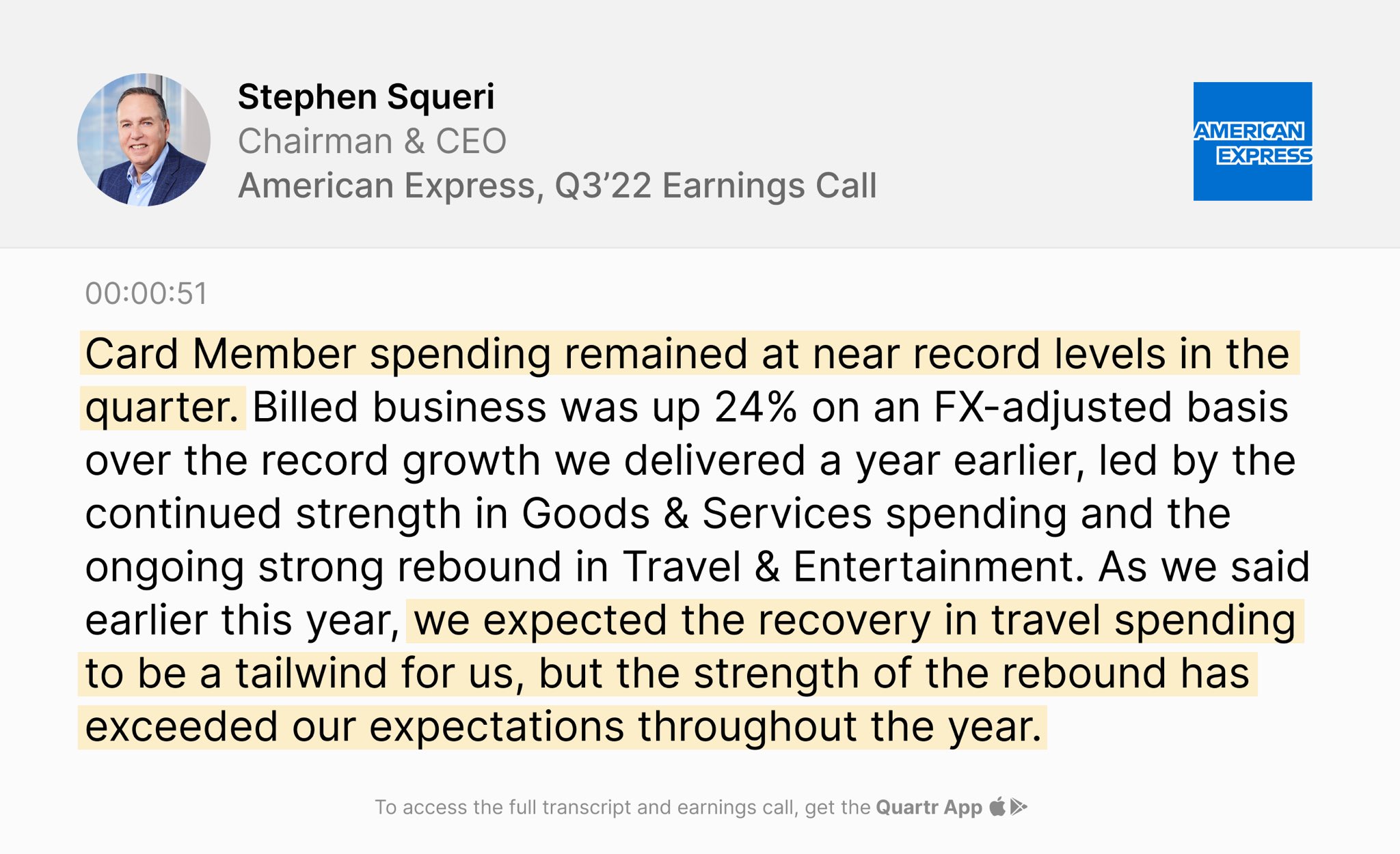 Yes, the stock market is down 25%. Yes, the housing market appears to be rolling over. Yes, interest rates are higher, which means bond prices are down and borrowing costs are up.
But the U.S. consumer doesn't seem to care all that much just yet. Squeri mentioned this on his call as well: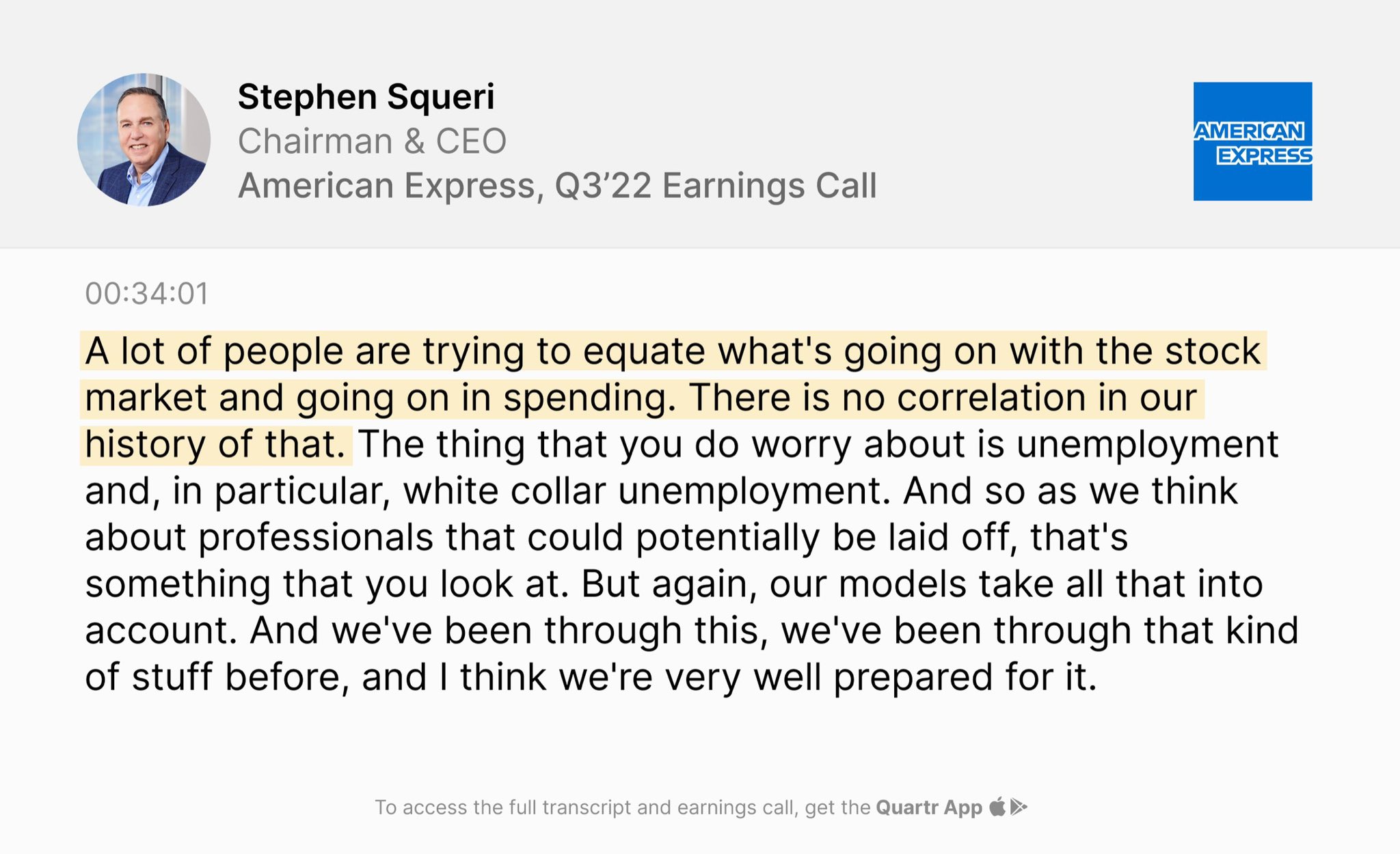 Everyone seems to know a recession is likely coming.
But everyone continues to spend money in part because they were able to build up excess savings one way or another throughout the pandemic.
The problem here is the Fed really wants households to rein in their spending but we Americans really enjoy spending money.
My biggest worry about the economy right now is that we've all become a little addicted to spending after the pandemic hiatus. If people keep spending down their excess savings it could actually force the Fed into hiking even further.
Everyone is calling for a recession right now but no one is acting like one is coming just yet.
That could mean one of two things:
(1) All of that excess savings could help make it a minor recession if and when it happens.
(2) All of that excess savings could force the Fed's hand if they become enamored with slowing inflation to the point where they break something with their interest rate hikes.
Let's hope it's the former and not the latter if we do see a slowdown in the coming year.
Further Reading:
Has the Consumer Every Been More Prepared For a Recession?
1It was my first trip to Fayetteville and I came away bullish on Northwest Arkansas. If you want to live in a place like Austin (on a smaller scale) but don't want to pay Austin prices, Fayetteville seems like a pretty appealing choice to me.
2I think the remote work boom is having an impact here. It's so much easier to take vacations when you can work from anywhere.
3I went to Disney earlier this year so I know all about inflation at the most magical place on earth.