The S&P 500 fell 2.3% on Friday.
It was the first time the market was down 2% in a day since the end of September. Before that the last time we had a 2% down day was mid-May.
This one felt different though.
Most of the time the stock market is more or less random, especially on a daily basis. Investors often make up stories to justify the market moving up or down but this move lower was clearly caused by the emergence of a new variant of Covid.
No one knows yet if this variant will have a lasting impact or not.
I hate to admit it but my dumb finance brain didn't really get nervous about it until I saw the stock market react negatively. The stock market has a decent track record throughout this whole ordeal.
Maybe it's because it was the day after a holiday but seeing stocks get dinged again on pandemic news caused some flashbacks.
Even though it took the stock market to get my attention on this I'm not really worried about stocks in all of this. Even if we have a crash from current levels stocks will be fine eventually.
I'm more concerned about the psychology behind living through a pandemic for nearly two years.
My first emotion when learning about this one was annoyance more than anything else.
In the early days of March 2020, I felt some combination of fear, anxiety and relentless uncertainty.
When there was talk of a vaccine those fears turned into hope. When the vaccine arrived there was a big sigh of relief.
Things felt like they were back to normal for a while. Then a bunch of people decided against getting the vaccine. And the Delta variant hit.
My home state of Michigan seems like it's always on a delay from the rest of the country when it comes to case counts. We've had three big waves that have all occurred after large outbreaks in the south or northeast.
We currently have more cases than any other state in the nation: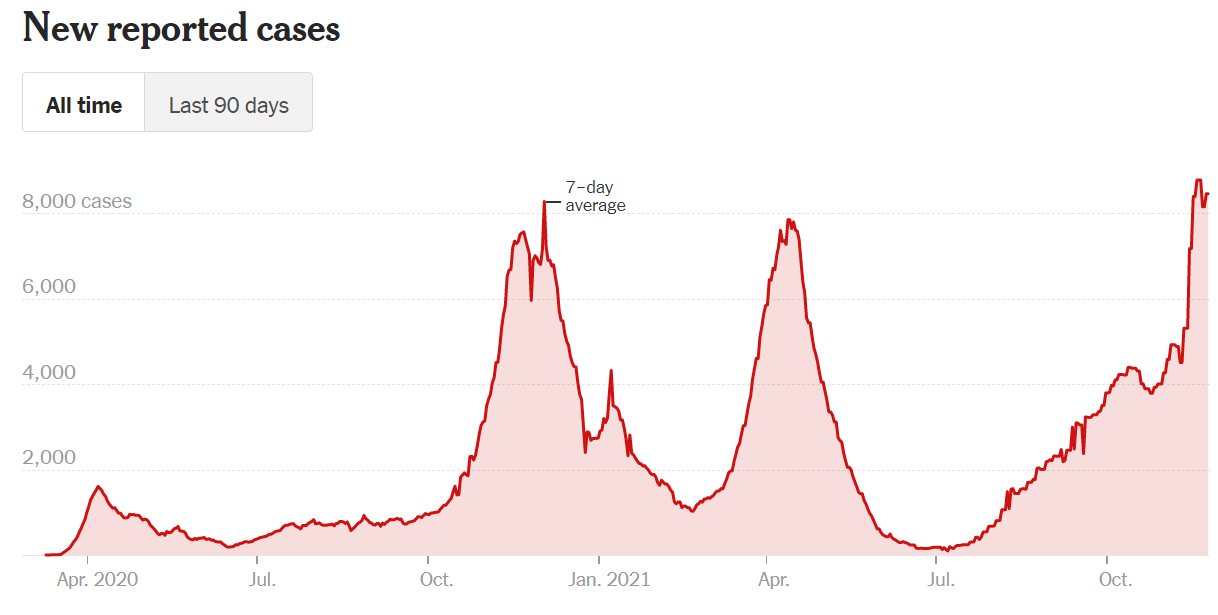 Our local hospital now has more Covid patients than ever. Things have gotten so bad, hospital officials have had to request help from the federal government to supply additional doctors and nurses to help with the surge.
I've heard stories from friends and family of people getting turned away from the ER for other health issues because they don't have enough beds.
It's a bizarre feeling but at this point, most people are numb to this stuff.
If it's not impacting people on a personal level, it's easy to ignore it. If you haven't got the virus you probably feel invincible at this point.
In the 1940s, psychologist John Thompson MacCurdy published a book titled The Structure of Morale that dealt with the psychology behind the bombing campaign by Germany on London citizens at the outset of World War II.
The Germans assumed a continuous bombing effort on London would eventually break the will of the people. Instead, many people became accustomed to it.
MacCurdy explained:
How many people in this country can say that they are neither more nor less afraid of bombs than they were before the Blitz began? Yet a bomb is, potentially, just as dangerous as it always was. We know that—we always have—but with experience our fear goes up or down. During the last war practically every soldier was frightened when first exposed to bombardment, but the vast majority grew accustomed to it quite quickly. They did not cease to regard shells as lethal agencies, they merely ceased to be frightened by them.
The people who were killed became statistics. Those who survived or didn't come close to the destruction eventually got used to it.
How you feel about the pandemic has a lot to do with your personal experience with the virus.
Right or wrong, getting Covid and having it rip through my family has changed the way I personally view it.
It was not fun to live through. I basically had the worst flu of my life for two weeks and lingering side effects for many weeks after the worst of it was over. I was still getting shortness of breath two months after contracting the virus to the point that my doctor prescribed an inhaler.
Yet beyond the sickness itself the biggest feeling I had after getting healthy was a sense of relief.
My experience of getting Covid after being vaccinated and being relatively careful throughout the pandemic led me to the conclusion that we're basically all going to get it at some point.
Maybe I'm wrong but that was my takeaway.
I have no idea what this latest variant means for the stock market or the economy or the pandemic. Sometimes the best course of action is to wait and see and say "I don't know."
It is depressing we're still dealing with such high Covid case counts nearly two years after it changed all of our lives.
The pandemic has changed the world in numerous ways. Beyond the economic, market, health and work-related changes, I'm interested in what the lasting impact will be on our collective mental health.
Every generation has dealt with problems and setbacks.
The good news is we as a people have the ability to persevere and continue moving forward.
Further Reading:
The Power of the Human Spirit